Nearly 600,000 small businesses in the United States close their doors or fail each year.
Although money is often thought to be the root of these failures, the real issue lies in workflow. Workflow is a term for a collection of work processes that help get products into customers' hands or get projects completed. When you're managing many projects, however, it can be hard to track all the small details.
Keep reading to learn about the best platforms that can help you manage work orders and improve your odds of success!
MaintainX
One of the best work order management tools is MaintainX. After creating an account, you can use your desktop or mobile device to manage your account. Employees in the office and field can work together on this software since it has communication, task, and checklist features.
Many people use this application so they can track trends over time. You can create specific reports or repeatable reports to track productivity and save time. Having an audit trail on MaintainX can prevent errors and resolve issues in real time.
Procedures and forms can also be created on MaintainX. Once the creator updates them and designates an employee, the tasks become lives. You can get your files, work order history, and communication all on one platform for a seamless workflow. This app is best for companies in construction, property management, or manufacturing.
Workyard
Workyard was created with business owners in mind. Not only can you use this app to schedule work with employees, but you can also communicate on it. Several features make scheduling simpler, you can also utilize tools for estimating job costs.
If you have employees working on the road, this app has a GPS tracking system that can integrate with your payroll data. This can save time for you, management, and accounting departments.
To maximize Workyard, you should create tasks and appoint them for specific employees. You can add photos, descriptions, and location details within the tasks. The checklist is another popular item on Workyard since it helps employers become more organized and efficient.
Coast
Finding free software for work order management can be a challenge, but you won't be disappointed with Coast. Thousands of businesses across the globe use Coast to manage work orders and organize projects. The concept is to breeze through processes without getting held up by paper, spreadsheets, or communication.
Coast replaces the need for many time-consuming tasks, making it a practical choice for most businesses. People that work in the healthcare, education, or hospitality fields can make the best use of this platform.
This program is compatible with mobile devices and desktop computers. Depending on the settings, you can develop permissions and custom views to ensure staff gets the data and tasks they're assigned.
Limble
Work order software can be expensive, but you'll get your money's worth with Limble. Limble has a simple homepage that displays calendars and task items for people on the team. You can view projects on the calendar and timeline features, which are easy to add. If you're familiar with Salesforce CRM, this homepage will seem familiar.
What makes Limble so valuable is that you can set push notifications for certain tasks. This will alert employees about new work on their mobile devices. Within the application, all the details will be visible.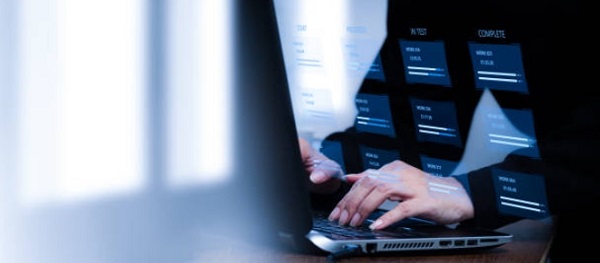 Many industries use this platform to improve business efficiency. Unlimited orders are an attractive feature to people in manufacturing, management, and retail.
BuildOps
If you want to increase business efficiency, you need a strong team, reliable metrics, and workflow. Using field service software buildops can help you check success and improve communication. BuildOps is one of the most popular work order apps since it's user-friendly, up-to-date, and works in the office and field. Whether you or your project manager will rely on this tool, you can get a better view of company metrics and where your business is headed for the future.
When using this work order software, teams are more cohesive and trends are easier to identify.
Efficiency software can help you discover red flags or weak areas in the company that need to get addressed. You can customize reports to find weak products and services that are eating at your finances. Identifying these trends and red flags at an early stage can prevent your company from wasting money and resources.
WorkStraight
Web-based management software has a few perks that other platforms don't offer. Not only is WorkStraight an easy program to use, but it's also designed for all businesses and industries! The dashboard helps keep users on track on past, present, and future projects so nothing gets overlooked.
Assigning tasks is simple and you can offer as many details as you need. Project managers use this since it's customizable, but still user-friendly and easy to understand. WorkStraight offers unlimited orders and you can also assign tasks to more than one person.
Construction, retail, and IT use WorkStraight for their real-time notifications and file uploading.
Start Completing Work Orders on Time
When you get a system in place and create a workflow with efficient software, you invest in the entire company. Work orders can be difficult to keep track of, multiple departments play a role, and communication and tasks must be organized. With the use of work order management apps, you can improve productivity and never miss a deadline again.
Make sure you check out our page for more content about improving workflow and creating a successful business!