Are you planning to build a multi-monitor setup for trading? Most traders prefer trading using multiple monitors because it's easier to keep an eye out for different variables in their trades. Trading involves multi-tasking and monitoring different indicators, which is why you need a 3, 4, 5, or 6 monitor setup.
If you haven't tried using multiple monitors in the past, you might find it daunting to set up one. It's not as hard as you might think. Check out the tips below to successfully set up your multi-monitor trading computer.
Laptop or Desktop? Which is Better?
Before setting up anything, you first need to decide what kind of setup you will get. Should you go for a laptop or is a desktop more appropriate for your needs?
The biggest selling point of laptops when it comes to trading is that they're highly portable. If you want to take a computer with you when traveling, you can easily bring your laptop. Laptops today come with a long battery life, sometimes as long as 18 hours. You can go an entire day without hooking up to an outlet.
Laptops are also typically easier to set up. There are fewer ports that can get confusing to beginners. Don't worry because many laptops today are powerful enough to provide the features that you need for trading. Basically, you need a fast laptop for trading so that it won't lag when you're executing your trades.
A desktop, on the other hand, is highly durable and completely customizable. You can change the hardware later if you want to upgrade your setup.
It's a good idea to have both, especially if you do a lot of traveling but you also don't want to mess up with your existing setup.
What Should you be Looking for?
Regardless of whether you're opting for a laptop or a desktop, make sure it has the right features. First, check out the processor. Go for at least a quad-core processor with a minimum of 2.8 GHz speed. If you can go higher than that, all the better.
The processor is responsible for processing information. Since you're dealing with a lot of information all at once when trading, you need to make sure that your computer's processor is up to par.
You also need a reliable hard drive. It will tell you how fast your computer will boot. An SSD should be a staple when buying a computer for your trading setup. In case you need to restart your computer in between trades, you won't have to wait for a long time.
Check out the RAM as well. The higher the RAM, the faster your computer will get. You should aim for a minimum of 8GB of RAM. If you have a higher budget, go for something higher.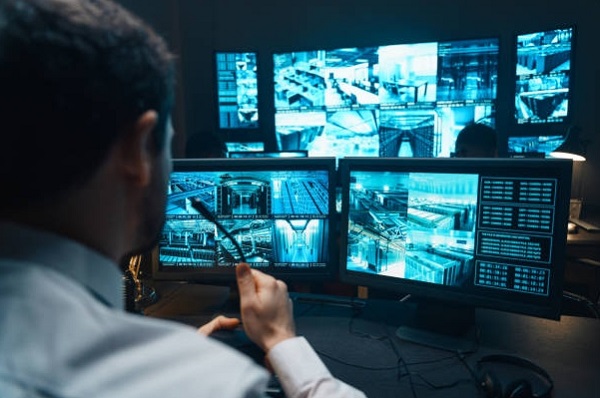 And of course, you also need to check the graphics cards included. This will determine how many monitors you can connect to your computer. The basic setup is a 2GB GPU but feel free to opt for something higher if you prefer to have a 6 monitor setup.
Monitors
Once you have your laptop, it's time to buy your monitors. You can start with the 3 monitor setup, which is a modest number for beginners. Try to go as high as 6monitor setup for a more fluid flow in your trading game.
Decide on what size of monitor you'll get. Bigger doesn't always mean better when it comes to monitors. Ultimately, it all boils down to your personal preference and which size will optimize trading.
Some prefer a smaller monitor for their limited desk. It will also make it easier to turn your head from one monitor to another.
What's important is to check the resolution. Go for a minimum of 1080p resolution to make sure that you can see your variables properly. Get the ultimate trading experience by going for crisp and clear resolutions. The color contrasts in your indicators should be highly visible.
Be sure to get the VESPA-certified ones. That way, your monitors can use any kind of universal mount out there.
Multi-Monitor Mount
There are different kinds of multi-monitor mounts out there. One setup you can try is the 2-arm monitor. You can mount three computers on each arm for a 6 monitor setup.
The problem with this is that it tends to occupy a lot of desk space. Since they are all set up horizontally, you have at least a 6-foot long row of monitors.
A more efficient way to monitor your 6 monitor setup is to have a 3×3 configuration. With this type of mount, you have a center mount and elbow mounts. For each "arm", you can connect two monitors.
What makes this 6 monitor setup better is that you can tilt the outer monitors towards you. That way, you can optimize your peripheral vision and monitor variables closely.
Connectors
If you're using a trading computer, you should find connectors compatible with it so you can use more external monitors. However, if yours does not come with these connectors, you can get yourself a Diamond USB or HDMI adapter, whichever would suit your setup best.
You can use a USB Port hub to connect more USB devices. They shouldn't cost you a lot of money.
Desk and Chair
Of course, you also need a comfortable desk and chair for your 6 monitor setup. Make sure you look for a durable table that is strong enough to accommodate the weight of your 6 monitors and your computer.
Buy an ergonomic chair as well. It should be comfortable to use since you're going to be sitting down and monitoring your indicators for hours.
Read More: How to Build Perfect Web Design for a Startup
Conclusion
Now assemble all these things together. Find a quiet corner where you can trade in peace. Once you have your 6 monitor setup in place, you should have a well-oiled money-making machine that will help you execute your best trades.
When it comes to computers and monitors, it's best not to skimp money. Try to go with brands that are known for their reliability.