Rainwater tanks are excellent tools for collecting and using water in a sustainable, eco-friendly, and affordable way. They come in a variety of shapes and sizes and are made with a wide range of different materials with various pros and cons respective to every single type.
Right from underground water tanks to seasoned above the ground Heritage steel rainwater tanks, the number of options available for rainwater tanks can be intimidating at first, so here are some of the most important factors to consider that will help you narrow down your options and make the right choice for your needs.
Why a Rainwater Tank?
Rainwater tanks are a smart investment in the long term for your water bill. Aside from paying for the installation and maintenance, water bills are reduced significantly in the long run, meaning that investing in a rainwater tank will pay for itself with time.
Rainwater tanks are also a helpful asset in drought-affected areas. A study concluded that while droughts reduce runoff to dams by 60% to 85%, rainwater tanks only experienced a reduction in yield of 15% to 30%. This indicates that rainwater tanks are better not only at saving water during droughts but at reducing environmental impact at the same time.
Due to their positive impact on the environment, the Australian federal government may offer tax rebates and write-offs for rainwater tank installation. Depending on your situation, you may qualify for additional savings on your new tank.
Read More: Fire Safety Tools That Every Home Needs
What Material is Right for you?
One of the most important factors in buying a rainwater tank is its material. They come in multiple types of materials, such as poly plastic, concrete, and fibreglass; however, steel rainwater tanks are consistently among the best options available. They are fire-resistant, long-lasting, and have a lower cost per litre in larger sizes that making them especially cost-effective when investing in a bigger water tank.
Heritage steel rainwater tanks, for example, are becoming increasingly common in Australia, especially due to their fire resistance and long-lasting characteristics.
Steel tanks are easier and cheaper to transport and install. They also tend to have plumbing and fitting arrangements that are less complex and easier to maintain for any owner.
If you are looking for a large, resilient rainwater tank with easy maintenance and installation, it is generally best to consider choosing a steel rainwater tank.
What Size do you Need?
Another consideration is the size and shape of the rainwater tank. There are options out there for tanks as small as 700 litres. However, the cost-effectiveness of rainwater tanks begins with larger sizes, starting at around 17,000 litres and ranging as high as 375,000 litres.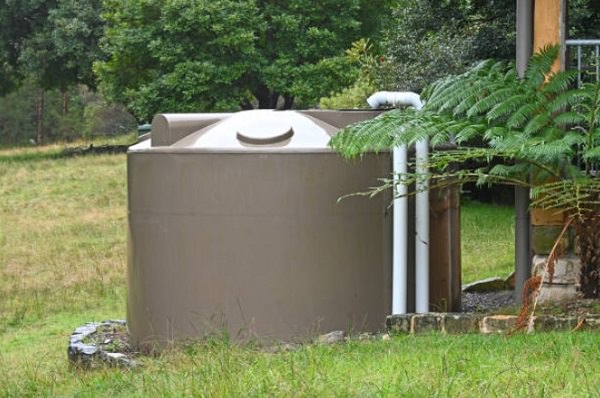 Small tanks can be good for small-scale use. However, due to the longevity and price per litre of larger tanks, it is most often a wise investment to consider a bigger rainwater tank for your long-term personal water supply – it will save you the most money over time.
Additionally, there are different varieties of shapes to consider for rainwater tanks. Some tanks store rainwater under the floor, although these options can sometimes be more expensive. Many tanks even offer gutter frameworks which will increase the run-off from the roof of your building to the tank itself.
It can be helpful to consult with the rainwater tank seller or your local water authority in order to determine what is the best size and shape for your specific needs. They will also guide you with the permissions to be sought that is unique for your locality. There are calculators available online that can tell you exactly how much water can be saved based on your house's size and regional location.
How to Choose a Rainwater Tank
You will want to ensure that you are getting a rainwater tank that is both strong and cost-effective. Ensuring the tank is engineer certified is of importance – such rainwater tanks use thicker steel walls that are more long-lasting than most other options.
Keep an eye out for water tanks that are made from 100% recyclable material, ensuring their environmental friendliness. Also, look for comprehensive installation and delivery services that make transportation easier.
Read More: Top 5 Smart Home Automation Tools to Use in Your Home
It is important to ensure longevity when investing in a rainwater tank. You will want to make certain that any purchase will be a protected investment. Look at the warranty of the tank before purchasing.
If you have decided that you want a steel tank, check Heritage steel rainwater tanks. And if a steel rainwater tank is not right for you, they also offer a wide variety of other materials, sizes and shapes.