Is your car making strange noises? Are your brakes misbehaving? You may need to take your vehicle in for repairs before it causes an accident. The problem is getting it to the shop. You don't want to drive it for fear of breaking down while you're on the road. That's where mobile mechanics come in.
They bring the tools needed to fix your vehicle to you. All you have to do is tell them what's wrong with your car. The problem is finding the best local mobile mechanic in your area to make the repairs. We have a list of traits that you should be on the lookout for. Continue reading to learn more.
What is a Mobile Mechanic?
You may find it hard to find the best mobile mechanic if you don't know what they do. Mobile mechanics differ from regular shops because they bring the tools needed to fix your car to your location. You don't have to drive your vehicle to a garage.
It's convenient if your car is so far gone that it won't even turn on. It's cheaper than going to a traditional mechanic because it doesn't require you to tow your vehicle to a physical location.
Look for Certifications
You should get certification from anyone about to perform car maintenance on your baby. That includes mobile mechanics. A person has to get extensive training to get their ASE (Automotive Service Excellence) certification. If you let someone work on your car who's not ASE certified, there's a good chance they won't know how to fix your vehicle. It will end up in worse shape than before they worked on it.
Consider Their Reputation
After you confirm that a mobile mechanic has a certification, find out what others think of them. Talk to family members and friends who have had repairs done on their used cars.
If you don't know someone that's used a mobile mechanic, read online reviews. You can learn a lot about a business from what others say. However, don't be surprised if most reviews you read are negative.
Those who have good things to say don't comment often, so you shouldn't outright dismiss a company who have a few bad reviews. Look for patterns. If ten people say that a mechanic has poor customer service, chances are, they do.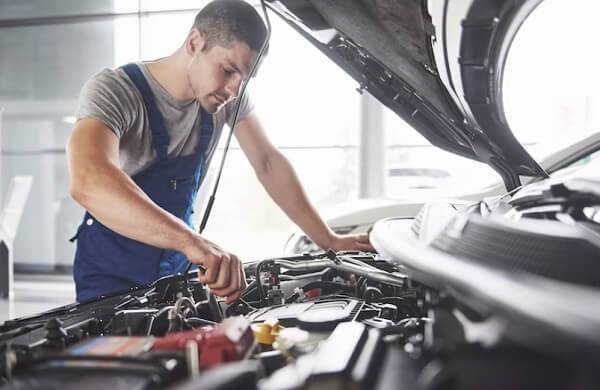 Have a Budget in Mind
If you hire a mobile mechanic, you'll come out cheaper than taking your vehicle to a garage. You won't have to waste gas driving your car or getting someone to tow it. That doesn't mean unexpected expenses won't crop up. Most mechanics waste no time diagnosing your problem, fixing it, and handing you the final bill.
What you see is what you get. If the mechanic does need to do anything extra, they will inform you before they do and let you know how much it will cost. Some mechanics charge by the hour. Those are the ones you want to be a bit wary of. You never know what the final price will be.
As a side note, find out what payment methods a mechanic accepts before you let them work on your vehicle. Some are cash only. If you don't carry physical money, you'll have to look elsewhere to find a mechanic with more flexible payment options.
They're Professional
You've spent a lot of money on your car. You want to make sure it's in reliable hands. If a mobile mechanic arrives late to work on your vehicle, that doesn't bode well. It's not only rude. It proves they have no respect for your car or your time.
You should also pay attention to how a mobile mechanic speaks to you. If they don't communicate clearly or take weeks to get back to you when you ask for a price quote, find a new mechanic.
Look for a Website
All mobile mechanics should have a website. A company with no web presence comes across as sketchy and non-professional. Since you can't verify their services or look at customer testimonials, you'll be going in blind. That's not something you want to do with your expensive car.
What's the Warranty?
Let's say that after your mobile mechanic finishes fixing your car, it breaks down again within a few months. It's having the same issue it was before.
If the parts and repairs are under warranty, the mechanic will be required to check your car out again for free. If there is no warranty, you'll have to dish money out of your pocket to hire another mechanic to make repairs.
What Car Do They Drive?
Pay attention to the car your mechanic drives. Most mobile mechanics carry their tools around with them in a van. In most cases, the vehicle will have the company's logo on it.
If you can, take a peek inside the van. Are the mechanic's tools neatly organized, or are they all over the place?
The latter shows a lack of professionalism. If they can't treat their tools right, what does that mean for their quality of work?
Choosing the Best Mobile Mechanics in Your Area
When your car breaks down, you need one of the best mobile mechanics to work on it. Finding the right company can be more than a little tricky. Look at online reviews, pay attention to their demeanor, ask about the warranty, check out their business website, and consider their reputation.