You may have heard of the famous phrase, you are what you eat! It's time for you to realize it is true. Some foods tend to affect your neurons. Once you lean on some blood-striking soda, or crispy chips, and rely on coffee, your body reacts in the form of anxiety, panic attacks, and depression. Worry not! we are here today to explain more about the relationship between eating different foods and the triggering of anxiety or panic attacks. So, let's unravel the foods provoking your anxiety and what guide you need to get over it all at once.
can certain foods increase stress and anxiety?
Yes, if your diet is lacking in providing your body with nutrients, vitamins, and minerals, you are developing anxiety within you. But before realizing the how's, whens, and from where you should start. Acknowledge that you are putting something inside you that is depriving you of your healthy lifestyle.
The fundamental understanding of whether certain foods increase stress and anxiety is admitting that you lack discipline. No, I am not talking about not doing your laundry on time or staying up late at night. I am hitting the core perpetrator and crook who is making you feel lazy or triggering panic attacks. Your intake is the malicious reason forcing you to procrastinate and put you in a situation where you desperately need an anxiety treatment.
foods that cause anxiety and panic attacks
Your sudden mood swings, compromised ability to focus, and random anxiety are the effects of what you consume. Following is a list of foods that play a significant role in causing anxiety and panic attacks:
regular Soda
One of the highly addictive drinks of this modern era is soda drinks with rapidly growing sales around the globe. Whenever you are out with friends, you want to get hold of one of these and drink your way through it. Well, we can't restrict you from abandoning your quench of soda altogether. However, consumption in moderation would be a wise decision here. If you crave it too much, try seltzer water with a splash of juice; this will do the job.
fruit Juice
A shocking and confusing fact is that fruit juices may not be the healthiest option for you during your anxiety phase. The fruit along with its natural sugar is beneficial, but you are directly consuming nutritious sugar water in the form of juices.
doughnuts
We all crave some yummy doughnuts, but it's sad to say they are one of the ultra-processed foods. It means they contain snow-white flour, high sugar, refined carbs, and fat. These properties of doughnuts make it unhealthy for us to eat; they give us the false satisfaction of being full yet with little to no helpful nutrition.
processed Foods
The usage of processed food can be the cause of your depression; we recommend you cut off the following processed food to avoid getting anxious:
Fried food
Refined cereals
Candy
Pastries
High-fat dairy products
alternative food options
Once you feel like craving any of the above foods, opt to consume the below-mentioned food items:
| | |
| --- | --- |
| Fish | Fiber-rich grains |
| Fruits | Vegetables |
The healthier you eat, the better you feel about yourself.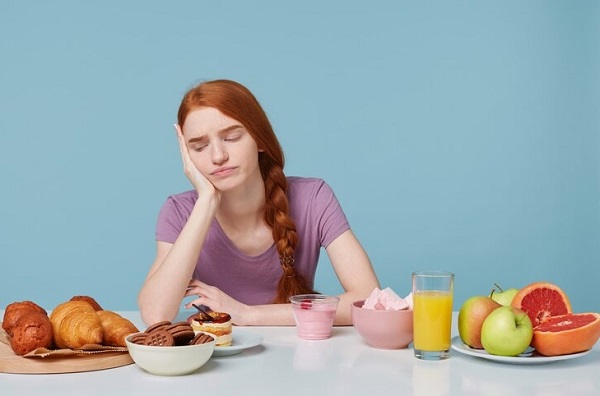 toast/White Bread
One of the most common breakfast options is the white bread toast. Quick and easy, isn't it? However, it quickly turns into high sugar after you eat it. It can soon cause unease and anxiety after it strikes with your blood sugar changes.
food Additives
There are so many quick and delicious snack options out there. The base product isn't healthy and over the top; these foods' taste, color, and appeal are artificial. Unhealthy is the only word I can think of for these sweet and beautifully packed snacks.
alcohol
A Bit of a Difficult Decision: I mean, we know you have to gulp up a few glasses of wine if you are in a formal gathering. You can't say no to that, but in moderation, it won't do much harm; however, everyone has a different level of tolerance to alcohol.
caffeine
Bad News for Caffeine Addicts: We are about to pop up your delusional about coffee. It does not help with anxiety and depression. It is a stimulant that gives you a sense of wakefulness. Once the effects wear off, you are back to feeling the need to consume more.
frosting
A Big No to That: It looks beautiful on top of your cupcake, but its pure sugar—the secret ingredient pushing forward your anxiety through its partially hydrogenated oils. Whatever fancy words we may use, it is sugar. Well, in your anxiety treatment, you are battling against sugar so frosting must be avoided.
tips to Immediately Treat Anxiety
Be Mindful of a Famous Saying that Goes Like this: One cannot think, love, and sleep well if one has not dined well. Ask yourself, when was the last time you ate without staring at the screen? When did you taste every ingredient of your meal and feel it melting in your mouth? Probably never! Then you wonder why you are getting triggered and start having panic attacks at minute things. However, it is fine if you fall into the trap of modern lifestyle and eat through unhealthy diets and schedules.
Firstly, grab onto an anxiety treatment and start your day before starting your actual day; it means sleeping on time. Wake up fresh early, and you must not skip your breakfast. Besides those essential tips, here is a proven guide on anxiety treatment, which helps lower the peak level of panic attacks and anxiety.
Keep yourself physically active; go for evening walks or work out daily.
Consume chamomile, lavender, omega-3, fatty acids, and vitamin B
Meditation, acupuncture, and journaling
Acceptance and Commitment Therapy (ACT) seek professional guidance through this effect therapy. It enables you to understand the inevitable situations in life and how to differentiate your feelings from them.
wrap-up
While you are on your journey to overcome anxiety and panic attack problems. Go easy on yourself; it's okay to be in a funk for a while and do the best you can. Stay focused on eliminating temptations like junk or processed foods, soda, excessive coffee, sugary juices, energy drinks, etc. These foods can cause anxiety and panic attacks really quickly. Your solo soldier in the journey of treating your anxiety is your determination. Trust me, give yourself 21 days, avoid consuming foods that trigger panic attacks, and watch the magic happen. You will thank me later.