Intermediary banks have recently gained popularity because they make international transactions easy. These banks allow you to make transactions if a deal between two banks is not possible directly. Clydesdale is one of the most preferred banks for intermediaries because of its swift service and convenient facilitation. This article brings you everything you need to know about how Clydesdale Bank for Intermediaries works. Keep reading to know it all!
What is an Intermediary Bank?
Before we tell you about Clydesdale, here's a little intro to intermediaries. Intermediary banks act as middlemen between the sending/ issuing and receiving banks. It acts on behalf of the sender bank to send the money to the receiving bank account.
These banks typically facilitate transactions in different countries to complete wire transfers. Intermediary banks come into play when the sender and receiver do not have an established financial relationship.
You do not need to provide the beneficiary details in context to the intermediary bank. Give the final beneficiary details of the receiving bank to process your transactions. Otherwise, you might not receive your payment.
Clydesdale Intermediary Mortgage Solutions
Clydesdale Bank for Intermediaries offers mortgage solutions as individual as your clients. It provides uniquely tailored mortgage solutions for clients with numerous services giving them an edge over other providers.
Some reasons to pick Clydesdale Bank for mortgage intermediary solutions include:
Non-Standard Income
Clydesdale discusses non-standard income options and structures to find the best way to facilitate the clients. So, you can pick what suits you the best with the most suitable rates.
But-to-Let
Clydesdale's has unique mortgage models that lend to first-time buyers and landlords besides non-owners occupiers. They thoroughly assess the client's affordability to understand their But-to-let (BTL) mortgage and offer a 5 Year Fixed Rate of 60% LTV.
Large Loans
The company provides large loans with direct access to underwriters for £750k+ loans. Moreover, the clients can choose up to 75% LTV to £2m, with Capital & Interest top as much as 80% LTV. You get a range of offset discounted and fixed-price products per need.
Interest-only
Clydesdale focuses on making the process convenient and quick for the clients and offers a maximum LTV of 75% with many repayment options.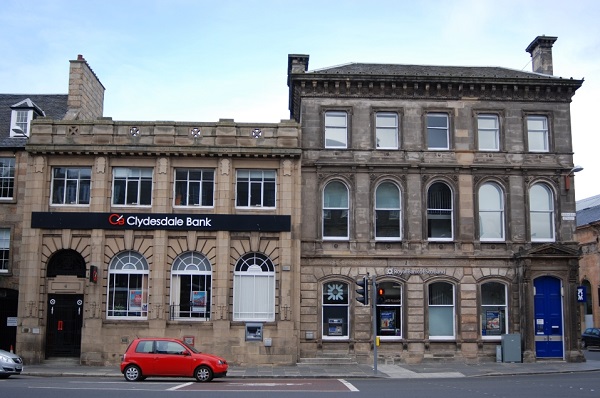 Self-Employed
The company uses the customer's share of pre-tax profit combined with the director's remuneration. Self-employed people require 3 years' accounts and an average of over two years.
Professionals
Professionals from any fields listed in Clydesdale's occupation list can apply for the mortgage. These loans range between £80k to £750k at LTVs up to 90%. You can also get loans up to £750k in London and £570k across the UK at LTVs of over 85%. The professions include:
Accountant
Architect
Barrister
Chartered Surveyor
Dentist
Engineer
Financial Advisor
Medical Doctor
Nurse
Optometrist
Pharmacist
Pilot
Police Officer
Solicitor
Teacher
Vet
Contractors
Contractors can apply for the mortgage with a weekly income grossed up by 46 weeks. They require one year's contracting history. However, you will need to share two years' contracting history for income below £50k.
Insurance Intermediary
Clydesdale acts as an insurance intermediary for insurance brokerage and offers hands-on support to turn your plans into reality. They understand that insurance broking is a people's business beyond balance sheets. Thus, their unique approach differentiates them from other banks. They provide opportunities for regional brokers to retain business control through acquisition strategies.
How to Register with Clydesdale Bank?
Registering with the Clydesdale Bank for intermediaries requires registration with Virgin Money first. Once you register with Virgin Money, email your contact and FCA firm details to [email protected]; they will add you to the bank's panel.
How to Contact Clydesdale Bank?
You can connect to Clydesdale's underwriters on 0113 224 1369 Monday to Friday between 9 am and 5 pm. They help you with all complex queries regarding large loans above £750k. You can also get information regarding loans that do not meet Clydesdale's standard criteria.
Furthermore, you can reach out to their support line at 0800 6783 066, Monday to Friday, 9 am to 5 pm.
Call 0800 9178 363 for queries regarding assistance with a submitted application; though, it is always better to first use the case tracker service. This service is available Monday to Friday, from 9 am to 5 pm, except for Wednesday, when you can contact them from 9:30 am to 5:30 pm.
The Bottom Line
The Clydesdale Bank for Intermediaries offers multiple mortgage and insurance options according to the needs of the applicants. You can get large loans of up to 75% LTV to £2m, with Capital & Interest top as much as 80% LTV. Moreover, it gives you direct access to underwriters for loans up to £750k+. The bank encourages everyone, including professionals, contractors, and self-employed. It also facilities insurance brokers by acting as insurance intermediaries and helping them through acquisition strategies.
FAQs
What is Clydesdale Bank's standard variable rate?
Clydesdale changed its standard variable rate to 4.49%, while the offset variable rate moved to 4.70% in January 2022. Furthermore, the Offset Variable Investment Housing Loan Rate jumped to 5.10%.
Is Clydesdale Bank now called Virgin Money?
Clydesdale Bank is not called Virgin Money Bank now but is part of Virgin Money UK PLC. Thus, you must register for Virgin Money to set up with Clydesdale Bank.
Which banks are linked to Clydesdale Bank?
Besides Clydesdale Bank, Virgin Money and B, and Yorkshire Bank also operate as a part of the CYBG PLC under its banking license.
How safe is Virgin Money?
Virgin Money is one of the leading banking groups in the UK. It fully supports the "Know Fraud, No Fraud" movement. The bank informs the clients that it never calls or emails to ask about their banking details, such as their PIN. Also, never give out cash or your card details, claiming to have come from the bank.