Whether you run a call center or have an in-house support team, an effective and reliable phone system is all you need to take your business to the next level. It helps interact with customers, solve their problems, and provide the best possible service.
But having a traditional phone line could be expensive. That is why businesses are switching to cloud-based phone systems. A cloud-based phone system uses Voice over Internet Protocol (VoIP) technology to connect phone calls.
Businesses that migrate to the cloud-based phone system save over $1200 for each phone line they have. They also see a 40% and 90% reduction in local and international call bills, respectively.
But what exactly is a cloud-based phone system? How does it work? And what are its advantages? In this article, we will discuss everything you need to know about cloud-based phone systems. Let's dive in.
What is a Cloud-Based Phone System?
Also known as a VoIP system, a cloud-based phone system is a service that allows you to make calls over the internet instead of traditional systems that use copper wires or optical fibers for calling.
Cloud phone systems eliminate the need for any on-premises hardware. All you need is a high-speed internet connection to make/receive business calls.
Most cloud-based phone systems can be used with a variety of devices, including your smartphone and computer.
How do Cloud-Based Phone Systems Work?
As mentioned above, cloud-based phone systems use the internet to make calls. Here is a step-by-step guide that explains how they work.
It begins by breaking your voice into small digital packets and sends them as data over the internet to your cloud-based phone system provider.
The cloud-based phone system provider uses PBX (Private Branch Exchange) to route your call.
From there, the call data is sent to the receiver.
As soon as the data (digital packets) reaches its destination, it converts back into voice signals.
Key Benefits of Cloud-Based Phone System
Now that you know what a cloud-based phone system is and how it works let's look at the key benefits it offers to your business.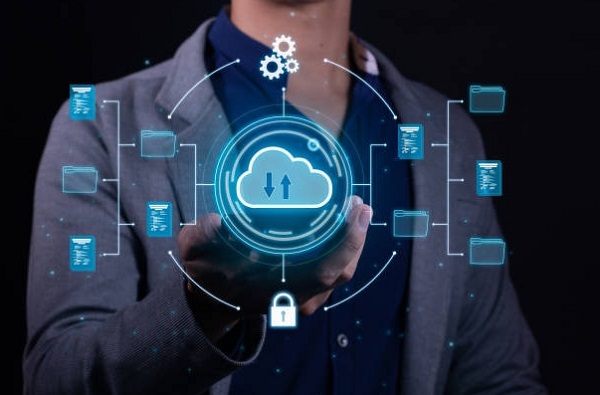 Low cost: The primary benefit of cloud phone systems is the reduction in operating costs. You don't have to buy any hardware or worry about its maintenance. You can also save time on configuration, security, and upgrades.
Better reliability: Since the cloud-based phone system components are housed in multiple locations, you are unlikely to experience any service disruptions. In fact, most leading cloud phone system providers offer a 99.99% uptime guarantee.
Highly scalable: Cloud phone systems grow with your business. All you need to do is upgrade your plan (or add more users).
Supports remote work: As working from home becomes highly relevant today, having a phone system that supports remote work has become a necessity. With cloud phone systems, your team can remain accessible to customers via the same number and make calls, irrespective of where they are.
Improves customer experience: Features like call forwarding ensures you don't miss any important call even outside business hours.
Faster implementation and setup: Leading cloud phone providers like CallHippo enable you to set up your phone system in as little as three minutes.
Ease of use: Using cloud phone systems is as easy as using a smartphone. Its administrative portals can be used by anyone irrespective of their technical knowledge to make changes (like adding a phone, call forwarding, interactive voice response, etc.).
Read More: 4 Helpful Things You can do Using a Cloud Uploader
What to Look for in a Cloud-Based Phone System?
The right cloud-based phone system depends on your business size, requirements, and budget. However, there are certain features that are a must in every VoIP system, such as:
Call conferencing: As remote work becomes more common, businesses need a reliable system for call conferencing within the company.
Smart call forwarding: This feature ensures you don't miss any calls even when you are not in the office. As a result, you will see an increase in customer satisfaction.
Call barging: It enables a supervisor to silently monitor and barge into calls when an agent is unable to handle the customer.
Call recording: It allows you to improve your agent's performance by listening to all the calls.
Call analytics: Tracking your phone support performance enables you to improve your call center efficiency and ability over time.
Interactive voice response (IVR): It allows you to keep your callers engaged while they wait for your agent to take over the call. You can also use IVR to share important messages with your customers (e.g., new offers, sales, etc.).
Wrapping Up
The flexibility, affordability, and scalability cloud-based phone systems offer can help your business grow rapidly. All you need is the right partner to support your journey.