Good communication is important to every major area of business. Whether we are conversing with employees, managers, or the methods used to share information, messages are not conveyed as intended without effective communication.
According to a survey, employees think that bad communication in the organization causes division in the company and significantly affects the business.
In addition, the organization experienced low staff morale, confusion for the company's clients, and reduced business revenue.
Fortunately, there are ways to avoid these problems. For instance, communication consulting can help develop effective communication within the organization.
Seeing how effective communication is necessary, it is important that you add it to your entrepreneurial journey.
Role of Effective Communication in Entrepreneurial Success
Effective communication is necessary for every enterprise or organization to taste success. Entrepreneurs and businesses often struggle to reach their full potential because of their shortcomings in communication.
While starting your entrepreneurial journey, you might emphasize technological skills over communication. Although technical skills are indeed important, so are communication skills.
Without effective communication, you will not be able to hold good bargains with the vendors and distributors. This directly affects your business.
Here is how effective communication adds tracks to your successful entrepreneurial journey.
1. Build Positive Relationship with Employees
Managers and leaders with strong communication skills can better interact with their team members. This minimizes the chances of misinterpretation of information among the employees and enables them to deliver work with perfection.
If effective communication is practiced at the employee level, it helps to simplify the business processes, creates high-quality feedback, and builds a mutually beneficial environment.
2. Establish Connection Between Employees & Business
It is important to help the employees connect with the business to become successful entrepreneurs. Your employees must not feel like just employees working for the organization.
Instead, they must feel that the organization belongs to them, and only then will they be able to stay organized and give their 100%. Frequent communication between the employees and business reap favorable outcomes and make the employees feel a sense of belongingness.
Entrepreneurs should often address employees and share information on how the business is performing and appreciate the contribution of the employees.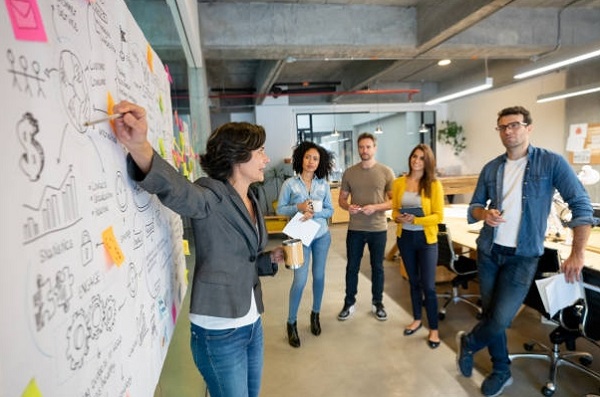 3. Promote Innovation & Creativity
Communication is the root of innovation. When you talk with others and share ideas, you give your chance to explore more ideas and perspectives. In addition, healthy discussion and exchange of information enhance your cognitive skills and unveil the spectrum of imagination.
Creativity is really important in your business; it helps you develop different strategies and processes that support your business and boost its revenue-generating capabilities.
Allowing staff members to discuss their ideas not only helps the employees feel the sense of being important and the organization to explore different ideas.
4. Mitigate Conflicts
An organization means people from different places and different cultures work together. Hence, there is always a possibility of employees getting into conflict. However, this conflict can be stopped by conveying your thoughts effectively.
What effective communication does is that it shares your thought process in the most understandable manner to others. And when others understand you, there will hardly be any conflicts.
5. Boosted Employee Satisfaction
Employees who are part of the organization can feel left out if the right message is not conveyed. If the business is doing good, let your employees know. If your business is doing badly, let your employees know. Don't hide anything from them.
A transparent and trustworthy environment supports employees satisfaction by creating a harmonious workplace. This can only be achieved by implementing effective communication practices in the organization.
Improve Overall Business Development
Effective communication is the key to success. It helps you establish strong connections with the employees, banks, business partners, realtors, and creditors. This ensures your business can enjoy a long and smooth association.
In addition, effective communication ensures the right flow of information across the appropriate communication channels. The message is conveyed without distortion to dissolve disputes and promote a stronger connection.