Commercial construction spending continues to rise year-over-year due to material costs, supply chain disruptions, and labor spending. Any commercial construction project aims to keep costs as low as possible without sacrificing safety or efficiency. Doing so increases profit margins.
To combat these increases, start with accurate strategic cost estimation. Include all construction costs, providing a full glimpse of how to control and reduce commercial construction costs. This immediately outlines issues that could be unnoticed relating to deadline setting and remaining within budget. While keeping costs low, ensure you can uphold quality and safety standards without jeopardizing morale.
Here are a few ways to lower commercial construction costs for your project.
Tap into Construction Management Software
In commercial construction companies like Baycrest, you will find the use of construction management software. The software brings new tools and features, automated reports, and lots of opportunities to streamline and monitor things as you go. You can also collaborate with external stakeholders as the project is ongoing. You can potentially identify opportunities to cut costs or react to going over budget before it becomes a larger problem.
The software will save you time and does not require you to have particularly advanced computer skills. You can easily shave off hours from your weekly schedule by authoring reports and monitoring through commercial construction software programs.
Collaborate with Same-Goal Stakeholders
Cost estimating and cost control are not something anyone can do on their own. Collaborators, such as architects and contractors, and various other stakeholders, can give you an accurate assessment of what's needed and where some cost-cutting could occur.
They may also be willing to offer alternatives or provide guidance on accomplishing a given task within the scope of a commercial construction project with less expense associated with it. Connect with these stakeholders and build out a construction project with their guidance.
Hire Highly-Skilled, Qualified Contractors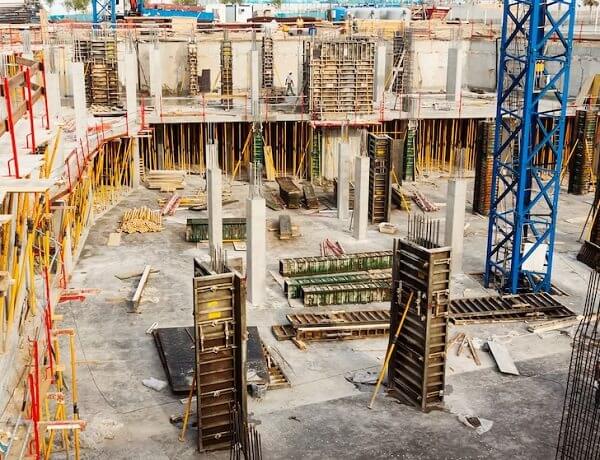 Every minute counts on the job site. You do not want to be training contractors or have people you've hired standing around with a task on their plate. Have people that can multi-task, who understand their role, and who may be able to contribute in other ways outside of the usual parameters of their job title.
Look at how to maximize productivity from teams on a group level and an individual one. You may have to occasionally re-plan or move resources around to reduce costs and save on downtime. Do so.
Monitor, Maintain & Update your Heavy Equipment
Heavy equipment usage comes at a cost. To keep costs down on this front, first and foremost, have updated, high-efficiency heavy equipment that will not cause downtime or necessitate fixes mid-project. You can also find yourself running into costs for vehicle rentals if heavy equipment fails you.
Furthermore, analyze their usage and what is or is not necessary. A commercial construction project makes use of heavy equipment in a big way. However, it can also drain efficiency if this aspect of a project is not properly planned.
Use Eco-Friendly Practices as a Cost-Reduction Method
There is a cost to investing in more eco-friendly practices, but studies show it pays off hugely once you do. As it relates to commercial construction, you have a lot of options. Energy-efficient equipment. The use of recycled or more sustainably-produced materials.
Reusing old materials and other items is a means of cutting down on material costs. There are many ways to collaborate with eco-friendly brands and even the government to reduce spending and secure a more budget-friendly result on-site.
Consider New Technology that Could Speed Things Up
Although some commercial construction processes have been around for decades, new technology is making things faster and easier in many ways. If there is a way to increase productivity on a commercial construction site by adopting new technology, it can be worth the expense.
Look at some of the more repetitive tasks being performed. If there's a different approach you can take, either using tech or an updated process, you may discover being able to lower expenses quite a bit in some areas.
Compare Materials and Buy in Bulk
Shop for construction materials intelligently. Compare prices. Buy in bulk, whenever possible. Commercial construction projects can get deep discounts when buying in bulk, which will provide a much better cost per unit.
In some cases, you may even discover that you can switch out for an alternative that is similar yet cheaper. If you buy in bulk, be sure to store the materials appropriately to avoid damage. A clean, dry storage area will be required and one that's accessible.
Stay on Top of Progress and React when Needed
There are more tools than ever before to improve productivity and lower expenses available to commercial construction project managers and relevant stakeholders. Monitor progress, teams, and individuals. If you see there is performance, productivity, or progress that's lacking somewhere, address it. Effective communication is also key to sharpening up crews' performance in real-time before it grows to become a larger issue.