Making a website on custom cms development is a task for professionals. What does the customer want when he contacts the agency? To make a website for him. How is a secondary question? The main thing is to keep within the budget, everything worked as intended, and ideally – even better. As designed means user-friendly, easy-to-operate and safe.
The contractor has a lot of proposals in response to the client's request. Consider in which cases it makes sense to create a site on a mass CMS, and when it is better to take the path of uniqueness.
All sites are divided into two types
Created on CMS – content management systems (it does not matter, self-written, free or mass commercial).
Sites- the functionality of which is set by programmers. Specialists can only use programming languages ​​or work with frameworks.
The site consists of an external and an internal part. External is design and content, internal is database and admin panel. When developing a site on a CMS, you need to create only the external part – the design, layout it and "pull on the engine". And with independent development, you will have to create the entire filling.
An intermediate option that combines both methods is self-written content management systems. In this case, first a skeleton of functions is created from scratch, and then the solution becomes a typical one, and similar sites are created on its basis. As a rule, self-written CMS are used to solve rather narrow problems.
CMS is more often used for specific projects when an increased level of security, flexibility, or, conversely, ease of use is required. An example is engines designed for online media. They are devoid of the bulkiness of mass systems and, at the same time, can have content management functions that are not available in conventional engines.
These CMS are highly customizable. As a rule, they have a special interface that is convenient for editorial work. In this case, reworking a conventional CMS would cost more and take longer than your own development.
Individual Development or CMS?
When you want to create a website, the choice you make at the beginning is critical to the success of the project. Naturally, the choice of a developer or web agency that will develop the site also has a huge weight. But it is the technical solutions that will be of decisive importance.
What is better, completely develop all the site mechanisms from scratch or use ready-made solutions offered by the CMS (content management system) and develop the missing functions? We will detail the advantages and disadvantages of both solutions here.
Detailed Analysis of Options
Whichever solution is chosen, it all starts with a detailed analysis of the needs for your business. At the design stage, it is necessary to determine the list of expected functions on the site and what tasks they will perform. It is after this that the developer or web agency will be able to determine the most suitable technologies. They are best used for the successful implementation of the project: one of the existing CMS or individual development.
What are the Advantages and Disadvantages of a CMS?
This solution has several advantages: price and terms. It's low costs and time for implementation.
On the Internet, there are many open-access modules and plugins. They allow you to expand the basic functions. They customize the visual part of the site. There is also a lot of documentation.
You can always be sure that you can find a competent developer in fireart.studio who is already familiar with this CMS. It will be able to help you with any questions.
Thus, it is possible to launch a website very quickly with 80% or even 100% of the expected functionality. Especially if it is a simple site like a blog (WordPress) or a simple online store (Opencart) with standard features.
This solution also has some drawbacks that are also worth looking out for:
You depend on technical and graphic solutions created by third-party developers.The admin panel of the site on the CMS is not always easy to modernize.
Even if ready-made solutions work stably, their modification or development of additional functions can be difficult and require a good knowledge of their internal mechanics.
The code that is available to everyone. As well as the discovered security vulnerabilities, can be easily exploited by hackers. Fortunately, as developer communities usually track these flaws, and regularly release patches that improve security. Therefore, it is important to be extra vigilant about available updates. Working with the latest stable versions is essential for better security
Advantages and Disadvantages of Custom Development?
Custom development is almost always suitable for solving a problem when a ready-made CMS solution is not satisfactory for business tasks. It often takes more time (and money) to tailor a ready-made open source solution to specific customer needs than starting from scratch.
This solution may seem more expensive at first, as basic functionality will be developed in addition to functionality tailored to specific needs. On the other hand, the resulting product will not be a customization of a ready-made solution, but will fully correspond to the described need. It will be a bespoke job.
Another plus is that existing frameworks offer many tools for quickly developing basic site functions, such as admin panel, menus, tables, etc.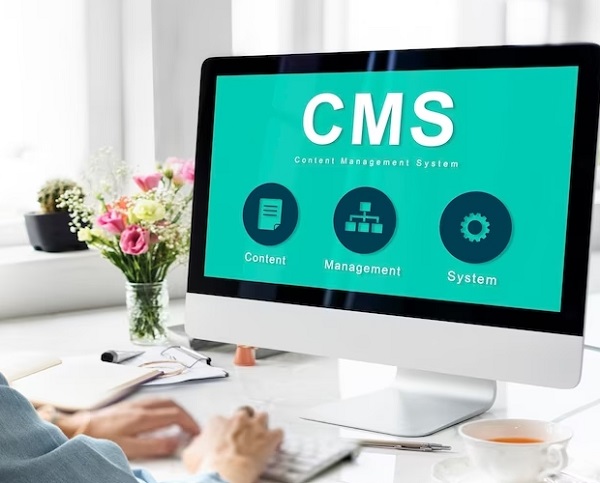 Summarizing
CMS advantages
Ease of Use and Installation: CMS allows you to create a website with minimal knowledge of layout or programming.
Quick Start: CMS are really standard and have a clear and well-thought-out management interface.
Modularity: CMS usually has many free and paid modules available to expand the capabilities of your site. In any case, it is always possible to order the development of a module necessary for your business from a web agency. In the development of a module necessary for your business from a web agency.
Disadvantages of CMS
Some Basic Functions are Missing: CMS does not always meet all the needs of the client.
Security: CMS is often used in free software, i.e. open source. If the code is known to everyone, hackers exploit vulnerabilities.
A developed program that meets the specific needs of the company. Here is flexibility, reliability, security, program maintenance and organization of the implementation of your projects.
Lack of framework is price. The cost of developing on a framework can be several times higher than the cost of developing on a CMS. But with the correct setting of tasks, a well-written technical task and a clear understanding of the client's business processes by the contractor. All costs will pay off very quickly.