As we trundle towards the one-year mark of when we first went into lockdown, there is no surprise that there have been some people contemplating how other people have spent their time in lockdown.
Whether you were still working from home throughout, placed on furlough, or unfortunately, lost your job, we are confident that there are hundreds, if not thousands, of ways that people spent their time indoors. With recent news announced from the government that the country has hopes to emerge from lockdown restrictions in the summer, we can undoubtedly say that excitement levels have gone through the roof!
Holiday searches have increased exponentially in recent days and weeks, and the optimism of seeing friends and family in-person and being able to hug them has also increased.
That being said, if you are one of the curious folk out there, who have contemplated the ways that other couples may have spent their time in lockdown, you are in luck! That is precisely what we will be considering here; read on for more, and curb that curiosity!
Couples Yoga 
Mainly if you are someone who enjoys getting a bit of exercise, or attending a class at their local sports centre, then this one is sure to be appealing to you. With digital health firms globally stating that there has been a global yoga craze taking place since the start of the pandemic over a year ago, there is no surprise that this is one way that couples have spent their time in lockdown.
Whether practising the poses and stretching by yourselves or completing them together as a duo, this is a wonderful way of keeping fit, spending time together, and looking after your well-being during such a tumultuous time of our lives.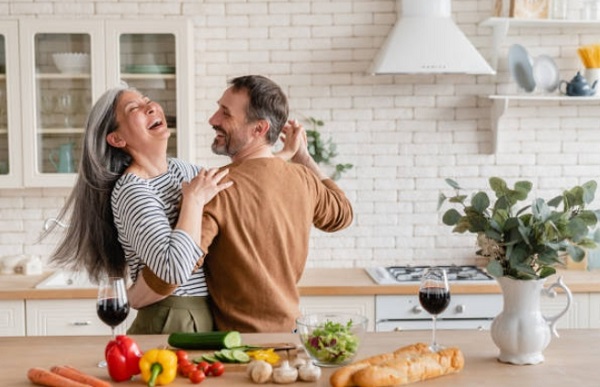 Cooking and Baking  
We are confident that this is something that many couples do together beyond the pandemic environment, but of which many more people have been taking part since we went into lockdown initially.
Cooking and baking together is an excellent way to spend time together as a couple, so it is ideal to try if you have not done so already. While you get to spend time together and enjoy one another's the company, this is also extremely fun; you can explore various cuisines and flavors by enrolling in a professional baking course and have something delicious to eat at the end of it too!
Getting Intimate 
This is a bit of a given, really. With couples spending all their time with one another, we are not surprised that they feel closer to one another than ever. Not to mention, much like exploring the cooking and baking world, this time spent indoors has given couples time to explore one another in an intimate environment and find something new that they might like.
With platforms like Babestation reporting an increased number of people who are tuning in to watch their cam girls, and with the amount of sex toy sales doubling throughout lockdown, there is little to the imagination about what couples – and singletons – have been getting up to! To find out a little more about this hidden side of lockdown, check out this site.
Date Nights (At Home) 
Like the rest of us who are missing eating out at our favourite restaurants with family and friends, couples have also had to get creative with how they host date nights at their homes. From cooking delectable three-course meals to hosting a board game night, there have been numerous creative date nights popping up on our social media feeds, and we have loved them!
Not to mention, this has allowed couples the opportunity to get creative with what they have, and again, while enjoying one another's company. Some couples have even hosted their own cocktail-making evening, creating one another a drink based on what they think of you and what you mean to your other half. What a way to get creative while showing that you care!
Film Nights 
While we are confident that this is something that everyone enjoys doing, whether in a pandemic or not, there have been some couples out there who have taken film nights to a whole new level; they have been creating pillow and blanket forts to snuggle in while watching films!
Social media influencer couples, including Molly-Mae Hague and Tommy Fury, have also led the way in hiring the services of companies who can turn your living room into a mini-cinema. Ideal for those film fans looking to get their fill of the silver screen!
We hope that this post has given you an insight into the creative ways that couples have spent their time together in lockdown. We don't know about you, but this has left us feeling creative and inspired; we are off to build a blanket fort and to watch some of our favourite films!