Safety is a top priority when it comes to your truck. Sure, that means observing traffic laws, performing regular maintenance, and perhaps driving defensively. But what about getting into and out of your vehicle? In both good weather and bad, it's easy to slip and fall stepping up into or down from your truck cabin. Both running boards and nerf bars provide an extra step between the ground and your cabin. This quick guide can help you learn the difference and pick the best one for your vehicle.
A Quick Overview of Running Boards
You probably know that running boards are standard equipment on most trucks, but you'll also find them on many SUVs and crossover vehicles. While their basic shape is somewhat oval, they have a wide flat stepping surface positioned right beneath the cabin doors. They're usually mounted right up against the rocker panels. Some newer SUVs, however, sport retractable running boards. Thanks to their design, running boards offer a few key advantages:
Fast and simple installation
Wide range of sizes and styles
Preventing rocks and debris from hitting the vehicle
Flatter stepping surface and more secure footing
Most running boards also help clean dirt and mud off the soles of your shoes. You'll notice ridges on each board's stepping surface. These ridges help you keep your footing and let you clean off your shoes before getting into your truck.
The Low-Down on Nerf Bars
Now that you've reviewed the basics on running boards, let's see how nerf bars are different. Believe it or not, nerf bars have their origins in professional racing. Racers equipped their cars with tubular bars, which safely allowed them to bump or "nerf" other cars to pass them during a race.
Today, nerf bars on trucks and SUVs provide a lower stepping surface for getting in and out of the cabin. Most modern versions contain a single piece of aluminum or steel tubing with slip-resistant rubber foot grips placed underneath the doors. Nerf bars offer some key benefits: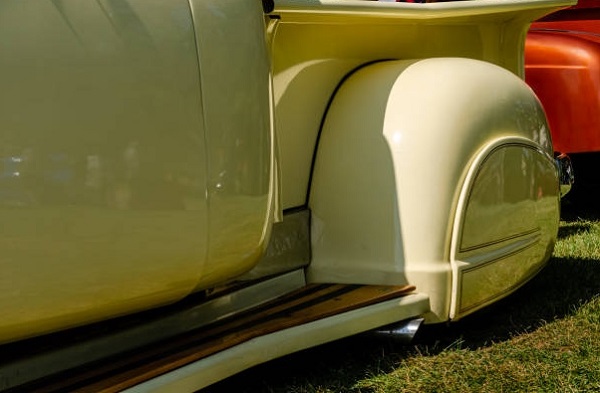 Side protection against damage from doors, rocks, and debris
Lower mounting potential
Better suited for off-road use
Less snow and dirt accumulating on surfaces
Choosing the Best Option for your Truck
Which one is better for your truck – running boards or nerf bars? There's no hard and fast answer to that question. It depends on where and how you drive. If you mostly go off-road, for instance, you're probably better off with nerf bars. They're better suited for increased ride heights and they block all those rocks and other hazards kicked up by your tires. For on-road drivers, running boards may be a better bet.
You still have protection against road debris, but you have a wider stepping area for getting in and out of your vehicle. But if you need to nerf bars and you're concerned about dirty floors, don't worry. Adding some all-weather mats to your interiors should protect them against anything that sticks to your boots.
Once you know what you want on your truck, it's time to go shopping. Whether you're buying nerf bars, a tri-fold truck bed cover, or anything else, select a trusted auto parts retailer with clear pricing, good customer service, and multiple shipping options.