Unearthing new career opportunities during the pandemic is tough as you know it. But if COVID-19 has marked a silver lining in career opportunities, that is in health care.
The importance of frontline workers is on a high rise with the dramatic increase in the number of patients.
As people are recognizing the importance of the health care heroes, this paves new career opportunities for nurses and a variety of job roles to work with.
Here are a few emerging career opportunities for nurses that may revoke your imagination of the nursing career.
Mental Health Nurse
A mental health care nurse takes care of patients who are having mental illnesses like depression, bipolar disorder, postnatal depression, or psychosis.
The impact of physical distancing and staying at home during the pandemic has shown adverse increases in depression and Behavioral disorders according to the statistics from Centers for Disease Control and Prevention.
This has opened up a new career opportunity for nurses to take care of patients suffering from mental and emotional difficulties. The duty of mental health nurse involves:
Helping patients take medication
Observation and assessing patients
Helping with behavior modification programs
Getting them to take part in activities and more!
With an undergraduate degree in nursing and training in psychological therapies, you can get started with this career opportunity.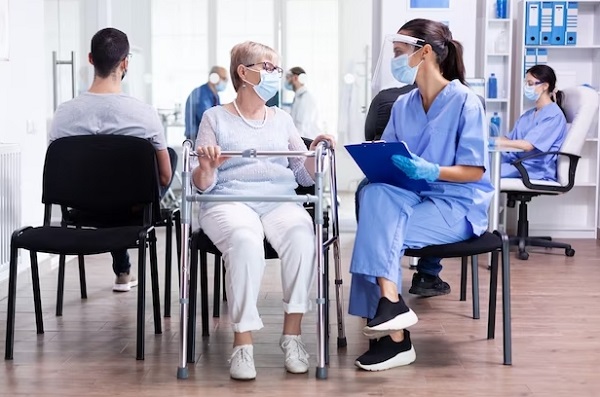 Care Coordinator
In the current context of escalating the need for health care and a low number of workforce in health care centers, coordination in providing systematic and quality health care is vital now, more than ever.
A care coordinator is a healthcare professional drawn from the ranks of registered professionals to assist and manage a patient's health care program. Their role ranges from proposing the right treatment plan to finding the right doctors and helping with the treatment regime.
Their ability to coordinate with patients and health centers is essential to giving the best treatment to patients in emergency situations.
Nurse Educator
The US healthcare system needs more nurses and doesn't have enough faculty members to grow the frontline heroes. If you have a passion for teaching this is an emerging opportunity for you.
A nurse educator is a career where you can teach the nursing students how to take care of patients, implement learning programs, evaluate curriculums, design best practices for caring for patients, etc.
With a BSN degree, you can explore new career opportunities involving higher pay and good career advancements. If you are a registered nurse in the US, Labouré College is providing a 7-week online BSN program to accommodate working nurses.
Clinical Nurse Manager
For the registered nurses who love to manage and be in charge, this is an ideal career opportunity for you. With the hiring of nurses in hospitals and health centers being on a rise, hospitals are looking for nurses who have leadership qualities, the ability to manage teams, and the capabilities to make hiring decisions.
The job role of the clinical nurse managers involves ensuring the quality of care given to the patients, handling shifts, budget management, ensuring the right amount of staff, and most importantly, managing them. With a BSN degree along with good experience in nursing, you can be a clinical nurse manager.
Surgical Nurse
Successful surgery is a combined team effort of the surgical team in the operating room. A surgical nurse or perioperative nurse is someone who assists the surgeon with the surgery procedures. This is an important role that requires knowledge of the surgical procedures, knowledge of the instruments, and getting all the equipment ready in advance. Being a perioperative nurse is all about being fast-paced and highly technical in all aspects.
The good part along with working side to the best doctors is, that you can concentrate on caring for one patient at a time instead of running into all the doors. Most of the operations are done during the daytime which gives nurses proper work schedules and high pay.
Though this opportunity requires good knowledge of working and being updated about top-end technologies, you are able to do all the incredible things in this new job role!
Travel Nurse
The concept of travel nurses came into existence when there was a shortage of nurses nationwide. Simply put, travel nurses are registered nurses who work on temporary contracts for independent staffing agencies. These nurses fill the positions in clinics, hospitals, or home care that are in need of nurses.
Love traveling? A travel nurse is not just bound to travel in the US. they could also work outside of the country as international nurses. These nurses are paid a higher than average salary and an exciting adventure journey to different locations and learn more on the go.

To become a travel nurse, you need a nursing degree with a 2 or 4-year duration course. Though a bachelor's degree (BSN) is not mandatory, most health centers prefer to hire nurses with a BSN degree.
Geriatric Nursing
With the population of aging baby boomers growing, new roles in health care are opening up to take care of their special needs. Geriatric nurses are professionals in the field who care for the elders to help with their special needs. Though sometimes this role may seem disheartening to lose someone or be patient to take them through their tough time, geriatric nursing is considered to be the most gratifying and highly rewarding job.
Geriatric nurses should be cheerful, compassionate, and positive to take patients out of their difficult times. To become a Geriatric nurse you need to have a gerontological nursing degree and pass the gerontological nursing certification examination.
Summing Up
According to research by California Institute for Nursing and Health Care, the new roles in nursing are emerging as a result of increased gaps in health care professionals due to the rapidly increasing number of patients.
With COVID-19 the requirements of healthcare professionals have come to an all-time high. With thousands of job opportunities and emerging new roles in a nursing position, getting the right degree and continuous education is all you need to explore, grow and earn more!