Economic citizenship is a must for a well-to-do person, and Caribbean options have always been affordable. However, they are under pressure now as the EU and the US don't like losing taxpayers, and these countries demand introducing more stringent rules and higher fees. That is, the situation is about to change, and you need to hurry to get Caribbean citizenship before it becomes much more expensive (or the local authorities decide to suspend it).
The St. Kitts and Nevis program was the first project of this kind in the world as it was launched back in 1984, and all the programs that followed copied it to some extent. Experts strongly recommend that you collect more information before you make a final decision. You can view more details on different citizenship- and residence-by-investment programs in the relevant section.
If you have little time for extensive reading, you can book a free initial session with an expert. You will need to provide basic information about yourself, such as the country of origin/residency, the amount you can invest, the number of dependents, needs, preferences, and so on. Experts will help you choose the best economic citizenship program from those available at no charge. And if you decide to get a second passport, experts will help you overcome all the administrative barriers at a reasonable fee (mind that you cannot venture on your own as local governments do not work with individuals: you will have to work with a licensed agent anyway).
Why St. Kitts and Nevis?
Let's consider the main reasons why you should opt for this jurisdiction:
The requirements are not very tough, you will not have to take any language or other tests or live in the country for any time whatsoever.
The approval is usually given within no more than 6 months, which is quite quick.
The passport of St. Kitts and Nevis will give you visa-free access to 123 countries.
St. Kitts and Nevis is a country that offers political and economic stability, which is especially beneficial if you decide to start your business.
If you decide to relocate to the island, you will live in a tropical paradise with stunning natural views and wonderful beaches. If you are used to well-developed infrastructure and luxury real estate, you will find them here as well.
Low Taxes, You will not have to pay the tax on foreign income, inheritance, or gift tax. On the whole, if the tax burden in your country is quite high, you will be relieved to become a tax resident of St. Kitts and Nevis.
Eligibility Criteria
Most people qualify for the program, but let's see the criteria anyway:
The main applicant should be at least 18 years of age.
The criminal record must be clean, and there should be no criminal proceedings against the main applicant that are still ongoing.
The main applicant and all dependents have to successfully pass a due diligence check.
You will have to provide the documents to prove the legal origin of the funds you are going to invest in the program.
Finally, you will have to provide a medical certificate that confirms your good health (it is usually required to prove the absence of infectious or any serious diseases, while chronic conditions are usually not a problem).
Who can be added to the application as a dependent?
The main applicant's spouse
Children under 30 are subject to their financial dependency on the main applicant
Parents aged 55 or more who are financially dependent on the main applicant
Who cannot apply for St. Kitts and Nevis citizenship?
Let's look at the restrictions:
You cannot apply for the program if you are a citizen of sanctioned countries, such as Russia, Belarus, North Korea, Iran, Cuba, or Afghanistan.
If you were denied a visa to one of the countries that are visa-free if you have a passport of St. Kitts and Nevis (the UK or the EU countries, for instance), you will be turned down in 100% of cases.
There are four more Caribbean economic citizenship programs (St. Lucia, Dominica, Antigua and Barbuda, and Grenada), and if you were rejected under one of them, you will not be approved in St. Kitts and Nevis, either.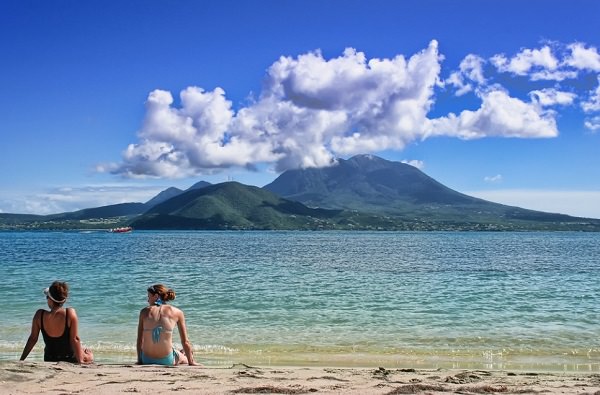 St. Kitts and Nevis Economic Citizenship: Cost
There are two investment options available:
The First One is Non-Refundable, and This is a Kind of Support for the Local Economy: You will have to invest 150,000 US dollars in the Sustainability Growth Fund. If you include a spouse in the application, you will have to additionally pay 25,000 US dollars, and 10,000 US dollars is payable per each additional member.
The Second One can be Refunded within Five or Seven Years: You will have to buy a real estate project approved by the government. You will have to invest 200,000 US dollars to resell the property within 7 years or 400,00 US dollars to resell it within 5 years.
You will have to pay a due diligence fee that amounts to 7,500 US dollars for the main investor and 4,000 US dollars for each family member aged 16 and more.
You will also need to pay an application processing fee that differs greatly depending on the alternative you choose. If you opt for a non-refundable option, you will only need to pay 250 US dollars per application member. However, if you decide to invest in real estate, you will have to pay 35,297 US dollars for the main applicant, 20,297 US dollars for the spouse, and 10,297 US dollars for the dependent of any age.
The licensed agent's fee amounts to a minimum of 20,000 US dollars if you apply alone and 25,000 US dollars in the case of a collective application.