Split-level homes came into popularity in the 1950s and are a common style of home people are still living in today. These homes have a distinct architectural style, with many levels of the home separated by a staggered set of stairs.
While these homes were once the height of popularity, they aren't seen as a very modern option in today's housing market. The good news is that there are some easy steps you can take to update your split-level home.
If you aren't sure how to modernize a split-level home exterior, you've come to the right place. In our guide below, we'll cover the best tips to update your home so that it looks modern and fresh.
Exterior Paint
One way you can perk up the exterior of a home is to add some new paint. A carefully chosen paint color can take years off your home.
The colors that are popular right now are classic grays, whites, and olive greens. These colors can freshen up the exterior and give it new life.
Update Doors and Windows
When people look at your split-level house, one of the first things they will notice is the doors and windows. One of the most prominent home improvements you can make to your split-level home is to put in modern doors and windows.
Another bonus to new doors and windows is that they are often more energy efficient. You'll be able to boost curb appeal while lowering your energy costs. 
Add New Landscaping
Improving a home with landscaping is another home improvement that is easy to do but can make a big impact. One of the simplest ways to keep your split-level house looking modern is to keep the landscaping up-to-date. Add a modern walkway or beautiful flower wall to spruce up the exterior of your split-level home.
Play up the House Levels
Consider playing into the different levels of your split-level home by accentuating them with various patterns or colors. A mix of colors and textures adds visual interest to your home.
One trick is to add new siding to the tallest level of your split-level house. You can make your home feel more modern without breaking the bank.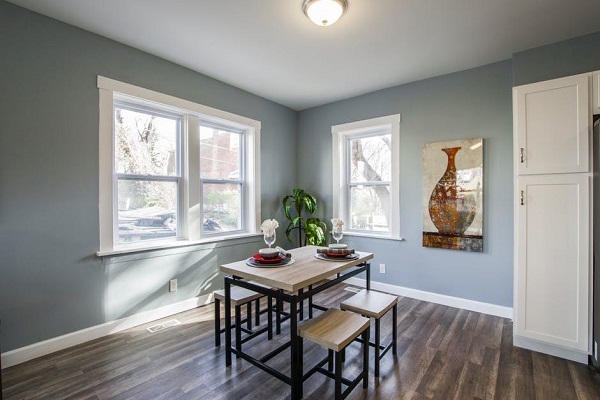 Many older split-level homes have their lower levels outfitted in stucco or brick. You can update this look by replacing these materials with a more modern choice like stone or cedar clapboard.
Trim Your House
Adding trim to your split-level home is another easy exterior change you can make. Grab an extendable ladder and put new trim under the soffit and corners of your home. Don't forget to frame your windows to modernize the front of your house.
Knowing How to Modernize a Split-Level Home Exterior With a Few Small Changes Makes All the Difference
Even though a split-level home isn't as popular today, it can still have a stunning look. If you know how to modernize a split-level home exterior, you can take years off the look of your home.
Before you dive into your house renovations, you'll need to do your research! Check out our articles on Home Equipment for guidance today.