Bachelor of Technology in Textile Engineering is an undergraduate program comprising subjects related to the textile industry. The BTech course is for four years and has been divided into eight semesters, each of six months. As the number of companies producing textiles is increasing, the demand for Textile Engineers in India and foreign countries is also rising.
Successful graduates get job opportunities in various sectors such as Research & Development, Technical Sales, Production Control, Process Engineering, Textile Equipment Production, etc. After completing this BTech course, one can earn between INR 3 – 10 LPA.
Read More: Reasons To Pursue A Career In Computer Programming
BTech Textile Engineering
BTech in Textile Engineering involves studies related to the design and manufacturing of fibre and textile. Textile engineering students study about various technologies and machinery used in textile engineering, through which better textiles can be produced.
It consists of training in fields like wet process designing, textile plant designing, textile printing, and dyeing. The minimum eligibility criteria for BTech in Textile Engineering is 55% marks in 10 + 2 exams, and students also need to clear JEE entrance examination. However, the final admission is based on student counselling.
| | |
| --- | --- |
| Course Name | BTech in Textile Engineering |
| Course Duration | 4 Years |
| Minimum Eligibility Criteria | 55% marks in aggregate in 10 + 2 and 1-year experience |
| Course Fees | INR 20,000 – 2 lakhs for 3 Years |
| Entrance Tests Considered | JEE Main, JEE Advanced, CET, AIEEE |
| Average Salary for Beginners | INR 2 – 10 LPA |
| Top Recruiters | JCT Limited, RIL Textiles, Bhilwara Group, Mysore Silk, Lakshmi Mills, FabIndia, Mafatlal Denim |
| Popular Job Profiles | Fashion/ Clothing Designer, Technical Designer, Patternmaker, Retail Buyer, Medical Textile Engineer, Quality Control Supervisor |
Top Colleges Offering BTech Textile Engineering
| | | |
| --- | --- | --- |
| Name of College | Location | Course Fees (in INR) |
| College of Engineering & Technology | Akola | 85,000 |
| Giani Zail Singh College of Engineering & Technology | Chandigarh | 60,432 |
| Osmania University | Mumbai | 11,900 |
| Faculty of Engineering and Technology | Vadodara | 75,000 |
| Jawaharlal Darda Institute of Engineering & Technology | Yavatmal | 1,00,000 |
| Panipat Institute of Engineering and Technology | Panipat | 69,000 |
| Veermata Jijabai Technology Institute | Mumbai | 35,000 |
| SSM College of Engineering | Salem | 72,350 |
| The Neotia College | Kolkata | 1,32,000 |
| Punjab Technical University | Chandigarh | 26,000 |
BTech Textile Engineering: Jobs and Career Prospects
Textile Industry in India produces various types of materials such as Khaadi, silk, cotton, polymer, and more depending on the current fashion and trends. Companies in manufacturing these materials need textile engineers to monitor the manufacturing and production process. Apart from this, companies also need engineers to research and develop textile machinery, which can help increase their profits.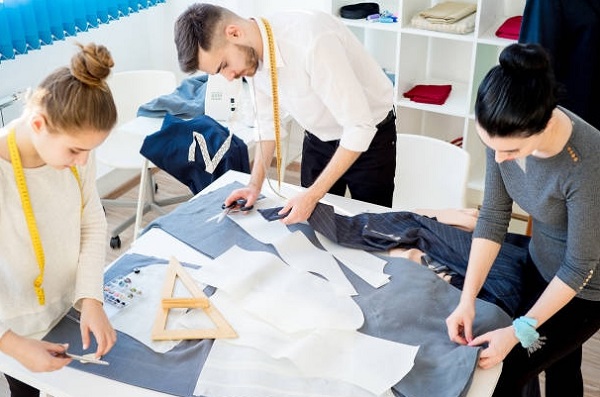 BTech – Textile Engineering course is designed to provide knowledge and skills to students to help them build a successful career in the textile industry. Students get a chance to work on live projects and gain industry experience while studying. The course is ideal for creative students from fine arts, design institutes, textile technologies, and other similar fields.
Graduates of BTech in Textile Engineering can initially choose to take up a job and after gaining industrial exposure start their own venture. The scope for engineers in this field is great. There are many leading companies in India as well as abroad that offer jobs to Textile Engineers. Moreover, students can even opt to continue their studies, by enrolling on master's and PhD level courses.
Some of the popular careers for textile engineers include:
Technical Designing
Fashion writing/ editing
Visual merchandising
Fashion buyer
Fashion designer
Fashion consultant
Patternmaker
Textile research scientist
Quality control
Costume Designer
Product developer
Museum collection management
BTech Textile Engineering – Job Profiles for Textile Engineers
Textile Engineers usually get jobs in departments like R & D, quality control, planning and maintenance of textile machinery, and process engineering after completion of their graduation. Here are a few job profiles/ positions available for Textile Engineers after BTech:
| | | |
| --- | --- | --- |
| Job Profile | Description | Average Annual Salary |
| Production Engineer | Production Engineers have to monitor the production of a product, mainly in an indoor factory setting. The engineer has to ensure that the production demands are met effectively and efficiently. | INR 4 – 4.5 LPA |
| Fashion Designer | Fashion designer/ clothing designer creates and helps in the production of apparel for men, women, and children. They are often recruited by firms, retailers, wholesalers, or performing art companies. Such professionals also have to travel frequently. | INR 8 – 9 LPA |
| Quality Control Supervisor | Quality control supervisors are primarily responsible for supervising and handling sample evaluation and approval of production by checking measurement, workmanship, fitting, and quality accessories. | INR 1.7 – 2 LPA |
| Operation Trainee/ Management | Operation trainees work under the supervision of managers for merchandising to learn the process of QA, production support, production planning, and industrial engineering. | INR 1.98 – 2 LPA |
| Textile Designer | Textile designers are responsible for decisions related to fibres, patterns, and colours for making fabrics for clothes, homeware, and furniture. They consider both the appearance and the function of the materials. | INR 4 – 5 LPA |
| Fibre Artist | Fibre artists use natural and synthetic fabrics and fibres to make crafts, wearable clothing, quilts, etc. This could include tasks that require weaving, sewing, knitting, or assembling. | INR 3 – 4 LPA |
| Medical Textile Engineer | Medical Textile engineers are responsible for developing fabrics for clothing, medical supplies, furnishing, and household items. Their job also includes liaising with and giving technical advice to purchasing, marketing, and design and production staff. | INR 3 – 10 LPA |
Salaries after BTech Textile Engineering
The salary of a Textile Engineer after BTech in Textile Engineering varies based on the college from which the student has graduated as well as the skill-set possessed by the candidate. Moreover, as the candidate gains experience in the field, the salary package continues to improve. The basic pay for fresh graduates usually ranges from INR 2 to 4 LPA whereas for experienced employees it goes up to INR 10 LPA.
Read More: Career Opportunities in Artificial Intelligence
BTech Textile Engineering: Top Recruiters
There are plenty of global as well as local companies offering jobs to BTech – Textile Engineering graduates. Some of the top recruiting companies are as follows:
| | | |
| --- | --- | --- |
| JCT Limited | RIL Textiles | Bhilwara Group |
| FabIndia | Mysore Silk | Lakshmi Mills |
| Mafatlal Denim | Rajasthan Petro Synthetics | Raymond Group |
| Arvind Mills Limited | Grasim Industries | Bombay Dyeing & Manufacturing |
The BTech Textile Engineering course has lots of opportunities for students who are willing to build their careers in the creative field. Graduates in this field get outstanding job opportunities as well as high salary packages. Besides, skilled professionals can also work independently to increase their income. We are hopeful that the information provided will be helpful to engineering students.