Edinburgh is a historic city, Scotland's capital. It has so much to offer, from its medieval Old Town to its stunning castle perched on top of a hill. With its rich history, vibrant culture, and breathtaking sights, it's no wonder that Edinburgh is a popular destination for travelers.
If you're planning a trip, you may be wondering when is the best time to visit Edinburgh. Should you come during the summer months for warmer weather or brave the colder temperatures in the off-season? Let's dive into the different seasons in Edinburgh and see when is the ideal time to experience this amazing city.
Springtime (March-May)
Springtime in Edinburgh is a beautiful sight to behold. As the trees and flowers start to bloom, the city comes alive with color and energy. This is a great time to visit if you want to avoid the peak tourist season that starts in June.
While it can still be chilly, you'll witness a gradual transition from winter to the milder months ahead. Here are some reasons to visit in spring:
Fewer Tourists
With the peak season still a few months away, you can enjoy less crowded attractions and better deals on accommodation. You may also get the best deals on airport transfers which you can check out here https://www.capitalcarsscotland.co.uk/services/airport-transfers.html.
Festivals Galore
Spring marks the beginning of festival season in Edinburgh. From the famous Edinburgh International Science Festival to the Beltane Fire Festival, there's always something going on in this lively city.
Floral Beauty
The beautiful cherry blossoms and other spring blooms make for a perfect photo op. Head to the Princes Street Gardens or the Royal Botanic Garden to admire the city's floral beauty.
Summer (June-August)
The summer months are undoubtedly the busiest time to visit Edinburgh. With warmer temperatures, and various festivals taking place throughout the city, it's no surprise that this is the peak tourist season.
If you don't mind crowds and want to experience the vibrant atmosphere of Edinburgh, then summer is the perfect time for you. Here are some reasons to visit in summer:
Long Days
During the summer, Edinburgh experiences up to 17 hours of daylight, giving you more time to explore and enjoy outdoor activities.
Festivals
The world-renowned Edinburgh Fringe Festival takes place in August, bringing together performers from all over the world. This is a must-visit for any art and culture enthusiast.
Parks and Outdoor Activities
With warmer weather, you can enjoy a picnic in the park or take a hike up Arthur's Seat for stunning views of the city.
Autumn (September-November)
As the leaves start to change and fall, Edinburgh takes on a new charm in the autumn months. The weather starts to cool down, but there are still plenty of events and festivals to enjoy. Plus, the city is less crowded compared to summer, making it a great time to visit if you want a more relaxed experience.
Quieter Streets
With the peak season over, you'll find fewer tourists and shorter queues for popular attractions.
Mild Temperatures
The weather in autumn can be unpredictable, but it's generally mild and pleasant enough to enjoy outdoor activities without being too hot or cold.
Festivals and Events
From celebrating Halloween with ghost tours to enjoying traditional Scottish festivities during St. Andrew's Day, there's always something happening in Edinburgh during autumn.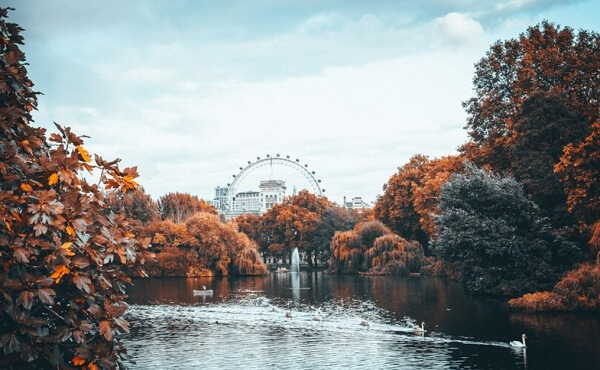 Winter (December-February)
Winter in Edinburgh is definitely not for the faint-hearted. With cold temperatures and shorter days, it can be a challenging time to visit. However, if you don't mind braving the weather, then you'll be rewarded with a magical experience.
Christmas Markets
The city comes alive during Christmas with festive markets, ice skating rinks, and dazzling light displays.
New Year's Celebrations
Edinburgh hosts one of the world's biggest New Year's Eve celebrations, known as Hogmanay. Join in the festivities with street parties, concerts, and a spectacular fireworks display.
Lower Prices
With fewer tourists visiting during winter, you can find great deals on flights and accommodation.
Indoor Attractions
If the weather is too cold to explore outdoors, don't worry. Edinburgh has plenty of indoor attractions such as museums, galleries, and cozy pubs where you can warm up with a hot beverage.
Special Considerations for Your Visit
No matter when you decide to visit Edinburgh, there are a few things to keep in mind for an enjoyable trip:
Pack Layers
Edinburgh weather can be unpredictable, so it's best to dress in layers that you can add or remove as needed. This will ensure you stay comfortable no matter the temperature.
Book Accommodation Early
As a popular tourist destination, accommodations tend to be booked up quickly. Make sure to book well in advance to get the best deals and availability.
Prepare for Rain
It's no secret that it rains a lot in Scotland. Don't let the weather dampen your spirits, instead, be prepared with a raincoat or umbrella.
Plan Your Itinerary
With so much to see and do, it's helpful to plan out your days beforehand. This way, you can make sure you don't miss any must-see attractions and also leave some room for spontaneity.
Consider a Guided Tour
To get the most out of your visit, consider booking a guided tour. An experienced guide can provide in-depth knowledge and take you to hidden gems that you may not find on your own. Also, you can prevent any stress since you will have somebody who can direct you where to go in case you need to eat or see something.
Choosing the Best Time to Visit Edinburgh
So when is the best time to visit Edinburgh? It ultimately depends on your preferences and what you want to experience. If you don't mind crowds and want to attend some of the biggest events and festivals, summer is the time for you.
If you prefer a more relaxed and less crowded experience, then spring or fall may be your best bet. And if you want to experience the magic of winter in Edinburgh, then visit during the colder months.
Get ready for an unforgettable trip to the charming capital of Scotland.