Planning your trip to Niagara Falls can be an exhilarating endeavor, full of anticipation and excitement. The timing of your visit is crucial, as the experience can vary dramatically depending on the season and even specific months.
Have you ever wondered when the absolute best and worst time to visit Niagara Falls might be?
Well, get ready for an adventure because we're about to dive into this captivating topic and explore all the fascinating details that will help you make the most of your trip.
Continue reading!
Summertime: Peak of Excitement
The summer months of June to August are undeniably the most popular time to embark on Niagara Falls tours. During this period, you may encounter larger crowds. However, you'll also have the chance to immerse yourself in a multitude of unforgettable activities and experiences.
You can experience the world-famous Maid of the Mist boat tour, where you can witness the sheer power and beauty of the falls up close. You can also experience the awe-inspiring Journey Behind the Falls adventure, where you can explore the mesmerizing natural phenomenon from a unique perspective.
It is during these months that the Falls truly come alive. It radiates with an unparalleled vibrancy that will leave you breathless and in awe of nature's grandeur.
Autumn: A Spectacle of Colors
Visiting Niagara Falls in Autumn (September-November) offers a truly breathtaking and mesmerizing experience. As the seasons transition and nature's paintbrush takes hold, the surrounding landscape becomes a vibrant tapestry of warm hues and rich tones.
The striking combination of fiery reds, golden yellows, and deep oranges creates a picturesque backdrop. It is truly every photographer's dream!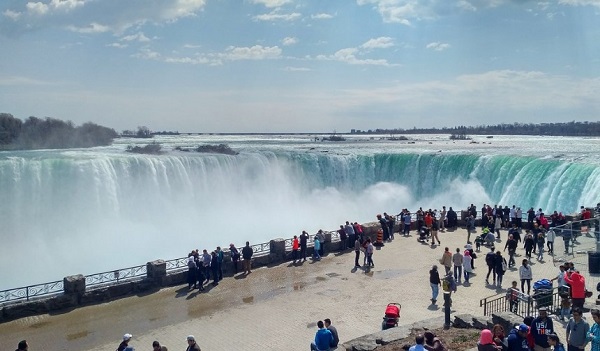 Immersing yourself in this natural spectacle, you'll be captivated by the gentle rustling of leaves as they gracefully fall. They add a whimsical touch to the already enchanting atmosphere. Take a leisurely stroll along the trails, feeling the crispness in the air and the earthy aroma that fills your senses.
While planning your visit, it's worth noting that Canadian Thanksgiving and American Veteran's Day may contribute to occasional spikes in tourist traffic. Plan accordingly and embrace the opportunity to witness this extraordinary display of nature's artistry.
Winter: An Icy Paradise
Some might consider December to February the worst time to visit Niagara Falls. But, people may miss out on its unique winter beauty that can't be overlooked. The frozen landscapes create a surreal spectacle, transforming the falls into an icy paradise.
During this time, temperatures can plunge to below freezing. This makes it quite chilly for outdoor activities.
Also, some attractions like the Maid of the Mist boat tour are closed due to the icy conditions on the water. If you're not a fan of cold weather or limited activities, you might want to consider a different time for your visit.
Making The Most Out of The Best and Worst Time to Visit Niagara Falls
It's difficult to choose the best and worst time to visit Niagara Falls. This natural beauty can be seen in a different way each season.
One thing is for sure: the summer landscape is beautiful, as are the fall colors, the winter scenery is sparkling, and the spring landscape is full of new life. Tours of Niagara Falls are an unforgettable experience. You just need to pick out the kind of experience you want!