A well-maintained roof plays a crucial role in safeguarding our homes, protecting the lives of occupants, and ensuring longevity. When it comes to maintaining our house, our focus stays on the interior space, the trendy decoration pieces, and the designs for wallpapers.
We often ignore the most critical component of our house: the roof. It's essential to stay on top of maintenance to ensure the safety of our loved ones.
We will elaborate on the reasons for roof damage, why to have a well-maintained roof, the significance of preventive measures, and what methods, professional help, or DIYs can elongate the lifespan of your roof.
4 Reasons Why Roof Maintenance is So Important
Every living and non-living thing on this planet has a lifespan. As for us, having a healthy life requires regular physical and mental checkups. Similarly, our house or any property also demands attention. For humans, there is a precautionary measure to help us avoid any health danger.
In the same way, the roofs of our building, houses, or any property needs maintenance to keep them in optimal condition. Learn the reasons why a well-maintained roof and its maintenance is mandatory.
A Well-Maintained Roof Keeps Your House Safe
The roof of your house is directly associated with the walls, the foundation, underlayment, flashings, shingles, tiles, and the rafters. Giving a proper monthly and yearly insulation inspection of the roof's condition guarantees the safety of the people living under it.
A well-maintained layer of the defense-your roof can protect your family from inevitable situations, such as weather events, electrical faults, and built-up moisture leading to mold. Regular roof repair can save you from future headaches and can shield your family from any unexpected hazards.
Well-Maintained Roof Gives Protection against the Elements
A primary and crucial role of a roof is to shield and protect your home from external elements such as sunlight, wind, snow, and rain. The protective capabilities of your roof increase through regular inspections and timely repair. A well-kept roof with a sturdy structure can help you prevent issues such as:
Water leakage
Mold and mildew growth
Structural Damage
Stained and discolored ceilings
Breakage of tiles
Open to electrical faults
Cracks
Roof leaks
Take care of your roof, and watch it last longer!
Proactive roof maintenance can save you from investing thousands in its reparation. You can easily prolong the investment of your roof repairment simply through regular checkups. Regularly inspecting your roof for insulation and leaks can assist you in identifying any repair requirements.
Regular or monthly check over costly replacement sounds like a fair trade. It is like investing a tiny portion of your time in looking after your roof rather than investing thousands on replacement all at once.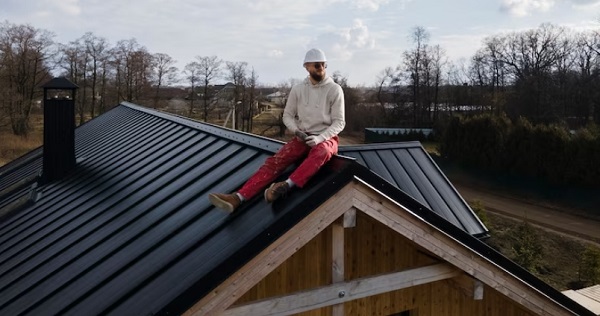 Sense of Security
Most of your house issues can occur due to negligence towards the maintenance of your roof. This unaddressed issue can cause further problems as:
Damage to Electrical Systems
Fire Hazards
Loose Tiles
Leaks and Flooding
This threat can affect the quality of your life and rob you of your peace of mind. By promptly addressing any major or minor leaks, cracks, or damage on your roof, you can secure yourself from more damaging accidents.
Reasons for Damaged Roofs
There are multiple reasons why the roof gets damaged, including external factors. These factors can create the worst conditions, especially if the damages are left undressed for the long term. Here is a multitude of reasons why roofs tend to get damaged:
Adverse Weather Conditions: Hail, heavy snow, constant exposure to intense sunlight especially, if these stay longer on the roof, it starts to deteriorate the material. Deterioration leads to cracks, water ponding, leaks, and more sustainable damage.
Improper Installation: Use of substandard materials, use of inferior techniques, Neglecting routine inspections, repair, and debris cleaning. These issues result in structural problems, mold growth, water damage, and compromise the integrity of the property.
Impact Damage and Aging: General wear and tear, durability decline with time, material weakens and becomes more prone to damage. The chances of the roof getting affected by immediate damage as a sudden fall of branches or trees increases rapidly. Old buildings or homes are more prone to require reinstallations because, with time, their effectiveness decreases.
Maintenance of Any Type of Roof
When maintaining your roof, there are various factors to consider, such as the unique requirements of your area, the distinct needs of your location, and the weather conditions. These factors can impact the structural integrity or overall stability of your house. Every type of roof requires its specific approach to reparation. Here are some DIYs or methods that come in handy in need of time.
Asphalt Shingle Roofs
You can individually replace the broken and cracked tiles by making sure it's properly aligned. Also, you can secure the loose ones on your own.
Metal Roofs
It is advisable to apply sealants on the roof to prevent rust. Tighten the loose screws, and replace the damaged metal panels.
Flat Roofs
After carefully identifying the issues, you can single out the most suitable solutions. Check for any form of deteriorated flashing, mold, or ponding water. Repair it timely.
Entrust the situation to the professionals for long-lasting results. The best you can do is to consistently inspect for any signs of damage and thoroughly remove debris every month.
To Wrap It Up
Maintaining a roof can provide protection and security, prevent costly repairs, enhance energy efficiency, increase property integrity, and ensure the safety of your loved ones. Regular inspections, proper maintenance, and essential debris cleaning can maximize the security advantages and lifespan of the roof. It's beneficial to observe that timely reparation and inspection can spare you the foremost expenses of installment. It can save you from unnecessary headaches tomorrow!
FAQs
What are the signs of roof damage?
There are particular signs of roof damage, and addressing them in due time can save you from future investments. Look for signs such as missing shingles, water damage on walls or ceilings, problems in the attic, and leaky or clogged gutters.
How do you prevent roof damage?
You can easily avoid intense roof problems only by cleaning gutters, vents, and chimneys every week. Take some time out for a regular inspection of your roof, trim your trees, and immediately remove the hanging branches from your roof. Don't let snow stay on your roof for more than a day.
How does water damage a roof?
If the water stains start to appear on the top of your rooms and walls, it's a sign of leakage in your roof. Some water stores on your roof are gradually damaging your walls or ceilings. There are many reasons, but addressing them as soon as possible can save you a lot of headaches. Look for interior and exterior causes such as Improper Installation of Skylights, Peeling paint, ice dam buildup, mold, mildew, and valleys sealed improperly.
What causes a roof to age?
External factors can hollowly affect the effectiveness and durability of your roof. Other than that, depreciation is inevitable, and deterioration occurs with time. These factors can cause the roof to age quickly.