DVR service has changed the way we watch TV. Everyone likes the liberty of recording the shows of their interest and watching them on their schedule. DVR is also a great trick to watch TV by skipping commercials.
These days, every cable provider allow its subscriber to add DVR to their plan by charging a fixed monthly price. Let's have a look at the best options to opt for in 2020:
1. Spectrum 210 DVR
Charter Spectrum, the leading cable TV provider offers DVR service with all Spectrum TV plans. The company rents out 210 DVRs that are built within the receiver. It lets you record and stores several hours of the programming you love.
The provider sells a variety of hard disk sizes to go with its DVR. Two types of DVRs are available. The Standard HD DVR lets you record up to 80 hours of standard definition content and 35 hours of HD programming. On the contrary, the enhanced DVR records up to 150 hours of HD programming and six shows simultaneously.
You may record all your favorite programming from movies, and sporting events to TV shows. The DVR also allows the user to schedule recording for the full season of a program. The DVR keeps on recording in the background while you are watching live TV. You can even pause and rewind.
2. Contour Record 6 DVR
Contour Record 6 is a DVR by Cox. It's pretty basic when it comes to features but it's capable of recording up to 6 shows simultaneously. This device can hold 250 hours of HD TV. You can't download the record content on your smartphone or tablet but using the Cox app, you can definitely watch the recordings from your mobile device.
This DVR recommends content based on what you like so it will help you find new shows that you will enjoy. For those who like to keep things simple, Contour Record 6 isn't a bad choice at all.
Read More: 7 Reasons Why You Need Digital TV Antennas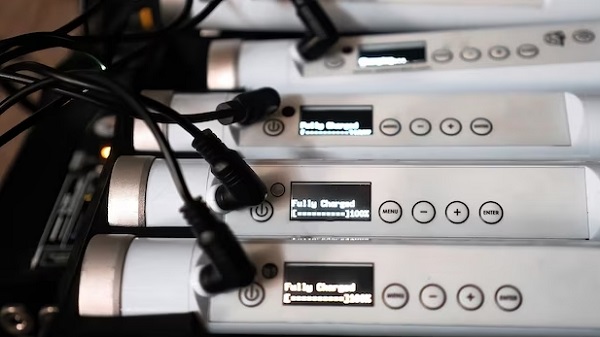 3. Genie HD DVR
Want to have more storage? The Genie HD DVR by DirecTV has got you covered. One of the downsides of this DVR is that you can only record 5 shows at a time. But users admire it for the amount of storage it offers for HD and 3D content.
Those who prefer 4K HD can opt for Genie Wireless Mini. It delivers 4K HD content but it's available at an additional cost.
4. Fire TV Recast
This DVR is for those who have antenna TV. Fire TV Recast by Amazon lets you record content from local channels like CW, PBS, Fox, CBS, ABC, and more. For this DVR to work, an HD antenna and a Fire TV Stick are required. Since it's from Amazon, it also works with Alexa. Use Amazon Echo or Fire TV Voice remote to make it work.
Fire TV Recast lets you rewind and pause live TV but you can't skip commercials. You can only forward the content for 30 seconds. If you are a fan of OTA DVR, this is the best choice out there.
5. TiVo Edge
This is a third-party DVR for which you will need a cable card from your TV provider for decrypting signals. It only works with cable TV, it does not support satellite or fiber.
It's more expensive than other DVRs listed above. First, you have to purchase the DVR and then pay a monthly subscription for using the service.
The features of TiVo Edge are robust though. With this DVR, you can record up to 6 shows simultaneously and save 450 hours of HD TV. It's for those who are real TV addicts and love to be couch potatoes on the weekend.
Guide to Choose the Best DVR
Having to choose from a DVR can be overwhelming, here are some tips to settle for the best one:
Simultaneous Recording
What is the point of having a DVR if it cannot record several shows at the same time? After all, you are recording content to binge-watch it at the time that works best for you.
Most DVRs allow the recording of 4 shows at a time. Don't settle for a DVR that records less than 4 shows simultaneously.
Read More: A Proper TV Repair Guide
Storage
The next important thing to consider is storage. When you have enough storage, you can keep hundreds of episodes at a time. Aim for a DVR that offers at least 1 Tb of storage. That means it should be able to store 150 hours of HD videos.
Availability
In case you are getting the DVR service from your cable TV provider, it's recommended to first check if their service is available in your area. Call the service provider for more details on that.
Enjoy Watching the Recorded Content
With the right DVR service, enjoying your favorite content won't be a problem at all. Most DVRs let you record even while you are watching live TV. So make the most of this opportunity. While your dad is watching the news or your mom is hooked on her favorite drama show, let the DVR do its work and record the shows or movies you adore.