The island nation of Singapore has always been a high-tech hub for cargo and electronics. But over the past decade, Singapore has taken several key steps to diversify its economy. The result has been an explosion in the city's arts and culture scene.
Singapore's museums and galleries rival those in London and New York City. Its club scene ranks among the best in Southeast Asia.
Is Singapore worth visiting? Here's a quick guide to everything you can do when you visit Singapore to help you decide.
Explore the Gardens by the Bay
Gardens by the Bay is a futuristic nature park that features a fusion of nature and technology, with its iconic Super Trees and dazzling light displays. Visitors can explore the various themed gardens, such as the Cloud Forest and Flower Dome, each offering a unique immersive experience.
The Gardens is a feast for the eyes and a great place to learn about sustainability and environmental conservation. It is undoubtedly a must-see attraction that makes Singapore worth visiting.
Visit Chinatown and Little India
Among Singapore's many gems are Chinatown and Little India. These are two bustling and colorful neighborhoods that should make the vacation itinerary of any traveler.
Chinatown immerses visitors in Chinese culture with traditional shophouses, temples, and delectable food options. Little India enthralls with its brightly colored buildings, aromatic spices, and bustling markets. Both neighborhoods offer a unique glimpse into the history and diversity of Singapore.
Indulge in the Local Street Foods at Hawker Centers
Hawker centers, often described as open-air food courts, are a must-visit for any foodie indulging in local flavors. These hubs offer a variety of dishes influenced by Chinese, Indian, and international cuisines at affordable prices.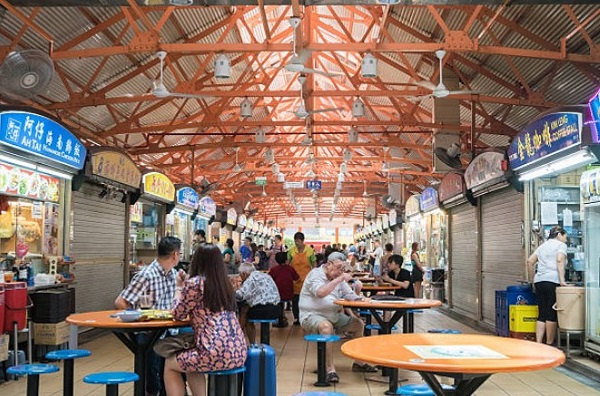 From the renowned Hainanese chicken rice to the flavorful roti prata, there is something for everyone to enjoy. So, if you're planning a trip to Singapore, add hawker centers to your itinerary for a truly authentic and delicious experience.
Experience Shopping on Orchard Road
Orchard Road is a bustling shopping district with malls, boutiques, and restaurants. Its wide range of shopping options, from high-end designer stores to local market stalls, offers a unique experience. Visitors find great deals and excellent products.
Take Pilates Classes
Aside from the usual sightseeing activities, Singapore also has a thriving fitness scene. So, for those looking to stay fit and healthy on vacation, taking Pilates classes in Singapore is worth considering.
You can incorporate wellness into your Singapore vacation with many studios and instructors. You have plenty of options for where to take classes, but to start, you can click for private Pilates sessions here.
Is Singapore Worth Visiting?
Singapore is a bustling, vibrant city-state in Southeast Asia that has become a popular tourist destination. The country offers a unique blend of East and West, with diverse food, shopping, and attractions.
So the answer to "Is Singapore worth visiting?" is yes, it is worth visiting. Don't miss out on the opportunity to experience all Singapore offers. Book your trip today and see for yourself!