Can you go a day without tech? From communication, entertainment, planning, and shopping, to mention a few, the rapid tech advancements continue to revolutionize how we do things. Various industries have embraced the advancements, and the education sector is following suit.
The digitalization pace in the education sector is quite encouraging, especially noting that it was, in the recent past, seen as an unnecessary consideration with more downsides than benefits. Today, tech advancements can be felt in every faculty in the education sector. Let's look at some of the most notable tech considerations shaping the future of the education sector.
Interactive Classrooms
Classrooms are quickly adopting office setups that promote collaborative learning. Instead of the traditional row of desks facing towards the front, the setup is more engaging. Teachers are gradually changing from instructors to guiders since learners enjoy an extensive pool of learning resources. This interactive setup is dramatically improving the learning curve, propelling digitalization in the education sector.
It gets better; students love tech, a consideration that is quickly proving to be an invaluable asset in the classroom setup as it improves collaboration. Using their favorite tech gadgets, teachers enjoy a more productive engagement, especially with the introduction of innovative measures such as gamification and animation. An interactive classroom promotes healthier relationships enhancing the learning process. This is among the top reasons the stakeholders continue to embrace the changes, significantly accelerating the education sector's digitalization pace.
Read More: How Can Technology Help Students Today?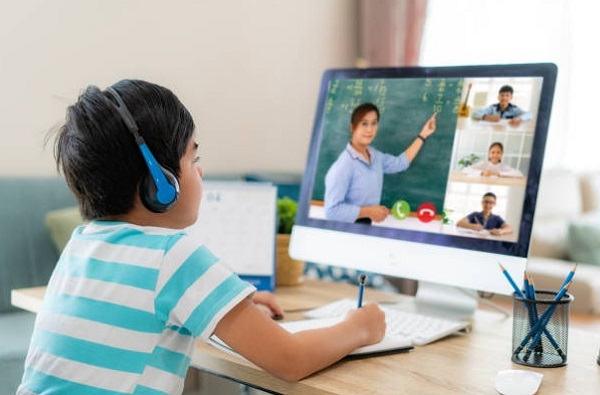 Better Access
One of the most frustrating considerations the conventional education system posses is the physical class requirements. Students and teachers have to be physically present t facilitate learning, a limitation that has derailed millions' desire to pursue their dream courses. With digitalization, this imitation has considerably been lifted, with online classes continuing to be a go-to for millions across the globe.
Online classes have come a long way, and in today's setup, a lot can be achieved, including proctored online exams. It is now possible to pursue your dream course in the comfort of your home and graduate with the competitive skills required in today's job market. This continues to even the playing field, allowing individuals to access the needed education to pursue their dream careers even in the most remote areas.
Cost-Effective Learning
Education isn't as affordable as you might initially think, and the conventional system doesn't make it any better. Crossing borders in quest of your dream course can break your bank. Learning materials aren't as accessible and cheap either, but digitalization has considerably addressed such concerns. Online courses are less demanding financially.
Online resources are also cheaper, especially with an extensive pool of free learning materials. Finding professional assistance isn't as costly either. You can conveniently find and hire professionals such as from Homeworkdoer.org and kick your learning efforts a notch hire without spending a fortune. Such affordability makes it easier for various demographics to access education.
Read More: 8 Steps to Stay Mentally Healthy in College
Flexible Learning
Students don't learn at the same pace/style. Some have unique requirements that require a personalized setup to facilitate productive sessions. The conventional system has failed to recognize this, a consideration that marginalizes various individuals. With digitalization, such groups are accounted for, the flexibility that proves how essential tech advancements are in the education system.
Flexible schedules, personalized sessions, and facilitating a friendly learning environment are among the most notable changes digitalization continues to deliver in the education sector.
For example, some individuals might not be as comfortable in physical classrooms where they feel that all eyes are on them.
The social pressure could affect their learning, meaning that they would more often be playing catch up. Consider other groups, such as employed individuals looking to scale their career ladder. With the traditional system, they might have to quit their position to pursue academic qualifications. With digitalization, the process is a lot more productive as they can choose flexible programs that fit well within their schedule.
Digitalization can't take the backseat in the education sector. With the ever-evolving technologies, the sector stands to gain a lot that can dramatically improve the sector.