Have you been scratching your head because you're struggling to pick which MacBook to choose? Don't worry! You have everything you need to know right here from Brooklyn NY its support company.
In November last year, Apple released the new MacBook Pro 16-inch laptop after several months of leaks and speculations, replacing the MacBook 15-inch version in the process. But with the smaller MacBook Pro getting a revamp and the MacBook Air getting a total redesign, it's more difficult to choose the right one for you. Aside from that, there are also other solid choices of Apple laptops on the market today.
This guide will help you to find the perfect laptop for you in a sea of good options.
Things to Consider When Choosing Your Next MacBook
To get the best bang for the buck, you need to remember and consider these things before buying:
Usage
MacBook Pro models, even the more affordable 13-inch version with two Thunderbolt 3 (TB3) ports, are more powerful than the MacBook Air. They are perfect for CPU-intensive tasks, such as coding, video production, photo processing, and gaming. You will also have a cooler machine while doing these heavy tasks because the MacBook Pro has a better cooling system compared to the MacBook Air.
However, the MacBook Air can compensate well with its portability and long-lasting battery life. Its wedge design is also perfect for typing, as it is angled to provide a better typing experience. In terms of design, the Air is similar to the Pro, but it gives the illusion that it is thinner because it has tapered edges. The 2020 version of the MacBook Air also has a slightly better performance than the entry-level 13-inch Pro. It uses the latest quad-core 10th-generation processor from Intel instead of the 8th-generation version used by the latter.
Storage
With the popularity of cloud storage, the internal storage that comes with a laptop isn't as important as it used to be a few years ago. But even if you don't need tons of storage capacity, you should not opt for the lowest storage option that's available on any MacBook. Currently, the MacBook Air and entry-level 13-inch Pro have a minimum storage capacity of 256GB, while the more expensive MacBook Pros start with 512GB.
For most users, 256GB probably isn't enough for all their files and applications, and 8TB is perhaps overkill. So, you need to determine the right size for your usage and not spend too much on storage, as you can use that money to upgrade other parts that require upkeep. You can always use a portable hard drive when you run out of space.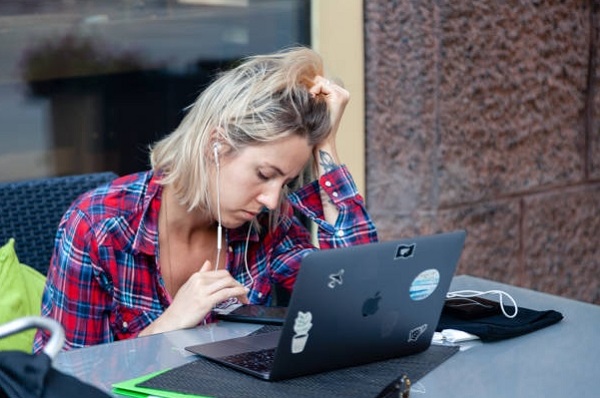 Graphics
The only models that come with discrete graphics are the 16-inch and the already discontinued MacBook 15-inch models. So, if you are a graphic designer, video editor, engineer, architect, gamer, or anyone who needs the best performance available, you should get a more expensive model.
For casual users and those with light workloads, the Air and 13-inch Pro models provide more than enough. Even though they only have an Intel Iris Plus graphics card, the 13-inch Pros are still powerful, and they can do decent video editing and photo processing.
CPU and RAM
Apple doesn't allow its users to upgrade and swap out any parts of their current MacBook lineup. So, you need to consider your budget and prioritize processor speed. Apple usually charges $200 more to upgrade to a better CPU, but you shouldn't go overboard.
If you only need your laptop to make reports and write notes, spend your money on other parts and go for the mid-range or default option. But if you want to do a lot of creative work using Adobe Premiere Pro, Photoshop, or Final Cut Pro X, for example, you should opt for a faster processor.
The size of the RAM is also a crucial thing to consider because it improves your laptop's capacity to handle short-term data storage. In simpler terms, the larger the RAM, the snappier your MacBook will be. So, if you think that you'll be running multiple programs or opening hundreds of browser tabs at the same time, you'll need more memory.
Ports
Aside from the color, the ports are also a unique feature that was pioneered by Apple for MacBooks. Since 2016, the company ditched all other ports and went all-in with Intel's TB3. The main advantage of TB3 compared to the older versions, like Thunderbolt 2 and regular USB, is its speed. The port can transmit data at up to 40Gbps; support video output to two external monitors with a resolution of 4K at 60Hz; charge compatible smartphones and laptops at up to 100 watts; and connect external GPUs.
However, not all MacBooks are made the same. The MacBook Air and the entry-level 13-inch Pro only have two TB3 ports. Meanwhile, the higher-end version of the 13-inch, 16-inch, and discontinued 15-inch models comes with four. Since this can affect your workflow, you need to decide which model you'll get carefully. Also, charging on the right side is a godsend if you're in places with limited sockets.
Keyboard and Trackpad
MacBooks were the gold standard for keyboards and trackpads before 2015, but it all changed with the arrival of the 12-inch MacBook and the Butterfly keyboards. It was adopted throughout the rest of the lineup, and it went… bad, with some keyboard issues.
Apple has since upgraded the keyboard to increase the MacBook's reliability and durability, but in 2019, they finally lost their enthusiasm for the Butterfly keyboard and introduced the Magic Keyboard. It was a tad less futuristic-looking, but it was a wonder to type on and was more reliable.
So, if you're planning to buy a refurbished model, it'll likely have the Butterfly keyboard. It's best if you look for the models with the 3rd-generation Butterfly keys (2019 MacBook Air and 13-inch Pro), as they were far more reliable than the older versions. But if you want to be extra careful, you should clean it regularly with compressed air and buy a MacBook keyboard cover.
Other Features
One feature that is quickly gaining in importance is the color of the MacBooks. Space Gray looks great and sleek, it is quite a popular finish. You might want to go for a silver MacBook or the unique Rose Gold finish. However, you need to know that the MacBook Rose Gold version is the only Apple laptop that comes with this unique color for now.
Top MacBooks on the Market Today
Generally speaking, there are only three main MacBook models that you can choose from: the MacBook Air, MacBook Pro, and iMac. When it comes to Apple laptops that are available on the market today, here are the recommended choices:
MacBook Air
The MacBook Air models have 10th-generation Intel Core processors and up to 16GB of RAM. They also come with integrated Intel Iris Plus graphics, contributing to their long-lasting battery life (up to 11 hours based on Apple's claims).
Prices start at $999 for the dual-core Core i3 model with 256GB of storage, while opting for the faster quad-core Core i5 or i7 models with 512GB of storage will set you back $1,299 and $1,449, respectively.
Read More: Suggestions to Free up Hard Drive Space on Mac
MacBook Pro 13-inch
The MacBook Pro 13-inch comes with a brighter display than the MacBook Airs, reaching up to 550 nits. All models also come with the Touch Bar placed above the keyboard.
The 13-inch Pro has four models:
$1,299 model: 1.4GHz quad-core 8th-generation Intel Core i5 processor, 8GB of RAM, 256GB SSD, Intel Iris Plus Graphics 645, and two TB3 ports
$1,499 model: 1.4GHz quad-core 8th-generation Intel Core i5 processor, 8GB of RAM, 512GB SSD, Intel Iris Plus Graphics 645, and two TB3 ports
$1,799 model: 2.0GHz quad-core 10th-generation Intel Core i5 processor, 16GB of RAM, 512GB SSD, quad-core Intel Iris Plus Graphics, and four TB3 ports
$1,999 model: .0GHz quad-core 10th-generation Intel Core i5 processor, 16GB of RAM, 1TB SSD, Intel Iris Plus Graphics, and four TB3 ports
MacBook Pro 16-inch
The 16-inch Pro comes with a bigger, more pixel-dense display than the 13-inch models, and it also has slimmer bezels. Aside from that, it also has better speakers, improved microphones, a larger trackpad, and a clearer front-facing camera.
It has two models:
$2,399 model: 2.6GHz 6-core 9th-generation Intel Core i7 processor, 16GB of RAM, 512GB SSD, and AMD Radeon Pro 5300M discrete graphics with 4GB of VRAM
$2,799 model: 2.3GHz 8-core 9th-generation Intel Core i7 processor, 16GB of RAM, 1TB SSD, and AMD Radeon Pro 5500M discrete graphics with 4GB of VRAM
Verdict
Although the MacBook 15-inch laptops still offer a good value for money, the 16-inch models are perfect for the most demanding users who require the best performance. But if you want a 13-inch model, the $1,799 MacBook Pro offers a sweet spot between value for money and performance. Still, for most people who just need a laptop to browse the internet, perform standard tasks, and run demanding applications occasionally, the MacBook Air is the best choice.