What if you could work on your craft whenever you wanted without having to supervise the production team? What would you do if that became a possibility? In the world of many small businesses, it's becoming a regular occurrence to run out of space.
Leaving behind nomad-like working patterns can be challenging, but it's not impossible with the right support. Yet, where to begin? Read on to learn how to secure the best shop space for rent.
Define Your Needs
Before you begin your search for shop space, it's crucial to define your needs and preferences. Consider the type of business you're running, the size of the space you require, the layout that works best for your operations, and the ideal location.
Are you in need of high foot traffic, or do you rely on delivery services? Understanding your needs will help you narrow down your options and focus on spaces that are the best fit for your business.
Set a Budget
Setting up a budget isn't just about figuring out how much rent you can pay; it's about making a complete plan for your money. Consider not only the rent but also the cost of energy, insurance, repairs, taxes, and any other costs that come up. Be honest about how much money you have and be ready to stick to your budget if you want your business to last once you've found a shop place.
Assess Lease Types
There are different types of leases for renting out business space, and each one has its own rules and responsibilities. For example, in a gross lease, all costs are usually covered by the rent, while in a triple-net lease, you have to pay extra costs.
It's important to know about these types of leases because they can have a big effect on your financial responsibilities. Choose the one that fits best with the long-term plans and financial stability of your business.
Visit Potential Spaces
Visiting potential shop spaces is a hands-on step that allows you to evaluate the premises closely. When you visit these spaces, pay attention to not just the physical condition but also the surrounding area.
Note how accessible it is to customers and employees, the proximity to suppliers or distributors, and the overall ambiance. Taking pictures and detailed notes will help you compare and contrast the various options effectively.
Consider Zoning and Permits
Before committing to a location, it's essential to check if the commercial property is zoned for your type of business. Local zoning laws and regulations can restrict or guide what types of businesses are allowed in a particular area.
Additionally, inquire about the permits and licenses required for your business type. This step ensures that you won't encounter legal or regulatory obstacles down the road.
Negotiate Terms
Negotiation is a crucial part of securing the best shop space for your business. Engage in discussions with the landlord or property manager to fine-tune the lease terms.
Negotiate not only on rent but also on the length of the lease, maintenance responsibilities, any build-out or customization needs, and options for future expansion or renewal. Effective negotiation can lead to a more favorable lease agreement that meets your specific requirements.
Inspect the Property
Before finalizing any lease agreement, it's imperative to inspect the property thoroughly. Look for any structural issues, safety concerns, or needed repairs that might affect your ability to operate smoothly.
Document any findings and discuss them with the landlord to ensure they are addressed before you move in. A comprehensive inspection helps prevent future disputes and ensures your shop space is in good condition from the start.
Understand Lease Terms
Carefully review the lease agreement with a keen eye for detail. Pay special attention to clauses related to rent increases, security deposits, maintenance responsibilities, and any restrictions on alterations or signage. Consulting with a legal expert who specializes in commercial real estate can help you understand the legal aspects of the lease and ensure your interests are protected throughout the lease term.
Calculate Total Costs
There's more to getting a shop place than just paying rent. To determine if the space is affordable, you need to add up all the costs. Think about the costs of utilities, property taxes, insurance payments, repairs, and any other fees listed in the lease.
Don't forget to think about important things like Commercial Real Estate Insurance, which is important to protect your business, and make sure you know your financial responsibilities so you can budget accordingly. This thorough financial assessment ensures you know your financial obligations and can plan your budget properly.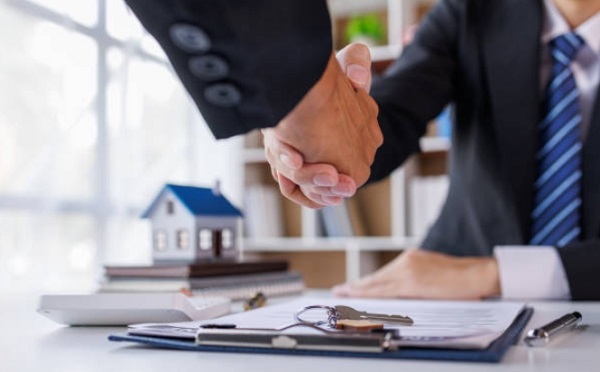 Plan for Future Growth
While securing the ideal shop space for your current needs is essential, it's equally important to plan for future growth. Discuss with the landlord the possibility of expanding within the same property or negotiating for shorter lease terms if your business is likely to outgrow the space. A flexible arrangement can save you from the hassle of relocating when your business expands.
Secure Financing
Before you can secure your shop space, you need to ensure you have the necessary financing in place. This includes not only the funds required for the initial lease costs but also working capital to cover your operational expenses once you're in the space. Make sure you have a financial plan in place to support your business during the transition period and beyond.
Finalize the Lease
After all the talks are over and you're happy with the terms, you can sign the property lease agreement. It's a legally binding contract, so everyone needs to read it carefully and make sure they understand it before signing. After you sign the lease, keep a copy for your records and think about talking to an attorney to make sure the deal is done right.
Find Shop Space for Rent Today
In conclusion, finding the best shop space for rent is crucial to any successful business. It's important to research, take stock of what you need, and compare different properties to find the retail space that best suits your needs. Don't hesitate to contact us for help securing the right space for your business!