"Teaching is an art. Like any art, it is not a mechanical process but an inspired and inspiring one. Algorithms and commands can get you through an exam, but real teaching and learning go far beyond that."
With the right teacher, we can all succeed where we might've failed. Your success is literally in your teacher's hands.
So, if you're looking forward to becoming a teacher in the future, there are several qualities that you must have to be successful. Read on to learn about the 7 qualities of a good teacher!
1. Empathetic
Empathy is a key component of any successful teacher-student relationship. It shows students that the teacher is invested in their growth and well-being.
A teacher should be able to identify how a student feels and how they are likely to respond to certain instructions or concepts. This allows them to tailor their approach to that student's needs and learning styles.
2. Self-Motivated
Self-motivative behavior demonstrates to students that the teacher has a genuine interest in knowledge and the skills and enthusiasm to pass it on. A self-motivated teacher will be proactive in teaching methods, finding ideas and materials to challenge and engage their students.
3. Responsive
Responsiveness requires a teacher to be attentive to the needs of their students. This involves their ability to sense when a student needs assistance and be in the moment, both physically and emotionally, to give it.
4. Engaging Personality
A good teacher must have an engaging personality. They need to be able to draw their students in, keep them interested, and understand how to engage them in learning. This may involve:
Using a variety of different teaching methods
Finding humor in teaching situations
Having a presence in the classroom that helps students feel comfortable and open
5. Good Communication Skills
A good teacher should be able to communicate effectively with both students and parents. They should be able to listen and respond appropriately and effectively to students' inquiries. Additionally, they should be able to explain concepts in an easily understandable manner.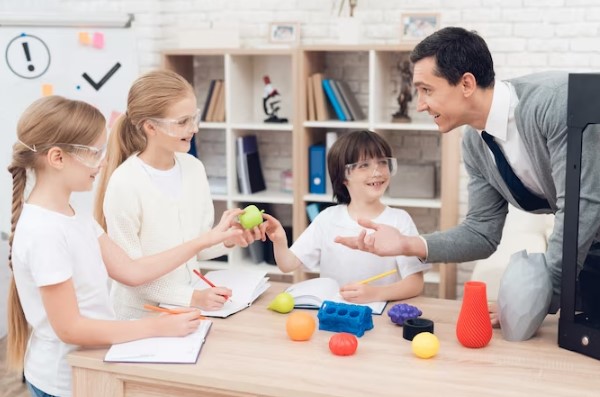 6. Creative
A good teacher uses their creativity to make instruction more engaging and purposeful. This allows students to become more actively involved in their own learning.
A quiz maker is an example of a creative teaching tool. It allows teachers to create engaging quizzes for students to test their knowledge on any subject.
Creative teaching tools like quiz makers can help teachers foster an environment of inquiry and discovery, providing students with the tools to be successful.
7. Patient
Patience is a valuable trait that all teachers should strive to possess to have a successful teaching career. Patience allows teachers to endure challenging situations and maintain an even-tempered outlook.
By being patient, teachers can show their students respect and allow them to grow in their learning.
Exploring the 7 Qualities of a Good Teacher
Good teachers are essential to providing students with quality education and positive learning experiences. Applying the 7 qualities of a good teacher in your instruction will help you better lead, inspire, and support your students.
Use these qualities to be an effective teacher who students remember and benefit from in the long run. Don't wait – start taking proactive steps to become the best teacher you can be!