Have you thought about the way people search for products or services they need? It is quite simple — in the world of today, people go online. That is why online presence has become a significant factor for businesses, not to mention startups.

You might ask, what makes a great website? Nowadays, your website is often the only thing your customers see, so make them like what they see. And this is where the design comes in. A good UX design for startups is one of the main factors of their commercial success. The challenge here is to win the trust of your target audience and establish a loyal customer base.
Just imagine that users shape their opinions about the website in approximately 50 milliseconds. The first impression is crucial for users to decide whether they want to be your customer or not. A well-designed website helps startups build trust with visitors and leads them to take the required action.
Read More: Constructive Principles About Website Design & Development!
What makes an Effective Web Design?
Website design integrates two parts: UI (user interface) and UX (user experience) design.
UI design is what comes to your mind when you think about design. It is responsible for the layout since it deals with colors, buttons, images, animations, and other visual elements.
UX design determines how users interact with the interface elements created by UI designers. It forms the rules of how to use your website. UX design is user-oriented. Even those who see your site for the first time can easily understand how to get what they want.
What defines good design?
Intuitiveness;
Convenience;
Consistency;
Efficiency;
Conciseness;
Gamification.
Well, now you know what great design should be. But here comes the most interesting part: How to achieve such characteristics? What makes your website work exactly the way your users want? We will lay it out for you.
Images
It plays a huge and ever-increasing role in the perception of your website. Nowadays, people do not really want to read texts, especially long ones — they want to engage more with the information they need through catchy visuals.
Visuals also include infographics and videos. All those vivid pictures, charts, and graphs make the content of your website more interesting. Hence, it is very effective for the website to be graphic.
But keep in mind that text is lightweight content, and graphics (especially in high resolution) slows down the loading speed. It means you need to maintain a balance between the visual attractiveness of your website and its speed and performance.
Load time
This characteristic can make your website ranking in Google get higher or… absolutely tank. According to Akamai research, even a 0.1-second delay in page load time decreases the conversion rate by 7%. Every extra second your website's page loads reduces the percentage of users who stay on your site and increase the number of people who will never come back again.
Imagine you have a truly good-looking site and your content is helpful and usable. But, guess what — your customers will not see it because the load time of your website pages is 1 or 2 seconds longer than expected. Due to this, you need to pay serious attention to the loading speed of your website, and the content and code of your website should be optimized.
Of course, videos, pictures, and animations are great to look at and everybody loves them. However, you should always mind balance.
Cross-Platform Support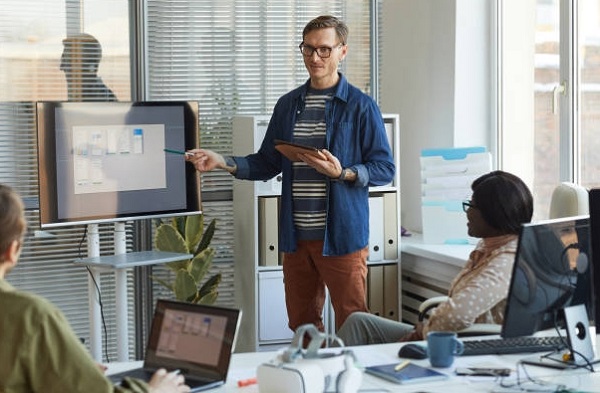 Nowadays, users are more likely to access the Internet via their smartphones than their desktops. This obliges websites to be mobile-friendly, therefore optimized for small-screen devices. It can be done by adjusting the website's content to various screen widths or by building a mobile-focused site.
When designing mobile-friendly websites, more attention should be paid to navigation. You need to provide mobile users with intuitive browsing and hierarchy. For users not to get lost, take advantage of recognizable and easy-to-remember design patterns and icons.
Navigation determines how easily users will find what they need on your website. It has a direct impact on the conversion rate. The formula here is quite simple: if users puzzle over how to browse your website, they are more likely to leave it and look for competitors.
Your website is not a maze, so make the navigation self-explanatory. There are some techniques and methods for making it simple and understandable.
The main navigation menu should be clearly visible, not hidden in the dropdown menu;
Identify the pages that have the most views and draw attention to them in the navigation panel;
Use breadcrumbs to make your users aware of their current location on your website;
Make navigation consistent throughout the whole website;
Make sure your site follows the 'three-click rule, whConstructive Principles About Website Design & Development!ich means your customers should be able to meet their targets in no more than three clicks;
Make call-to-action buttons noticeable to motivate your audience.
However, it does not mean that using all of them will make your website the best because every situation needs its own solution. Sometimes you need to redesign your website. Only experts in UI/UX design can tell you for sure which design decisions will bring success to your website.
Conclusion
Setting up an effective UI/UX design is no easy task, especially for startups. Great design needs to be user-oriented to ensure a pleasant experience. Make sure to address key points such as the website's visual appeal, navigation, loading speed, and mobile-friendliness.
Also, the design must be tailored to the needs of your website's users because it is all about them. Formulate what impact you want your website to have on the visitor. If you will stick to it, your customers will appreciate the efforts and your conversion rate will get higher.