Starting a business is a tough task. When you have an idea for a business, it requires a lot of effort to make it real. Many entrepreneurs might know the necessary effort that running a business requires. However, they may also be not familiar with every step to successfully launching a business.
Coming up with the name and logo for your business can be an easy task. What you might want to focus on learning is your marketing strategies or detailed business plan. Expect that your workload could pile up quickly as you take each step in creating your business.
If you are thinking about reselling glass bottles for instance, following a guide to create a business is important. This will help you stay on track with your goals and become successful. So, rather than just simply guessing, we created a business guide for you to follow. Check it out below!
1. Define Your Business Idea
In starting a glass bottle business, you already know what to sell. What you can do is research who might be interested in your product and why they will buy it. This way, you will know how you can be different from your competitors.
It is also essential to clarify why you want to serve your market. Are you creating your business because you want to make their lives easier? Do you want to bring more art or color to their lives using your products? Knowing the answers to these questions helps you clarify what your mission is.
2. Create a Solid Business Plan
Your business plan acts like a map that guides you. You need it to know where you are (track your progress) and how far you are from your end goal. This is why it is important for you to create a solid business plan. It must contain the exact details of your short- and long-term goals.
You might want to use these questions to help you write a solid business plan:
Why are you creating your business?
Who is your target audience?
What is your business end goal?
How much is your budget?
For your target market, you will need to conduct research for it. You must know their demographics, so you can narrow down your audience. Also, focus on your market's buying capabilities and behavior. This helps you know how to market to them effectively.
3. Evaluate Your Financial Capability
Your budget in running a business is extremely important. You must know how you can cover your costs. Will you be borrowing money to start your business? Do you have enough funds of your own to support your start-up business? What you must avoid is failing before even making a profit.
One way to know your financial capacity is to perform a financial analysis. You must calculate possible costs and compare them to the funds available. It is also important to identify if you have extra funds to compensate for losses.
Make sure to never overspend for your business. Purchase important equipment only and avoid the fancy ones. The best move is to spend as little as possible.
4. Learn the Legalities Needed for Your Business
You should not forget about the law. You cannot run a business without the required permits and licenses. Research the registration process, taxes, and other legal requirements for starting a business in your area. To do all these legal things without worrying yourself much, you can also hire one of the best LLC formation services in your town.
If this is too overwhelming for you, you can hire a business attorney. They are more knowledgeable on the ins and outs of business regulations. Although you have this option, it is still important to know some basic business rules. Having the knowledge will help in your decision-making process.
5. Create Your Team
You cannot do all the work for your business. You need people to help you complete your tasks daily. To make the search a lot easier, know the type of work you will distribute.
You must build a team that is smart, effective, and reliable. Having one plays an important role in the success of your business. Create screening standards, so you can better assess which candidates are the best fit.
For reselling glass bottles, you might need at least distributors, marketing staff, and an accountant.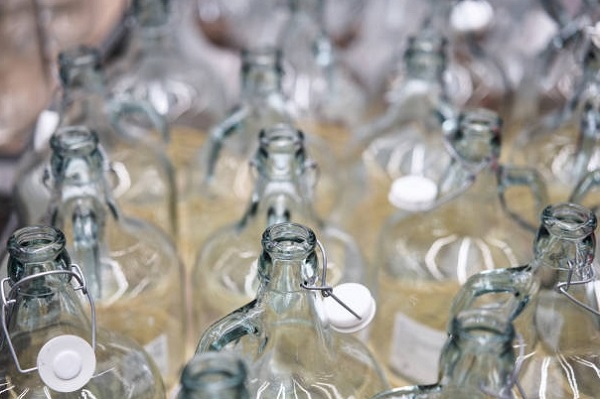 6. Choose the Right Manufacturer
Your manufacturer plays an important role in the success of your business. The quality of the glass bottle they create will reflect your brand's image. It is also essential to work with a manufacturer who understands your branding. This way, they can create quality products that best represent your brand.
One reliable glass container manufacturer you can try is Retell. They have been in the glass-manufacturing business for decades. They also have established a good reputation among their clients.
In terms of their products, they produce a wide variety of glass bottles. They design these containers based on visual branding and their expertise in making their products. For your business to kick on, picking the right Roetell glass bottle will be a major boost.
7. Market your Business
Marketing your business effectively is key to your success. Before you start selling glass bottles, you must first create a brand logo. This helps increase brand awareness and recognition. Have the logo printed on the bottles, so they look more personalized.
You should also start investing in online marketing because it is extremely effective.
Build a website for your glass bottles and have a web design that best represents your brand. Also, apply the best practices for search engine optimization (SEO). This includes applying relevant keywords to your blog posts. Doing so helps you rank high on search engines, increasing your online presence.
Also, maximize the use of your social media channels to market your business. The influence of social media on marketing brands is high. Many people will start noticing your business if you do proper social media marketing. If you have more budget, you can also promote glass bottles on electronic billboards and TV.
Conclusion
Like any type of business, starting a glass bottle reseller company is not easy. You have to be fully committed to taking each step of the business journey carefully. It is also important that you understand that there will be slow months when you start operating. So, do not let this be a reason for getting stressed. Lastly, make sure to keep our guide with you, so you are always on the right track!