Are you feeling stressed out due to a hectic lifestyle and want to go fishing on the outskirts of the city for some fresh air? Then this article is for you. Fishing is a relaxing activity that requires minimal physical exertion, but it can be a very exciting activity if you do it right.
Aside from giving you a fun experience, fishing also provides a lot of benefits. It promotes relaxation, improves your cardiovascular health, bestows patience, and improves your balance. Here are a few tips to make your fishing adventures more enjoyable:
1. Invite your Family and Friends.
If you are an extrovert and prefer spending your weekends with friends, you can invite them to make your fishing experience more fun. This way, you can strengthen your bond with them as well as create wonderful memories. If you have kids, you can make fishing a family event. You can teach your kids about the basics of fishing and compensate for lost time with them.
2. Get Enough Rest, Stay Hydrated, and Eat Snacks.
Get enough sleep the day before your fishing trip so you can be at your best. You will be more attentive and have lots of energy, especially if you are going to go fishing with your kids. Drink water once in a while to keep yourself hydrated. Do not wait until you are thirsty. Do not forget to eat too. You do not need to have a heavy lunch. Boiled eggs, crackers, fruits, and nuts are enough to keep your stomach filled during your trip.
3. Know How to Tie Good Knots
It can be very frustrating if your fishing line breaks while fishing. The main reason for fishing lines breaking is because of knots that are not properly done. Make sure that you tie your knots correctly to keep your fishing experience enjoyable.
You can find a lot of video tutorials on the internet about how to properly tie your knots such as this one. After tying your knot, do not forget to test it. Try pulling your knot hard enough. If it does not break in your hands, then it will not break on a fish.
Read More: Must-Have Bike Accessories and Parts for Better Cycling Experience
4. Try Different Fishing Lures.
In addition to different fishing lures, you can also explore different fishing styles and not stick to the lures that you are comfortable with. Make your fishing adventures more challenging by trying different lures. Most fishermen only rely on specific sets of fishing tools but you can expand these sets. Here are common types of fishing lures you can check out.
5. Try Different Fishing Styles.
In addition to different fishing lures, you can also explore different fishing styles. Each fishing style is unique in its own way, so you will surely have fun trying each of them. However, make sure that you know the right fishing equipment for each fishing style and that you meet legal requirements in your area. This ensures that you will have a safe fishing adventure. Below are a few of the most common fishing styles you can try:
Freshwater fishing
Angling
Droplining
Fly fishing
Kayak fishing
Rock fishing
Trotlining
You can read more about the above-mentioned fishing techniques here.
6. Fish from a Floating Dock.
If you prefer a relaxing fishing experience that does not require you to be out on the waters, you can fish by the side of a pond, river, or stream. Aside from staying in a stationary area to fish, you can maximize the use of your floating dock by turning it into a docking station for your boat, raft, or canoe. If you own a private pond, a floating dock for a pond can provide more benefits than you think. This includes making your fishing trips easier.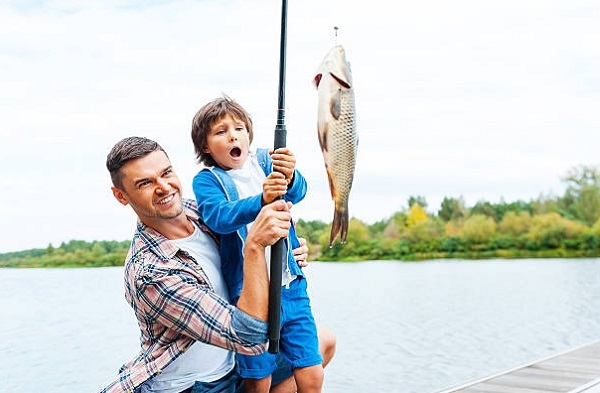 7. Fish with a Guide.
Although hiring a fishing guide can be expensive, it can give you invaluable information for you to expand your fishing skills. Guides are not only experts about fishing spots. They are also professional fishers, so they can give you useful tips about fishing in different areas. Having an actual person guide you about the various fishing techniques and putting these techniques into practice is more exciting compared to reading them in magazines or online guides.
8. Use a kayak
The last tip we are going to mention is using a kayak. This is ideal for beginners who do not have boats. Kayaks are not that expensive. They are also lightweight, so you can transport them easily to any area you want to go fishing in. They can even get in spots that hold the biggest fishes which powerboats cannot access.
Wrapping it Up
Fishing is a great way to relieve stress and have fun. But when you fish, do not focus on the number or size of fish you will be catching. Enjoy every part of your fishing trip, whether you are doing it alone or with your family and friends. You can make your fishing adventures more exciting when you follow the tips we have listed here. Try reading more on these 30 secret fishing tips before you go on a fishing trip. Have fun!