Laser therapy is among the commonly used treatment methods in physiotherapy. It is used in treating numerous types of conditions from fractures and repetitive motion injuries to muscle and joint injuries.
Laser therapy can accelerate healing and allow millions of patients to get their normal lives back. In this article, we will give you 14 applications of laser physical therapy devices in physiotherapy.
1. Skin Rejuvenation
Laser therapy encourages skin rejuvenation. It is used to treat rashes, dermatitis, skin swelling, edema, vitiligo, burns, psoriasis, acne, and acne scars.
2. Inflammation
Laser therapy is also used in healing ulcerations and in treating inflamed tissues. Physical therapists can use the device for treating inflammation due to chronic autoimmune diseases and rheumatoid arthritis.
3. Diabetic Neuropathy
This is common comorbidity related to diabetes. Diabetic neuropathy affects 60% to 70% of diabetic patients. Laser therapy has been shown to be effective in treating diabetic neuropathy. It can reduce pain levels by increasing the production of endorphins, serotonin, and ATP. It also improves blood circulation.
4. Temporomandibular Joint Disorders
Complications in the temporomandibular joint can lead to many other problems because the pain can radiate to other parts of your body. Aside from jaw pain, it also causes ringing in your ears, difficulty opening your mouth, and fatigue.
By using laser therapy, the jaw's cellular function is altered to increase its flexibility as well as reduce inflammation and pain. Laser therapy has analgesic, healing, and anti-inflammatory effects. In chronic temporomandibular joint disorders, laser therapy is used along with other therapeutic devices to reduce muscle tension and pain as well as stimulate healing.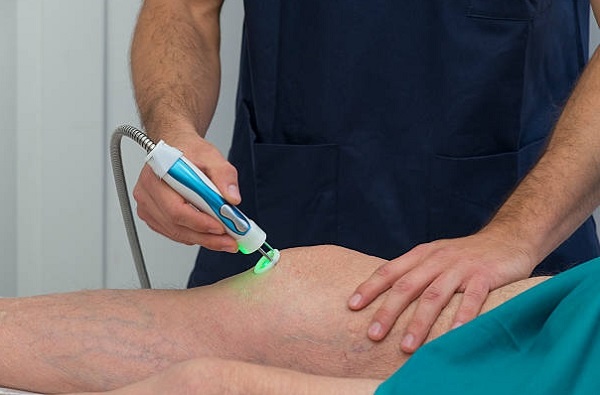 5. Carpal Tunnel Syndrome
This condition is caused by problems in your wrist's nerves that can result in tingling, numbness, and persistent pains. Although physiotherapists can deal with problems at the musculoskeletal level, they cannot deal with neurological and venous conditions.
Laser therapy devices allow physiotherapists to deal with these kinds of conditions.
The flexibility of laser therapy instruments makes them suitable for treating various conditions from arthritis to sports injuries. They can significantly improve the pain, function, and grip of patients with carpal tunnel syndrome.
6. Tennis Elbow
Around three percent of the world's population is affected by tennis elbow. The symptoms and pain associated with the tennis elbow can last for up to 2 years. Laser therapy reduces inflammation and stimulates collagen production to reduce pain and speed up the healing process of patients with tennis elbow.
7. Achilles Tendonitis
This injury is common among marathon runners. Laser therapy is more effective in relieving pain and in improving the recovery process of the injury compared to conventional treatments. Traditional treatment methods rely mostly on resting and on using ice for reducing inflammation.
8. Arthritis
Arthritis affects many people around the world. Since people with arthritis need to use painkillers and anti-inflammatory drugs regularly, their risk of the side effects of these medications is increased. Laser therapy is effective in the treatment of osteoarthritis and rheumatoid arthritis because it can alter cellular function. It can reduce pain and morning stiffness as well as increase hand flexibility.
9. Soft Tissue Lesions
Laser therapy can treat lichen planus, angular cheilitis, denture sores, and herpes lesions. It can prevent the eruption of cold sores and accelerate their healing process.
10. Neuralgia/Facial Pain
Laser therapy is effective in treating acute and chronic facial pains. Applying laser light to the affected facial muscles can reduce and even eliminate joint pain and muscle trismus.
11. Dental Infections
Laser therapy can be used for dental infections to increase the infected area's lymphatic flow, reduce inflamed cells, and increase the production of neutrophils to heal the infection faster. Although laser therapy cannot replace antibiotics, it can help in the ingestion of antibiotics into your bloodstream.
12 Gagging and Nausea
Patients with sensitive gag reflexes can be treated using laser therapy. Laser light can decrease nausea and gagging sensations during x-rays, impressions, and dental treatments by calming the parasympathetic nervous system.
13. Restorations
Laser therapy does the following to decrease pain and improve clinical outcomes after surgical operations:
It stimulates the production of endorphins
It stimulates fibroblasts, odontoblasts, and osteoblasts
It increases lymphatic drainage and circulation
14. General Chronic Pains
Chronic pains are one of the major causes of long-term disabilities. They include pains associated with stiffness, inflammation, tension, muscle spasms, and others. Laser therapy is used in treating general chronic pains along with its side effects. It helps in relieving pain, stiffness, fluid retention, inflammation, cramps, and muscle tension. It also improves lymph and blood circulations and general flexibility aside from increasing tissue elasticity (like scar tissues).
Conclusion
Laser therapy is used in a wide variety of applications, most specifically in reducing pain and accelerating healing. It also provides a lot of benefits which makes it ideal for physical therapy. It is an effective technique that physical therapists can use in developing plans after examinations to prevent permanent injuries and restore functions. Laser therapy devices allow physical therapists to deal with conditions that they cannot treat on their own.