It is summer, and you're already looking forward to gathering the best baby sleepsuits for summer. You want to ensure that your baby is safe and comfortable in the outfit that you will choose. If they could talk, babies will tell you that they have peaceful nights of sleep when they're neither too cold nor too hot.
With the countless brands, styles, and fabrics of sleepsuits in the market, it becomes overwhelming to know the most appropriate one. We will make your baby shopping enjoyable by looking at six factors that you should consider when purchasing. Take a look!
Factors to Consider when Buying Baby Sleeping Suits for Summer
Fabric
Babies have sensitive skin, and this should not be taken for granted. When out for a purchase, you will notice that sleepsuits have different fabrics. From these fabrics, it is advisable to choose a soy-based material as it is gentle to the environment or a silky smooth fabric that is very gentle on the skin. You can also consider cotton fabrics because they have the appropriate properties for a good night's sleep for your baby. Avoid polyester, nylon, and bright-colored fabrics that will be uncomfortable for the baby.
Safety
It is okay to make your baby look cute as he/she sleeps. But note that decorations like buttons, bows, flowers, or hooks may cause choking to your baby as he/she moves in bed. Therefore, avoid sleepsuits with all these beautiful yet unnecessary decorations. Additionally, do not go for sleepsuits with waistbands and drawstrings as they may result in a strangulation hazard. Pick sleepwear that is snug-fitting and has a flame-resistant material. You can also go for plain summer sleepsuits that will not pose any dangers as the baby turns and moves in bed.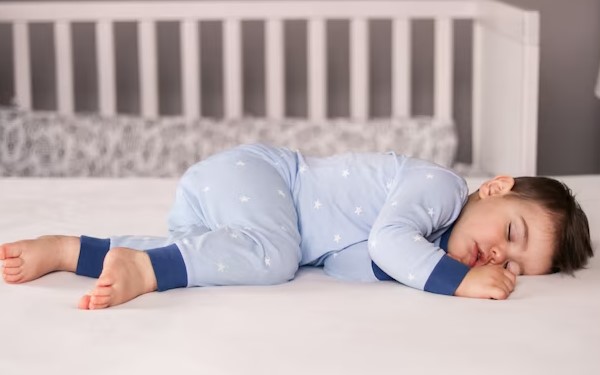 Size
Choosing summer sleepwear that has the appropriate size guarantees comfort and allows the baby to move in bed freely. It is worth noting that your baby will grow at an amazingly fast rate. On realizing that the sleepwear no longer fits, plan to make another purchase. Baby clothes come with measurements, and so, if you're unsure of the exact size to fit your baby, you can rely on the measures. You better buy a slightly larger one that will take care of the growth spurts.
Functionality and Practicality
Babies spend most of their day sleeping. Therefore, you won't just be buying the sleepsuits during the night but also during the day. Go for one that is easy to take off and put on. Resist the temptation of buying elegant-looking sailor sleep wears that won't have any significant benefits.
Similarly, don't go for sleepwear that your infant will hardly ever wear. If you're expecting a baby and you're unsure of the gender, buy unisex wear. Lastly, go for sleepsuits that are laundry-easy since you'll be required to change through the sleepwear several times in a day.
Read More: Try These Vitamin E Masks for Spot-free and Baby Soft Skin
Cost
Now you understand that your baby has sensitive skin and a fast growth rate. When purchasing baby sleepwear, don't compromise quality for affordability. Instead, go for well-designed baby sleepsuits that will guarantee you peace of mind when your baby sleeps. Experts advise that you go for quality over quantity. However, if you're working on a tight budget, you can still find affordable summer sleepwear that will perfectly suit your baby.