Headlight aging and discoloration are common phenomena that pose a serious road safety threat. The powerful beams produced when your headlights are in tip-top shape not only help you to see the road but also make it possible for other motorists to see you. Clouded lenses impair night vision and reduce the effectiveness of your headlights by almost 80 percent.
Why do Headlights Discolour?
Today the headlights on many cars are made of a strong plastic material known as polycarbonate plastic. Although the material is very hardy and can withstand harsh road conditions, it does not work well with the sun. To protect the lens manufacturers seal it with a UV coat to ensure the outside of the lens does not discolor. However, the factory protective coat degrades over time due to road debris and the sun's UV rays, causing the plastic to oxidize and become yellowish. When it happens, do not panic because there is a lot you can do to clean and restore your headlights. A few useful tips to clean your headlights are outlined below.
Read More: 4 Common Mistakes You Should Avoid When Buying a Used Car
1. Wash the Headlights
The first step to cleaning your headlights is to wash them. Use a car cleaning detergent and a microfiber cloth. The two are safe to use in your car as they do not harm or scratch your vehicle. Scrub dirt out of both headlights; when you are done, cleanse the headlights with clean water, and dry with another microfiber cloth.
2. Use Toothpaste
Did you know you can use your everyday toothpaste to clean your headlights? Yes, that's right. Using toothpaste is an inexpensive way to clean your headlights; although the results are not instant, it still gets the job done. Using a rag and some toothpaste, scrub down your headlights until the grime comes off. As earlier mentioned, the results are not instant, but you will start to see the yellow color fading gradually. When you are done scrubbing, rinse with water and a cloth to get rid of the toothpaste residue.
3. Baking Soda and Vinegar Mixture
Baking soda alone works like toothpaste, but mixing it with some vinegar is pure magic. The two should be combined in a Styrofoam cup where you add a tablespoon or two of baking soda to several tablespoons of vinegar. Dip a rag in the mixture and use it to clean the headlights. The substances react to form a mixture that remarkably eats away the grime on your headlights.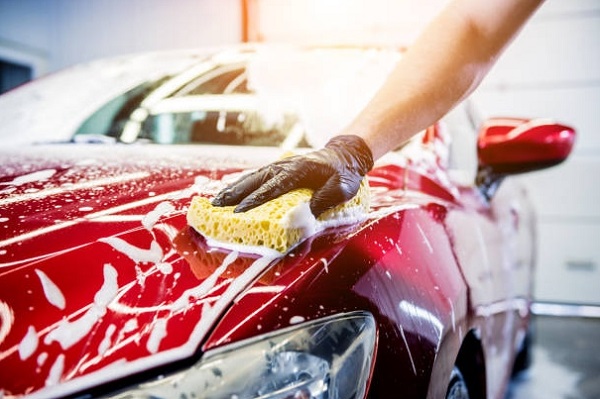 4. Get a Headlight Lens Restoration Kit
Several restoration kits get the job done but are warned that they require quite a bit of elbow grease. When using these kits, follow the manufacturer's directions and get one with different grades of sandpaper and polishing cloths. The equipment should also have a plastic cleaner or polish and a protective coating to replace the degraded one. Most of them are enough to clean both headlights, and you should avoid ones with low grit or harsh abrasives that may permanently damage your car. It is advisable to remove the headlights from the vehicle or tape the surrounding area to avoid causing damage. While at it, remember to wear protective gloves and eyeglasses.
5. Hire Professionals
Last but not least, you can call headlight restoration specialists to do the work for you. In which case, you do not need to lift a finger to clean your headlights. These professionals will find you wherever you are; they will repair and restore your headlights. A professional Headlight Restoration service offers you much more than headlight restoration kits. They save you time and give you a protective clear coat that prevents your lenses from discoloring again. The cured protective coat seals the headlight lens and prevents yellowing. The seals also protect the headlights from scratch and chemical degradation. The seals also come with a warranty and should last as long as new replacement headlights.
Using these tips, you can finally get rid of the yellow, dirty grime on your headlights and thus make it easier and safer for you to drive at night, in the rain, fog and snow during winter. Also, it is vital to get into the habit of regularly cleaning your lenses to keep off the dirt at all times.