The COVID-19 pandemic has left the already-troubled businesses an even bigger challenge to survive. A large chunk of employees working from home has opened up a variety of insider threats.
The rise of cyberattacks targeting the remote workforce has been alarming and has impacted organizations all over the world. These insider threats include accidental negligence, malicious employees, account compromise, and contractor/vendor misuse.
Why are Insider Threats Increasing?
As employees now have to work in new working environments, there is little or no training for effective handling of security risks. Also, there is a lot of distraction and emotional stress linked with the pandemic.
There are many reasons behind this increase in insider threats. Many employers had to reduce work hours and lay off employees which led to job dissatisfaction. Annoyed and disgruntled employees can turn into malicious actors.
According to a WSJ survey, 67% of companies are concerned about malicious employees. The survey studied about 400 companies, and out of those, 67% expressed their fear of malicious employees. The bigger the company, the bigger the threats and risks of cybersecurity attacks.
Let's take a look at the different forms of insider threats:
The Threat of Negligent Insiders
Proofpoint reports that these insider threats occur due to a lack of training, which is the most common reason behind negligent insiders. The other is malicious insiders that include employees that intentionally steal sensitive company information or trade secrets.
The research found negligent insiders as the bigger problem because it happens when employees mistakenly give away company data risking the company. It includes instances when they fall to a BEC scam or social engineering, opens a phishing email, or due to leaving a cloud storage bucket misconfigured.
Also, working from home in an unsecured environment has added to the frequency of these mistakes. Most of the employees lack suitable training to secure their laptops and work smartphones and measures regarding the protection of sensitive data while working from home.
The Threat of Malicious Insiders
As per Proofpoint's report, malicious insider threats are less common and occur only about 14% of the time. And remote working has changed the dynamics of working, presenting companies with new challenges. The motivations behind malicious insider threats vary, but the most common are financial, espionage, and annoyed employees.
Then there is the emotional toll of numerous changes that the pandemic has brought along with it. Employees need support and protection. And they might react negatively to lower compensation, reduced hours, and promotion possibilities. The employees' stress levels have also increased outside of the work environment. Employees have concerns about their family's health and the uncertainty of the future.
Using Unsecured Networks
Apart from the lack of training, employees are using the company laptops and phones on unsecured networks that were earlier dependent on the network security for protection like email and web gateways and firewalls.
Remote employees are having a tough time dealing with work responsibilities, along with managing their home and homeschooling children. All of this increases the likeliness of simple mistakes.
Tessian reports that in companies with 1000 employees, on average, 800 emails are sent to the wrong person every year. And the new workplace environment increases the chances of such mistakes.
Protection Against Insider Threats
Organizations can take a variety of steps to mitigate insider threat risk. The first step is implementing training measures so that employees understand the remote workplace security policies. Also, companies need to invest in apps and software and allow them better visibility into the devices employees are using to know that they are taking safety measures and are careful about sharing sensitive information.
One such app is Xnspy which is designed for employers to keep an eye on the phone activities of their employees during work hours as it has become a norm to provide staff with phones for work-related tasks. As smartphones are becoming more vulnerable to threats and attacks, companies should adopt all the necessary measures for the protection of company-owned systems and phones.
Xnspy is an efficient solution that allows employers a peek into what the employees are doing on their phones. It comes with a wide range of functionalities that let you monitor their text messages, call logs, emails, locations, instant messenger chats, multimedia, web browsing history, and a lot more. You can set alerts on words, contacts, emails, and location and know right away about their relevant activity.
Xnspy is compatible with both Android and iOS devices. Here are the details of that:
| | |
| --- | --- |
| Android | iPhone ( Without Jailbreak) |
| Supports OS 4.x, 5.x, 6.x, 7.x, 8.x, and 9.x | Supports iOS 6.x, 7.x, 8.x up to 13.3 |
Step 1: Subscribe to Xnspy App
Determine the number of employees that you want to monitor, and then subscribe to the edition that is most suitable to you. You should know your needs. Do you want to monitor all employees, or say, a specific department only? Also,
How many employees do you want to monitor? First of all, determine that. Do you want to keep an eye on the productivity levels and phone activities of certain departments/employees? Or do you want to do random spot checks on everyone? Once you know how many employees you want to monitor, you can decide the number of subscriptions you need. Xnspy lets you monitor one device under one license.
There is Basic and Premium Edition. You can subscribe to either of them for monthly, quarterly, and yearly plans. Here are the pricing plans below:
| | |
| --- | --- |
| Editions | Yearly |
| Xnspy Basic Edition | $4.99/month |
| Xnspy Premium Edition | $7.49/month |
Step2: Download and install Xnspy
You have to install Xnspy on the phone you want to monitor. You would need physical access to Android devices. After you have subscribed to Xnspy, you will get an email that will contain a download link, activation code, installation guide, and your login details for the Xnspy web account.
Step 3: Xnspy dashboard
Once you have installed the app on the phone, wait for a day or two for the app to become fully functional. You can log in to the web account using the login details received in the email. The web account is from where you can access all the recorded information the app has recorded. You can customize the different features too.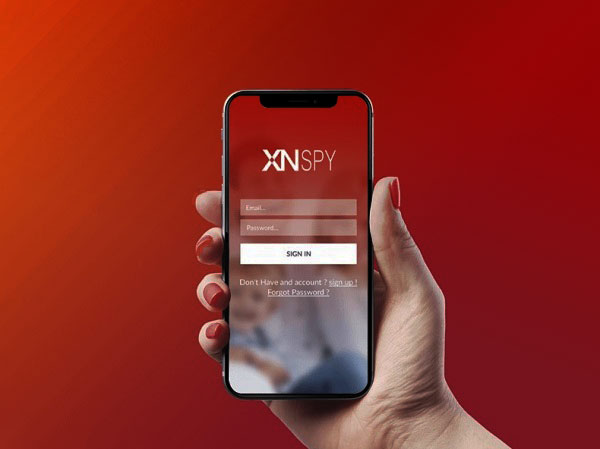 Let's take a look at some of the features of Xnspy:
With Xnspy, you can monitor all the text messages as well as employee calls. The app comes with automatic call recording functionality. You can view social media and instant messenger chats as well and set alerts on particular words, contacts, codes, or project names to be in the know of who tries to access sensitive business information.
Xnspy allows you to get access to the social media apps and view the chats and multimedia shared through them, such as Facebook Messenger, WhatsApp, Instagram, Viber, Tinder, Skype, and Kik.
You can access all the images, videos, and GIFs stored on the phone.
The app lets you track the current as well as recent location history of the phone. With the help of geofencing, you can pin virtual boundaries on the map and see when the employee enters or exits certain areas. This way, employers maintain control against the unauthorized entry of employees in certain places.
Xnspy lets you record the surroundings of the phone. If you have a reason to believe that your employee may be involved in corporate espionage and leaking sensitive information, you can turn on the mic remotely and hear the conversations.
Xnspy lets you see the analysis reports of some phone activities that include:
Top 5 callers
Top 5 call durations
Top 10 frequently-visited websites
And a weekly punch card showing all calls and their details that took place throughout the week
Employees are often distracted by social media pings and notifications and spend a considerable amount of time scrolling on Facebook and online shopping sites during work hours. Xnspy keeps track of the web browsing activity of the phone user and lets you see the top-10 most frequently visited websites and the bookmarked pages.
Xnspy gives you remote control of the device you are monitoring. You can:
Lock/shut down the device
Turn on microphone remotely
Businesses are trying hard to remain operational during these difficult times. And if you think some employees are a threat to your business and are involved in inappropriate or suspicious activity that could sabotage the reputations and security of your business, Xnspy could be of great help in identifying and preventing them.
It is one of the best ways to keep an eye on them and get proof if needed. In this age, when the prices of advanced monitoring solutions are increasing, Xnspy comes at affordable prices with an impressive array of features.