In a survey of 1,000 shoppers, 95% said that a store's exterior affects their decision of whether or not to shop there. Over half of them also said they avoided a store with a dirty external appearance. That should already tell you how much your business premises' curb appeal matters. And your doors, particularly the entry doors, are part of its curb appeal. So if they have seen better days, it's time to replace them.
However, you should consider professional commercial door installation over DIY. It'll cost you more, but the benefits you can enjoy will likely outweigh its heftier price.
We'll discuss why hiring pros is a must and their advantages over DIY, so read on.
Technical Know-How
Installing doors requires measuring the frame opening's height and width first. You must also ensure the frame is plumb, square, and level. You must then order a door matching the frame opening's measurements. Once you receive the door, you must measure it to ensure it matches your order. Even a slight difference in size can lead to the door not fitting the frame.
You must also know all door and doorknob hardware components and which goes where. These include hinges, strike plates, latches, and latch assemblies, to name some.
As you can see, proper door installation requires a lot of work and terminology know-how. So unless you're ready to learn and master them, going pro is your best bet.
Doors Tailored to Specific Needs
Many commercial doors are available as stock items, ready for shipping and installation. However, these products only fit standard frame openings. So if yours is too tall, wide, or odd-shaped, you need customization services. Fortunately, professional door installation companies offer customization services. They can even create doors matching your specific requirements.
Suppose you own a restaurant and need new doors connecting the kitchen to the bussing area. At the same time, you want your staff to be able to get in and out of both rooms faster to boost their productivity. In that case, consider investing in custom cafe doors, also known as saloon doors, that swing on both sides. Users can push cafe doors from either side without having to operate doorknobs. That makes them perfect for servers, who often have their hands full of plates. Checkout these saloon doors to learn more about them, their pros, and their best uses. 
Keep Your New Doors Under Warranty
Door manufacturers offer warranties that often cover material and craftsmanship defects. They fix or replace warrantied products with such defects for free. Door warranties are usually valid for five to ten years. However, they can become void before that, such as in the case of misuse. A perfect example is if the product becomes defective due to improper installation.
So, committing an error during a DIY door installation may be enough to void your warranty. Some manufacturers also explicitly limit their coverage to doors installed by professionals. In this case, installing them the DIY way automatically voids their warranties.
Avoid Personal Safety Concerns
A typical door weighs about 100 pounds on average. However, the taller and thicker a commercial door, the heavier it is. This is especially true for doors made with metal, wood, and glass components.
Since doors are heavy, installing them requires two people or more who know what they're doing. If you were to install them on your own, you risk injuring yourself. From strains to sprains and back aches, these can happen to you if you handle heavy loads.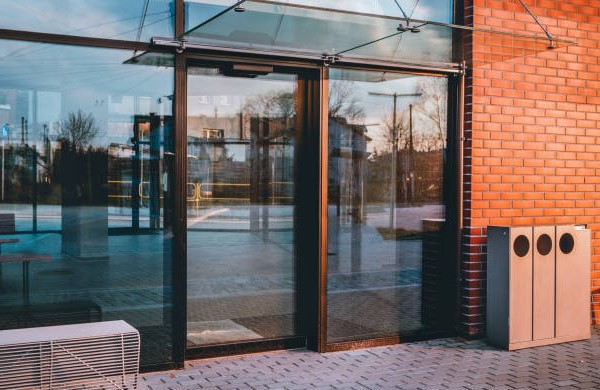 Things could get even more dangerous if you install commercial doors with glass. They can fall, causing their glass to shatter and sending shards flying your way. You or someone nearby can sustain severe cuts that could cause heavy bleeding.
So, don't risk your and other people's safety in exchange for saving money on door installation. Instead, hire pros known for their efficiency and can complete the job safely and on time.
Minimize Risk of Property Damage
Even if a door installation mishap doesn't injure you, it can still cause property damage. An example is if the hinges weren't properly installed and secured. This can cause the doors to become more and more loose until they collapse. Fallen doors can rip off parts and chunks of the door frame and damage floors. That can lead to hundreds, even thousands of dollars in repair costs. You can avoid such costly problems by hiring experienced door installation professionals. They know precisely what they're doing, so you can rest easy knowing your doors are safe and secure.
Reliable and experienced installers also carry property damage liability insurance. This coverage kicks in in the unlikely event an incident occurs during installation. The insurer should pay to repair or replace your property damaged by the installers. If you DIY the installation and such an incident occurs, you'll be responsible for the costs.
Access to Better Door Security Technology
Property crime rates in the first half of 2023 were lower than in the same period of 2022. For example, there were 5% fewer nonresidential (e.g., commercial) burglaries. But compared to the first half of 2019, there were more nonresidential burglaries in 2023. That's enough reason to be on your toes and call on pros to install highly secure commercial doors.
Professional installers can advise you on the latest state-of-the-art door security technology. These include intelligent motorized locks, biometrics, and video doorbells, to name a few. You can have them added to external doors and those in rooms that need increased security.
Always Hire Pros for Commercial Door Installation
A lot can go wrong with DIY door installation, from an incorrect fit to injuries and property damage. Mistakes in installing them can also make them easier to tamper with. At the very least, you may void your new door's warranty if you, a non-professional, install it.
Don't take those costly risks that could only endanger you, your business, and others. Instead, consider investing in professional commercial door installation services.