Are you planning a climbing excursion? Climbing is one of the best ways to get an adrenaline rush while absorbing nature. To ensure you have a safe and fun climb, it's important to have essential mountaineering gear. But with so much equipment on the market, how do you know what essentials are? We want to help you climb safely and confidently. Keep reading for our guide on the must-have mountaineering gear.
Waterproof Jacket
When it comes to essential mountaineering gear, you can't do without a good quality waterproof jacket. Waterproof technical jackets must be lightweight, breathable, and resistant to wind and water. Make sure to get a jacket compatible with your other clothes and layers; the right fit and features will make your ascent, and descent, significantly more comfortable. Waterproof jackets also come with various pockets and a hood, so be sure to pick the one that will best suit your needs. A good waterproof jacket is a must-have for mountain climbers and will serve you for many trips if you get a good one.
Gloves and Boots
Mountaineering requires special gear to perform adequately and stay safe. Gloves and boots are essential. Specific types of gloves and boots are meant for mountaineering and designed to meet particular needs.
Ski gloves are suited for extreme cold conditions and provide insulation but allow movement. They keep your hands warm while preventing frostbite. Mountaineering boots should fit well and offer increased ankle support and stability while trekking.
Gaiters offer additional protection against snow, water, and mud from seeping into your boots while protecting from thorns and other sharp objects encountered on the trail.
Combining warm gloves and durable boots provides superior protection in cold temperatures and challenging terrain. They also cushion and protect your feet from rocks and uneven surfaces.
Helmet
The helmet is essential for mountaineering since it protects against hits and falls. Not only can it preserve unsuspecting mountaineers from hitting their heads on an overhanging branch, but it can also protect them from things like falling rocks.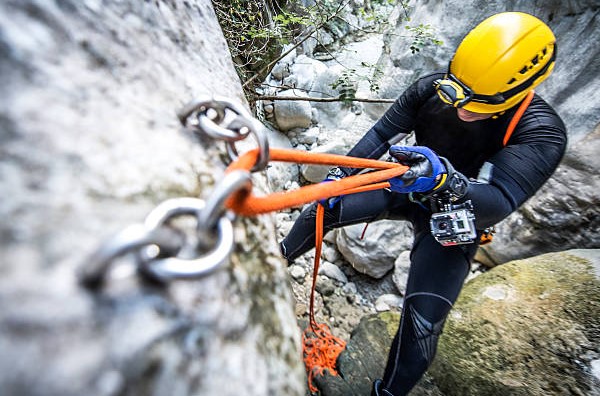 A helmet should be lightweight, adjustable, and easy to clean. Its suspension system should fit snugly around the head and adjust to various head sizes. Ideally, look for a helmet with ventilation to keep your head cool and provide extra comfort when temperatures rise. Be sure to check for a good fit and adjust it before embarking on mountaineering expeditions.
Harness
The harness is available in various designs for any activity level, from beginner to professional. They wrap around the waist and legs for security when climbing or rappelling. A harness should fit securely but comfortably to provide support if a fall occurs.
It is important to ensure the harness has all the safety features a climber needs. This includes buckles, straps, loops, and a rope bridge.
Additionally, it is important to ensure the harness is strong and durable for long-lasting protection to provide maximum security when you are climbing. The quality and durability of the materials of your gear are essential to ensure your safety. To learn more about the best materials on the market, check out OTEX Specialty Narrow Fabrics.
Have a Safe Adventure Using the Best Mountaineering Gear
Mountaineering is a dangerous but stimulating activity. Bringing the necessary gear to ensure a safe and successful experience is essential. Research all the essential mountaineering gear before your next trip and enjoy your next adventure!