Late payments are a curse of the construction industry: Nearly half (46%) of contracts are paid late. The work is done. Yet the money isn't forthcoming.
It's an unfair, toxic industry "standard" that hurts businesses, harms your bottom line, and puts you in the red. Construction invoice factoring is a popular financial solution that we'll demystify in this article. Keep reading to learn what makes it so popular.
What is Construction Invoice Factoring?
The concept is simple to understand. Construction invoice factoring involves a three-party financial transaction between a construction company, a customer, and a factoring company.
The construction company performs a service and issues an invoice. The factoring company buys the invoice, paying a percentage upfront. Then they collect the full amount from the customer. It's not a loan.
Instead, it's a business transaction where you sell your invoices at a discount in exchange for instant cash. This shortens your cash conversion cycle, enabling you to cover operational costs and take on new projects without having to follow up or worry about late payments.
Factoring isn't available as an upfront payment – only for work that has already been completed. However, as we'll explain below, improving your cash flow with near-instant payments makes you more attractive to lenders:
How Construction Invoice Factoring Works
The first step involves issuing an invoice to your customer for a completed job. But instead of waiting for payment, you sell the invoice to a factoring company. Then, the factoring company pays you around 70% to 90% of the value.
Once they've collected the full amount from the customer, they then pay the remaining balance, minus a small service fee. Often called a refactoring fee, this typically amounts to up to 5% of the invoice amount.
The beauty of the service is immediate, fluid cash flow. Your construction business secures payment immediately without risk of late payments or even legal proceedings in the worst cases. For small and medium-sized businesses, this can be a game-changer.
The Benefits of Using Construction Invoice Factoring
The most obvious benefit of invoice factoring is the financial security it provides your business. This is crucial in an industry where payment terms can stretch for as long as 90 days. Invoice factoring allows you to get paid within a matter of days – and not months:
Increased Cash Flow
Unlike traditional financing methods – where you wait for loan approval – invoice factoring provides your business with cash almost instantly. This can be a lifeline for cash-strapped construction businesses looking to grow and expand.
Financial Stability
You won't incur any debt with invoice factoring. As we said: it's not a loan. This can improve your balance sheet, making your business more attractive to lenders and investors. Securing small business loans and other investments is easier with a healthy balance and stable cash flow.
Plus, since the factoring company takes over the responsibility of collecting payments from your clients, you can focus on what you do best – running your business well.
No Collateral Requirement
Construction factoring companies don't require collateral for you to sign on the dotted line. Instead, they buy invoice collection rights from you. Essentially, the invoice is the collateral.
All you have to worry about is landing your next construction contract.
Wide Availability
Invoice factoring is available to construction businesses of any size. Invoice factoring is particularly attractive for small and medium-sized construction businesses that may only take on single contracts at a time.
Reduced Non-Payment Risk
Non-payment and late payment are huge risks in the construction industry. It can make or break a business that has employees to pay, materials to acquire, and debts to repay.
In effect, the factoring company assumes the risk of non-payment and provides you with a safety net. This can give you peace of mind, absent worries about client payments.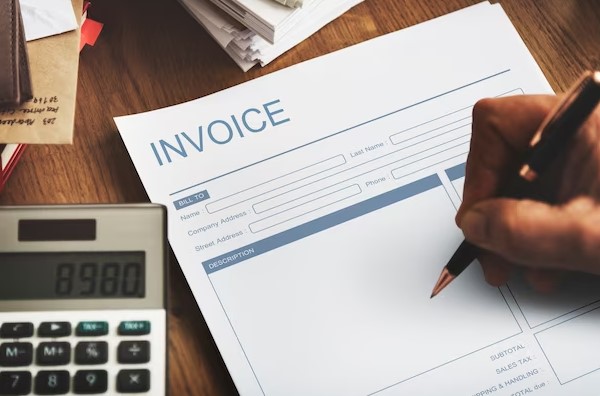 Better Growth Opportunities
Growing your construction business is likely one of your main goals. Yet unsteady cash flow puts a lot of obstacles in your path. Chiefly, it's impossible to put in bids for large contracts when you're waiting around to be paid for old ones.
And you need those larger contracts to grow, enhance your reputation, and establish your company as a serious player in the industry. Construction invoice factoring can break the cycle – and allow you to thrive.
Recurring Expenses
They're all expenses that you have to pay at some point. Your insurance provider and commercial landlords don't care that your clients aren't paying on time. Neither do your creditors. As a construction business, you have financial obligations to worry about even during downtime.
Construction invoice factoring puts the power back in your hands.
How to Choose the Right Factoring Option
When comparing construction invoice factoring companies, consider these critical factors:
Factoring fees
How long they've been around
The advance amount on the invoice
The factoring company's reputation
It's vital to read the factoring agreement carefully and understand the terms before you sign. You may wish to consult with a lawyer to ensure you're making an informed decision about your company's financial future.
Don't Struggle with Cash Flow
If you're a construction company suffering from late-paying clients and poor cash flow, then invoice factoring can be a lifeline. It can provide you with fast cash at a minimal expense and vastly reduced risk of non-payment.
Ultimately, it's important to weigh the pros and cons and consult with a financial advisor – but other construction companies everywhere are benefitting.