Using sutures is essential when choosing a healthcare career, especially as a doctor, physician's assistant, or nurse. Nearly 10 million people work in this profession, and joining their ranks starts with learning how to practice suturing. On-the-job training is less than ideal for your patients, but the best suture practice kit resolves any fears as you hone your skills.
Finding a suture kit that simulates the real thing is the most effective way to practice giving stitches. Your skills will save lives, so you must have the right equipment to practice providing stitches to patients in life-threatening situations.
The good news is that you've found the perfect resource to learn more about suture kits and the aspects that make the best options for your career. Continue reading to find the best suture practice kit today!
Look at the Components
The components are the most crucial part of a proper suture kit. Knowing what to look for will help you get the best value for your money through suture training. Review the equipment and ensure it has everything you'll need.
Here's a look at the common pieces of equipment you should expect with the best suture practice kit.
Tools
Your new suture kit should come with plenty of tools to help you close a wound and stop the bleeding for a patient. The tools should simulate medical-grade tools that you'll use when treating patients in the future. Look for a kit with a needle driver, forceps, surgical scissors, and a scalpel.
The scalpel is vital to use when making precise cuts. The suture practice kit's pad will provide enough space to practice making custom cuts. The surgical scissors will also aid the process by helping you clean up cuts before suturing them shut.
Forceps are essential because they make grasping delicate skin parts a breeze. They're helpful in sensitive areas like the eyes, nose, mouth, and throat. You can hold the skin in place without causing additional pain when using suture kits for medical students.
Mosquito forceps are vital because they help clamp blood vessels while holding delicate tissues. You can stop the bleeding while providing stitches with mosquito forceps on hand.
Needle drivers are the most critical components of a suture kit when seeking practice. The needle driver helps you to guide the needle so you can stitch the wound and stop excessive bleeding. The goal is to find near medical-grade equipment to save money while simulating the real thing.
Suture Pads
When picking a suture kit to practice, it's best to look for a realistic suture pad. You want a suture pad that is sturdy and layered. The layers and sturdiness will closely simulate the durability of human skin when providing stitches.
Suture Pad Case
It's also wise to consider investing in a suture pad case when learning to administer stitches for your healthcare career. The case isn't necessary, but it helps keep your suture kit organized and in one place. The smaller components, like needle drivers and forceps, are easy to lose, but investing in a case will help you find everything you need when you need it.
You'll also enjoy knowing that your suture kit is safe and secure. The case will protect your investment from damage when carrying it to and from work or class. You'll also gain extra protection from the sharp tools in your kit, like the scalpel.
Surgical Blades
The best suture kit also comes with a realistic scalpel to help you simulate the experience of making an incision during a medical procedure. Repeated use of your scalpel will get dull, so it's best to find a kit that provides several scalpel blades. Look for a scalpel that uses disposable blades to remedy the issue and continue practicing.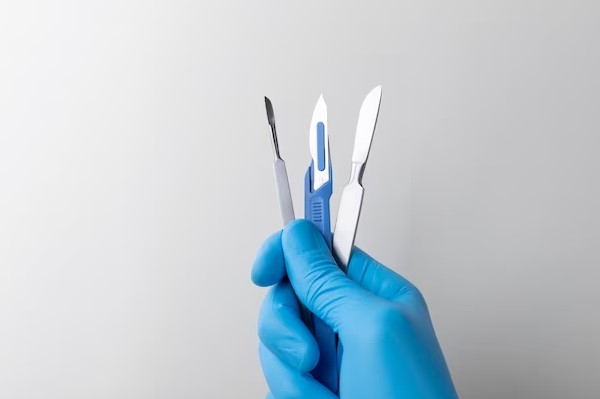 You can shop for replacement blades to always keep your kit ready. It's also wise to purchase suture practice kits here.
Threads
Threads are essential to any quality suture kit since they keep the skin together and prevent excessive bleeding after an injury. Cheap threads will cause your suture to fall apart, resulting in more pain and suffering for your patient.
Most kits offer several thread types so you can get more experience with suturing or stitching wounds. The primary difference between the threads is the quality they provide. Synthetic polymers are a common thread type, as are organic options like silk.
Other Factors to Consider
Finding a kit with quality equipment across the board is an excellent start to learning how to practice suturing, but there are still other factors to consider. Durability is crucial when spending hard-earned money on a suture kit to further your career and grow new skills.
You want to purchase a reusable suture kit to continue honing your skills. Medical students in past eras practiced sutures on chickens, but the suture kit pad provides a reusable surface to help you continue practicing.
The best suture pads use a durable silicon material to simulate human skin. Save money and purchase a suture kit instead of wasting chicken breasts for your practice sessions.
It's best to consider the sharpness of your tool kit when purchasing a suture kit to practice giving stitches. Dull knives are bad for your training experience and could cause more harm than good in a medical emergency.
Dull needles are also dangerous since they'll tear the patient's skin. Blunt needles will fail to provide an accurate practice experience with a suture kit.
Purchase the Best Suture Kit Today
Shopping for the best suture kit starts with looking for quality components, like forceps, scalpels, and sharp needles to simulate giving patients stitches. The suture pad is critical because you want it to simulate the toughness and texture of human skin. Most of all, look for durability so you can continue practicing and perfecting your suturing skills.