Are you plotting a course for your future in Asia? For centuries, the vast and culturally rich nation of China has served as a beacon for travelers and expats. In 2023, this trend remains steadfast as China is home to some of the best places to live in Asia.
But where exactly are the best places to live in China? For some, the buzzing metropolis of Shanghai represents the epitome of Chinese urban living. For others, the historic charm of Xi'an, or the tech-savvy life of Shenzhen, is irresistible.
It's a vast, multi-faceted nation, and the "perfect" place to live will vary depending on individual preferences, career opportunities, and lifestyle choices. Whether you're a digital nomad seeking a tech-savvy city, a history enthusiast looking for an ancient cultural hub, or a nature lover seeking serene landscapes, this guide will help you navigate the best options for living in China.
Shanghai: The Pulse of Modern China
Shanghai is unquestionably one of the most popular places to live in China. This sprawling metropolis is China's largest city and economic powerhouse. It's brimming with a dynamic blend of Eastern tradition and Western modernity.
Life in Shanghai is fast-paced and vibrant. Its characterized by an abundant array of opportunities which makes it a dream destination for both expatriates and locals.
Living in Shanghai gives you an exclusive peek into China's unique mix of the old and the new. You'll witness traditional Shikumen architecture standing proudly beside towering skyscrapers, while ancient teahouses and modern coffee shops coexist harmoniously on the same streets.
Tech and travel news from Shanghai is constantly buzzing. The city's strong infrastructure and advanced technology provide residents with an easy, efficient lifestyle. Shanghai's technology scene offers countless opportunities for those in the digital field.
Shanghai's public transportation, especially the expansive metro system, is one of the most efficient and user-friendly in the world. The city is also renowned for its culinary scene. You'll find amazing street food or high-end dining, ensuring food lovers are never disappointed.
Beijing: The Heart of China's History and Culture
Beijing, China's capital, is an excellent place to live for history buffs and culture enthusiasts. It's where the past, present, and future of China intertwine. It offers a unique lifestyle not found anywhere else.
Living in Beijing means being surrounded by iconic historical landmarks such as the Forbidden City, the Great Wall, and the Temple of Heaven, a constant reminder of China's rich cultural heritage. This city allows you to explore the depths of Chinese history and culture in your daily life.
Beijing is not just about history. It is also home to China's most prestigious universities and schools. This makes it a premier choice for students and academics alike.
The city's high-tech industry is also booming. Zhongguancun, often referred to as "China's Silicon Valley", is a hub of innovation and technology.
Shenzhen: A Technological Utopia
Shenzhen, once a humble fishing village, has transformed into a technological wonder in just a few decades. Today, it is one of the best places to live in China. Especially for tech enthusiasts and professionals.
Living in Shenzhen means being at the forefront of China's technological innovation. Home to tech giants such as Huawei and Tencent, Shenzhen is known for its rapid technological development and innovation. It attracts tech professionals from all over the world.
The city isn't all work and no play. Shenzhen is famous for its:
Vibrant nightlife
High-end shopping
Beautiful parks
The cityscape is marked by sleek skyscrapers, while the countryside offers picturesque hiking trails for nature lovers. The city's commitment to green and smart city initiatives makes it a futuristic oasis, a testament to what modern living in China can look like.
Hangzhou: A Beautiful Balance Between Urban and Natural
Chinese cities offer a range of experiences, and Hangzhou stands out for its tranquil beauty. Nestled on the eastern coast of China, Hangzhou is one of the most picturesque cities in Asia. It's known for its stunning natural landscapes, including the world-famous West Lake, and its thriving tech industry.
Living in Hangzhou is about finding balance. You'll find high-tech industries, universities, and shopping districts, but also tranquil tea plantations and historic temples. This blend makes Hangzhou a gem among Chinese cities for those who want city life without losing touch with nature.
Hangzhou is also an important tech hub. It's home to Alibaba, one of the world's largest e-commerce companies. But even with its tech credentials, Hangzhou manages to maintain its charm with a slower pace of life that sets it apart from other Chinese metropolises.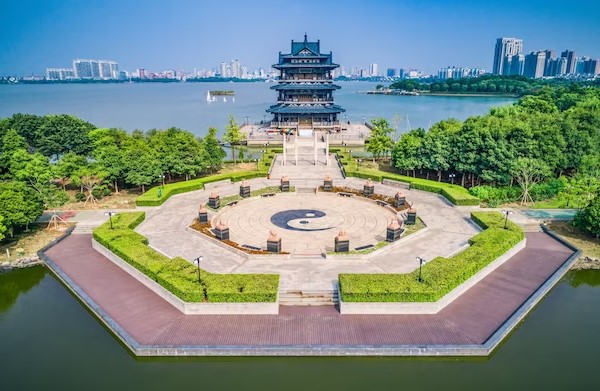 Chengdu: The Gateway to the Riches of Sichuan
Living in Asia can be a feast for the senses, and nowhere is this more true than in Chengdu. This city, located in China's Sichuan province, is often considered the country's culinary capital. If you love spicy food and a laid-back lifestyle, Chengdu may be your perfect home in China.
Chengdu is known for its hotpot, a bubbling cauldron of spicy broth in which various ingredients are cooked. But this city offers more than just culinary delights. It's also famous for the Chengdu Research Base of Giant Panda Breeding, a must-visit spot for animal lovers.
Chengdu is a fast-growing economic center, but it remains a relaxed city. Tea houses are as common as office buildings here, showing Chengdu's commitment to maintaining its unique lifestyle amidst modern development.
Chengdu also serves as the gateway to the rest of Sichuan province. The province is rich in natural beauty, with sites like Jiuzhaigou Valley and Mount Emei just a short trip from the city.
Keep Learning About the Best Places to Live in China
Undoubtedly, China's rich tapestry offers a world of choices for those seeking a new life in Asia. While the best places to live in China vary depending on personal needs and desires, one thing is certain. Moving to China promises an immersive cultural experience like no other.
As you ponder your decision, remember that the journey is as important as the destination. So why wait? Dive deeper into understanding China's unique blend of old and new, rural and urban, tradition and innovation in our Lifestyle section.