The peony flowers are perennial flowers that bloom during the spring and summer months. Native to Asia, these flowers can live in all kinds of climates as long as they get at least some sun throughout the year.
Also known as Paeonia, this flower stands above the rest. Read on to learn all about peonies and why they are so special.
Peonies: A Symbol of Long-Lasting Love and Strength
Peonies have been a symbol of long-lasting love and strength for centuries. Possibly originating in China, these flowers have been prized for their richly colored blooms and luxurious aroma. Peonies represent happiness, love, romance, and passion.
They are often given to loved ones to express admiration and adoration. These flowers also have a reputation for being strong and resilient, making them a favorite for those seeking courage in facing life's adversity.
Peonies are an especially popular choice for floral arrangements at weddings, as the unforgettable blooms create a cheerful aura for the special day. With their exquisite beauty, delightfully sweet scent, and symbolic meaning, peonies are the perfect expression of eternal affection.
The Beautiful Blooms of Peonies
Peonies, or Paeonias, are very popular flowers belonging to the family of Paeoniaceae. They come in a wide array of colors, blossoms, and frills. Peonies flowers are usually known for their beauty and grace. The name is derived from the Greek name Paeon, who, in Greek mythology, was a doctor to the gods.
These beautiful blooms typically have five or six petals and a slight, subtle fragrance. They can bloom in almost any color, from delicate pale pink to deep magenta.
The one thing that they all have in common is their unmistakable beauty which has been known to bring love and luck to those that behold them. Peonies have been beloved for centuries and are often used in bouquets and flower arrangements.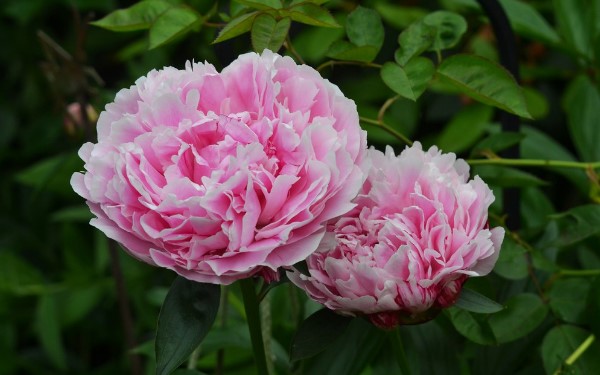 No matter the color variety, or the season, these delicate petals are hard to deny. Peonies are stunning flowers to behold, and it's easy to see why they've been part of our lives for centuries.
Planting and Caring for Peony Flowers
Peonies flowers are beautiful and ornamental perennial flowers appreciated for their large, showy blossoms. Each flower head is often composed of multiple petals and may range in colors from bright pink and lavender to white.
When it comes to planting and caring for peonies, it's important to select a sunny spot in your garden that's not overly windy. Plants should be spaced about 2 to 4 feet apart.
When growing peonies, it's important to plant the roots 2 to 3 inches down in the soil. Water well at planting, and after that, water regularly until the plants are established and able to withstand periods of dryness. Mulch should be applied in early spring and maybe replenished in the fall too.
When blooming, the flowers may need to be staked to provide appropriate support. Cut the dried flowers to encourage new buds and further blooming.
An application of fertilizer is recommended after planting and again after the blooming. Divide and repot your plants every 3 to 5 years for optimum vigor. Look here for more types of peonies.
Discovering Peonies
Peonies are beautiful, unique flowers that represent wealth, compassion, good fortune, honor, and romance. For those who want to send a meaningful message, peonies are a great choice.
With their long-lasting blooms, soft petals, and subtle fragrance, peonies are the perfect way to make your special someone feel cherished. Buy or pick a bunch of peonies today!