The first modern RV came onto the scene in 1910 at Madison Square Garden. Ever since people have been embracing a nomadic lifestyle in these homes on wheels. Although you can buy a brand-new RV, you can't deny the appeal of a pre-loved camper. They bring an undeniable charm and nostalgia to each camping adventure. One thing that many RVs need at some point in their lifetime is new flooring.
When choosing a camper floor, you want to pick a material that can withstand lots of wear. There are many RV flooring ideas to consider, from luxury vinyl planks to laminates that look like wood. If you're looking at the best flooring for your RV, you've come to the right place. We cover the best RV floor replacement options in our guide below.
Types of RVs
Before diving into the world of RV flooring, you need to know about the many types of RVs you may encounter. Not all RVs are the same. There is a wide range of sizes and styles out there.
Motorhomes
Motorhomes are just that, homes on wheels. This is the biggest RV type of the bunch. You'll find motorhomes in three different classes.
Class A motorhomes are the biggest type of motorhome. They may not get many miles per gallon, but they are a high-end camping option.
Class B motorhomes are small versions of the larger motorhome. Think of this as a van with a small home on the inside. This is a good choice for one or two people.
Class C motorhomes are a popular RV choice. They aren't too big of a motorhome but aren't too small either. A small family can fit inside one of these RVs.
Fifth Wheel
The next RV on the list is a fifth wheel. These trailers get hooked to the back of a car. These RVs have lots of extra room because of the split-level design.
If you go for a fifth wheel RV, you'll need a heavy-duty car to haul it. You also may not be able to park your fifth wheel at every campground because it is so big.
Travel Trailer
A smaller version of the fifth wheel is a travel trailer. You'll find these trailers in a wide range of styles and budgets. Most SUVs and trucks can handle pulling a travel trailer. They are easy to use and fit a whole family.
Pop-Up Camper
These campers fold down, so they are easy to store when you're not using them. They are also affordable and are great for people looking for their first RV. Pop-up campers are light and easy to tow behind almost any car.
The pop-up camper features mesh walls and fold-out bunk beds. They usually have basic features, but enough to keep you comfortable camping.
Teardrop Trailers
If you're going for a vintage look, check out a teardrop trailer. These small trailers come in the shape of a tear. Most teardrop campers have a small kitchen, couch, and bed. Some even have a small dining area.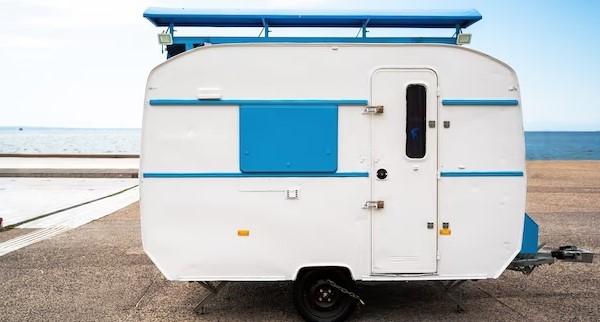 These campers are best for single travelers or people traveling in a pair. There isn't much storage on these campers, so use your space wisely.
Toy Hauler
If you are a fan of bringing dirt bikes, four-wheelers, or golf carts on your trips, a toy hauler is for you. There is a large space to store the toys and an extra living space.
These toy haulers have to be large to fit everything inside. They also tend to have less outside storage space than other RV options.
Converted Camper
Finally, a new popular camper option is to convert a van into the camper of your dreams. Van conversions allow you to make a custom camper in a small space.
These vans are easy to drive and store. You can also make them look like any design style.
Signs You Need a New RV Floor
Your RV floor withstands a lot in its life. It has to hold up in different environments and constant wear. After a while, this wear and tear can take a toll on your RV's floor.
Before going through the work of replacing your RV, you'll want to know what to look for to know it's time to do so. Here are a few hints your RV will give you so you know it's time for a new floor for your camper.
Grungy Carpet
The carpet in an RV usually gives you obvious signs that it needs replacing. This camper flooring choice has a harder time withstanding the wear of camper life.
Check around your carpet for fraying. You may also notice uneven wear in high-traffic spots.
Another sign that it's time for your camper carpet to go is if it always looks dirty. An old carpet traps dirt and is harder to clean. When you finally rip it up, you'll be shocked at how much dirt is stuck underneath.
Cracking Vinyl
Vinyl is another RV flooring type that can show its age. The thin material of vinyl makes it more prone to aging signs than other flooring options. Old vinyl usually cracks as it ages. You may notice broken vinyl pieces in areas too. Vinyl may also lose its color in areas that get walked on a lot. This is a good indication it's time for a new floor.
Swollen Wood
Wood is a popular camper flooring choice. It looks beautiful, but can also eventually show its age. It also doesn't do as well in damp environments. If the floor experiences temperature swings or water, it can mold or warp. Water damage is not a fun problem to have in an RV. You'll want to make sure to mitigate these issues or your floor will get damaged again.
Choosing the Best RV Floor
Now that you've learned how to spot an RV floor that needs some TLC, it's time to figure out the best flooring type for you. There are a few different factors to consider when making your choice.
Remember that your RV works differently than a regular home. It moves and needs to withstand lots of traffic. You'll want to keep a few things in mind before you make your flooring choice.
Floor Weight
Your RV can't be too heavy or it will be hard to get from one place to the next. You'll want to choose the flooring that isn't going to weigh down your camper.
When choosing a new floor, you may want to do a little investigative work first. Consider ripping out your old floor and weighing it. This will give you an idea of how much weight you can have on your new floor.
Flexibility
The flooring in your camper has to have some give to it. It will constantly be moving around on the road, so it needs to withstand movement.
RV Flooring Ideas: Enhance Your RV's Style and Functionality on the Road
When replacing flooring in your RV, you have to think about your lifestyle and RV type. If you have a small RV, you have to think about the weight of your floor. You also need to think about your destinations and lifestyle on the road.
Here are some of the best ideas for flooring in your RV.
1. Vinyl Plank Flooring
A popular choice is vinyl plank flooring. This isn't your grandma's vinyl flooring. They now come in a plethora of colors and styles. You can find most vinyl in sheets, planks, or tile form. Vinyl is water-resistant, easy to clean, and holds up to constant traffic. Vinyl is very lightweight, making it a great RV flooring choice. It is also easy to clean.
When you choose vinyl planks, go for the floating floor option. Gluing the floor down won't give it the flexibility it needs. It could cause the vinyl to crack or split at the seams. The downside to vinyl flooring is that it doesn't last that long. You'll need to replace vinyl more often than other flooring types.
2. Laminate Flooring
Laminate flooring is a mix of vinyl and wood floors. It looks like wood but has the appealing properties of vinyl. Laminate is an easy-to-clean flooring choice. It holds up to daily traffic. It doesn't stain and is waterproof. This kind of flooring is easy to install. Laminate flooring is a type of floating floor that clicks in above the subfloor. You can install a layer of insulation first to get the comfort of a carpet. This is also a good idea if you live in or travel to colder areas.
Although laminate is a great choice, it has some flaws. It can sometimes warp with age. Laminate can also be tricky to install in a smaller RV. Usually, you'll find laminate in long planks, so curved rooms are also tough. This floor is very slippery. Young kids or people wearing socks tend to slip and slide on laminate.
3. Carpet
Carpets are a tried and true choice for RV flooring. It is light and soft on the feet. Carpets also have a cozy feel that is hard to get with other flooring types. You can find carpet flooring in a wide array of colors and styles. It is also a very affordable choice for RV flooring. You can almost always find an RV carpet option in your budget.
The downside of carpet is that it can be hard to clean. Carpets don't hold up well to the dirt and sand that comes with camping. Carpets also stain easily and don't do well with water. Water can seep into your carpeted camper floor and cause water damage.
4. Wood
There are not a lot of flooring options fancier than wood flooring. Wood is easy to clean and brightens up a space. Wood adds warmth to a room that is hard to get elsewhere.
Wood is also not a hard floor to clean. It doesn't stain easily or hold smells and it feels nice under your feet. The biggest downside of wood is how heavy it is. This is a big factor when you consider flooring for your RV.
Floors that are too heavy can be hard to pull. They can also lower your gas mileage, which can be an expensive increase. Hardwood can also have a hard time in humid climates. They can warp or swell. Kids and pets can also scratch them up. There is also a lengthy process to have hardwood floors installed. It isn't cheap and can take longer than other options.
5. Rubber
Rubber may not be the first RV flooring material that comes to mind, but it's a great option. Rubber flooring can go through almost anything. It can hold up to the toughest dirt, wear, and scratches. Installing rubber floors isn't too hard. You can find it on rolls, and it lies on the existing floor.
You can find rubber floors in many styles and different thicknesses. It is a non-slip and affordable choice. The downside of rubber is that it isn't all that cozy. It also doesn't have the look of luxury vinyl or wood.
The Right RV Floor Can Make Your RV Feel Like New
Your RV floor will help your RV look and function at its best. Any of these RV flooring ideas will work depending on the style you're going for. With the right flooring, you can create a beautiful space that will withstand all your RV adventures.