Dogs are one of the top choices for households in the United States regarding pet ownership and with good reason. Nearly 79 million households have a dog because they're furry, friendly, and loving family members. They're a safe bet to greet you with a wagging tail and happy kisses after a long day at the office.
Part of the responsibility of adopting a dog is learning how to care for your dog's well-being. One of the most significant signs of a healthy dog is the dog's coat. A shiny, soft coat indicates your dog has a balanced and healthy diet.
Luckily, you've located this helpful resource to learn more about how you can care for your dog's skin and coat. Continue reading to keep your furry friend healthy and happy today!
Bathe Your Dog
Whether your dog will love or hate taking baths is a coin flip, but they're essential to caring for your dog's hair and skin. You shouldn't bathe your dog daily, as that could cause damage to their skin and coat. Washing your dog too often will remove the essential oils from the coat and dry out the skin, causing discomfort.
Bathing your dog once or twice a month is a good rule of thumb. Your pup will maintain a healthy coat while living inside your home.
Brush Your Dog
Brushing is another critical step when caring for your dog's coat and promoting that beautiful, healthy shine. You should brush your dog's fur every few days, regardless of the fur type. The internet is an excellent resource for finding the perfect brush for your dog's hair type.
You'll also want a de-shedding brush if your fluffy family member sheds. Their fur will always look immaculate when you brush and de-she your dog's fur, promoting a healthy appearance while walking in the neighborhood.
Purchase Quality Food
The quality of food you're purchasing and feeding to your dog will also impact a healthy coat. As with humans, a nutritious diet results in a healthier appearance for dogs' coats and skin. Don't cut corners when shopping for dog food for your pup if you want to promote long-term health.
Look at the listed ingredients on the dog food bag before purchasing anything. The best dog food options use natural ingredients for a balanced and well-rounded diet. An excellent pro tip is adding vegetable oil to your dog's food during each meal to add that extra bit of health and shine.
It's also critical to purchase healthy treats for your dogs when rewarding them for learning a new trick or listening to your commands. You can buy healthy treats at your local pet store or make them at home. Raw carrots are among the best healthy treats for your Brown Border Collies to promote a healthy coat.
Get Parasite Protection
Your dog's coat and skin are fair game to several parasites that live in your climate, and it's vital to take steps to protect your dog if you want them to remain healthy and look their best. Fleas and ticks are problematic for many dog breeds. These nuisances will cause your dog to bite and scratch to make the itching go away.
These parasites will damage your dog's shiny coat and cause significant health issues. It's your responsibility to take care of your dog's hair by purchasing the right medicines to keep parasites away. Talk to your vet about the best options for parasite protection to give your dog a peaceful and happy life.
Use Coconut Oil
Coconut oil is one of the most versatile oils you can keep in your home, and its benefits extend to caring for your dog. You can give your dog a spoonful of coconut oil as a healthy treat or mix it with your dog's food. The coconut oil will hydrate your dog's skin and coat for a healthy, glowing appearance.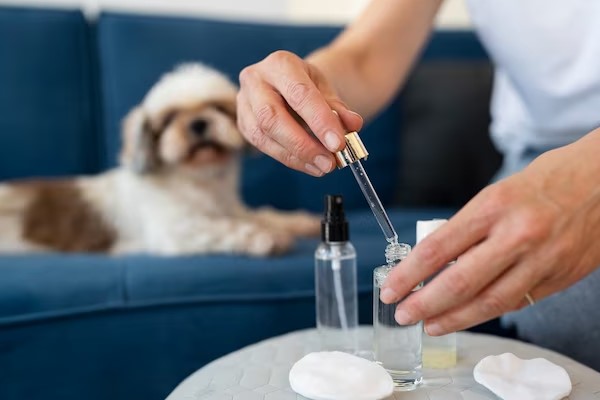 Coconut oil is also effective as a topical for your dog's hair. Massage the coconut oil into the fur and skin to give your pup the health benefits of coconut oil. Add a few drops to your dog's shampoo to make baths easier and more beneficial.
Add Omega Fatty Acids
Omega fatty acids are vital in caring for your dog and providing the best quality of life. When adding these beneficial fats to your dog's diet, you'll keep infections at bay. Your dog will be in a better mood, and you'll prevent arthritis that takes away from your dog's life quality.
Try Herbal Supplements
You should use herbal supplements when caring for your dog's coat. Herbs like spirulina and horsetail are the perfect additions to your dog's diet if your goal is a healthy coat. Talk with your vet during your next visit to determine a healthy dose for your pup to promote health and a shiny coat.
Use Oatmeal Baths
In addition to using coconut oil and giving your dog plenty of baths, you can incorporate oatmeal baths into your monthly routine. They provide the benefit of soothing your dog's skin and giving the fur a healthy glow again. It's a cheap solution to helping your dog with scratching and fur health.
Your dog can relax after the oatmeal bath, and the scratching from dry skin and parasites will end. It's also the best way to help your dog with the allergies it faces. Keep the ingredients for an oatmeal bath in your home so you're prepared to help your puppy in the future.
Take Care of Your Dog's Coat Today
Caring for your dog doesn't end with providing a safe and comfortable living place. You should give your dog quality food with natural ingredients and mix it in coconut and vegetable oil to ensure a balanced diet for your dog's coat and long-term health. Protect your dog from parasites like fleas and ticks, and brush your dog's hair multiple times each week.
Are you ready to adopt a furry friend into your family? Check out our pets and animals blog content for engaging articles and tips to provide the best environment for your pets!