As a modern-day entrepreneur, you must realize that the success of your business depends on the strength of your online presence. Your website acts as a salesperson available 24/7 and has the power to be your most valuable asset. In addition, a website allows your business to attract a wide audience and expand your customer base.
But here's the thing: everyone's going digital, which means there are hundreds and hundreds of websites on the internet. Hence, having any minimalistic website design won't do the trick anymore; you need to ensure it is up-to-date, visually appealing, and user-friendly. And for this, it is crucial to invest in a visually captivating website design. The umbrella of website design has a lot under it, making it challenging to find the most important things to tackle.
So, here are some of the best tips to improve your website's designs.
Enhance Your Site's Visual Appeal
One of the best ways to improve your site's design is to boost its visuals since it leaves an impression on potential customers. A visually attractive site catches visitors' attention, engages them, and leaves a positive impression. Besides that, boosting your website's visual appeal allows you to stand out, setting you apart from your rivals.
So, how can you make your site visually appealing? Here are some ways to enhance your website's visual appeal:
Add images: Incorporate high-quality and relevant images into your website. You can use original visuals to make the site look more appealing. But if you want to save time and money, you can get stock photos online and make your website look attractive.
Include videos: Add catchy and short videos to draw attention to your site.
Select an appropriate color scheme: Choose one that matches your business. Remember to incorporate colors strategically and highlight essential elements.
Add Social Proof
Any idea what your customers think about your products and services? If not, add social proof on your website in the form of reviews and testimonials. Trust us; social proof can improve your business's authority and reputation in the business world.
When individuals see that others use your products, it improves the perceived value of your products, resulting in better customer retention. Besides that, it acts as a trust signal for your visitors. Believe it or not, people trust others' actions and opinions.
As a result, you need to add social proof to your website. You must ensure you're putting social proof where it's easy to spot. If nobody sees it, it doesn't help your site. Hence, consider adding your social proof close to the claim it supports or in the most prominent places on the website.
Make Sure Your Site is Easy to Navigate
Even though you may enjoy trying new themes and being unique, it's best to avoid experimenting with your site's navigation. After all, you want your visitors to quickly find whatever they're searching for, reducing frustration and encouraging them to explore more. Remember, the more engaged visitors are, the higher will be the conversion rates.
So, how can you ensure your website is easy to use? Here's how:
Mind your menu: Ensure your website's catalog is easy to find and visible. Alongside this, it should be structured according to the significance of every section.
Divide categories clearly: Remember to define categories if your navigation includes many sections or sub-categories.
Add links in your footer: Your site's footer is the last thing visitors will see, making it an ideal place to incorporate all your essential links, such as your social media icons and contact information.
Stay Mobile-Friendly
One of the best tips to improve your site's design is to make it mobile-friendly. It will make your website available to smartphone users, allowing you to boost your sales. In addition, making your site mobile-friendly enables you to offer an optimized user experience, including features like responsive designs.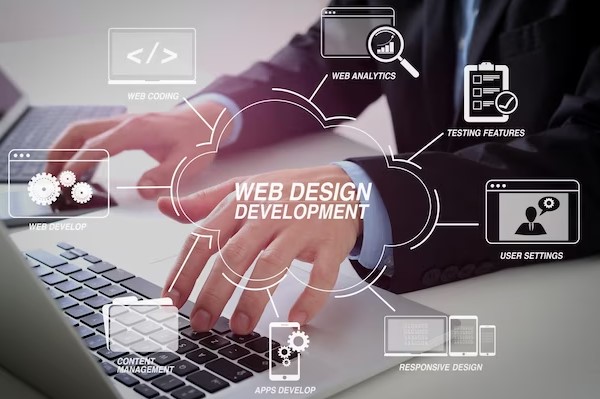 It also ensures visitors can access and navigate your site easily, decreasing bounce rates and improving conversion rates. Moreover, this will give you a competitive edge over other ventures that haven't optimized their websites for mobile users, helping you outrank your competitors.
Implement a Call to Action
Remember, every page on your site should entice visitors to take action. In other words, you must insert call-to-action buttons to promote immediate response. Including a call to action (CTA) on your website offers a clear direction to the visitor, instructing them on what action you want them to take, from signing up for a newsletter to purchasing.
Not just that, CTAs can help you improve your conversions instantly as they can offer incentives and outline the benefits of taking action. It can also be a great way to track the performance of your site and marketing efforts. For instance, you can monitor conversions and click-through rates related to CTAs to collect valuable data on the effectiveness of multiple strategies.
A call to action can be anything from account creation to a free trial. Some examples of popular CTAs include:
Watch the video
Sign up now
Buy now
Discover more
See pricing
Optimize for SEO
Imagine your site as a hidden treasure buried on the internet. Without effective SEO strategies, it stays hidden and unseen by potential customers. However, optimizing your site for SEO can help showcase your webpage, bringing it in front of billions of people searching on Google.
It boosts your site's visibility on search engine results pages, leading to higher website traffic. In addition, optimizing your site for SEO can draw a targeted audience that is hunting for services and products similar or related to yours, allowing you to expand your customer base.
Not sure how to optimize your site for SEO? You can start by identifying relevant phrases and keywords that your targeted audiences use to search for your products. Moreover, consider adding keywords to your site's content, like meta descriptions and headings. Another fantastic way to optimize your website for SEO is to publish original and high-quality content that is valuable for your customers.
Final Words
Improving your website's design can sound like a challenging task. But don't worry; we're here to help! First, you must make your site attractive by adding visual features like images and videos. Remember to include CTAs on your site to provide your visitors with clear instructions. You can also make your site mobile-friendly to attract more customers. These tips are everything you need to make your site stand out!