Ah, summertime, when the sun's warmth lures us to embark on exciting new journeys and make priceless memories. And what better way to enjoy this special time of year than to take a trip to Pigeon Forge with just your closest friends?
Pigeon Forge is a hidden gem that combines breathtaking natural beauty, adrenaline-pumping attractions, and a vibrant arts and culture scene. It is situated within the beautiful Smoky Mountains' enchanting embrace.
Prepare to be mesmerized as you explore this haven where adventure, scenic beauty, and tranquil moments converge. Every type of traveler can find something to enjoy in Pigeon Forge, which attracts adventurers, lovers of the outdoors, and people just looking for a break from the busy world.
If you carefully consider what you and your friends like to do, you can plan a trip that everyone will truly remember.
To help you make the best out of the summertime with friends, we've compiled a list of useful ideas in this guide.
Research and Plan Ahead
Planning can help you prevent unneeded surprises, prolonged waits, or missed chances.
Learn as much as possible about Pigeon Forge's attractions, events, and lodging options.
Look for well-known locations, undiscovered gems, and distinctive experiences that fit your group's interests.
Make a list of must-see locations and rank them according to their accessibility and significance to you and your friends.
Consider the length of your vacation and allow enough time for each activity.
It's also a good idea to look up the operating times, admission costs, and any prerequisites or limits for specific attractions.
Consider drafting a rough timetable summarizing your daily plans while allowing for spontaneity and flexibility.
Experience the Pigeon Forge Ferris Wheel
Located in the heart of this quaint little town of happiness, you can't miss the iconic landmark known as the Pigeon Forge Ferris Wheel.
For starters, it is 200 feet high and is known to offer spectacular views of the surrounding Smoky Mountains and the attractions below. The stunning LED lights make it evident at night, as kids and adults love taking pictures of it.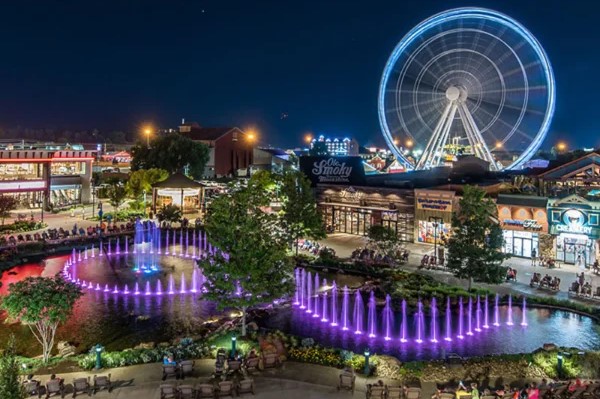 During the daytime, you'll witness the lush greenery and rolling hills, and in the evening, you see the entire town from a bird's eye view – really breathtaking. Keen to learn more about this amazing creation? Did you know the Ferris wheel seats up to 340 people at one time?
It took only eight days to build, is made up of 42-all-glass gondolas, and is one of the tallest attractions in Pigeon Forge. We're sure you can't wait to experience it yourself.
Explore the Great Smoky Mountains National Park
This iconic national park near Pigeon Forge offers a breathtaking natural playground for outdoor enthusiasts. Lace up your hiking boots and embark on the park's numerous trails that wind through lush forests, wildflower-filled meadows, and awe-inspiring vistas.
Whether you choose a leisurely hike to a cascading waterfall or a more challenging trek to the highest peaks, the park's diverse trails cater to all skill levels. Along the way, watch for the park's abundant wildlife, including black bears, elk, and white-tailed deer.
For an extra thrill, consider venturing into the park's backcountry for an overnight camping experience, immersing yourselves in the tranquility of nature.
The Great Smoky Mountains National Park is a photographer's paradise, with countless opportunities to capture stunning shots of misty mountain landscapes and vibrant sunsets.
Enjoy Local Cuisine
Pigeon Forge boasts a wide array of dining options that will tantalize your taste buds and leave you craving for more. From traditional Southern comfort food to international flavors, the culinary scene in Pigeon Forge has something to satisfy every palate.
Start your day with a hearty Southern breakfast at a local diner, savoring classics like biscuits and gravy or fluffy pancakes drizzled with maple syrup. For lunch, venture into one of the charming BBQ joints and savor tender smoked meats slathered in finger-licking sauces, accompanied by classic Southern sides like macaroni and cheese, collard greens, and cornbread.
In the evening, explore the diverse dining establishments offering cuisine worldwide. Treat yourself to a delicious Italian feast with fresh pasta, wood-fired pizza, and delectable tiramisu. If you want something exotic, indulge in flavorful Mexican dishes like sizzling fajitas, cheesy enchiladas, or refreshing margaritas.
Seafood lovers can enjoy mouthwatering seafood platters featuring perfectly grilled fish, succulent shrimp, and juicy crab legs. Don't forget to save room for dessert, as Pigeon Forge has plenty of sweet temptations, including homemade pies, decadent cakes, and delectable ice cream parlors.
Go Shopping
Pigeon Forge is known for its outlet malls, specialty stores, and unique boutiques that offer a delightful shopping experience.
The Old Mill District is a must-visit for those seeking locally crafted items and unique souvenirs. This historic area features quaint shops showcasing handmade pottery, crafts, and local food products.
The Pigeon River Crossing is another shopping destination worth exploring, offering a diverse selection of stores ranging from apparel and home goods to gourmet treats.
If you're a fan of vintage treasures and antiques, visit Smoky Mountain Antique Mall, where you can browse an extensive collection of vintage items, collectibles, and unique pieces.
Engage in Outdoor Activities
Whether you explore the hiking trails, embark on a scenic biking adventure, or even try golfing, Pigeon Forge offers a diverse range of outdoor activities that cater to the adventurous spirit of friends seeking an unforgettable summer trip.
Embark on a thrilling ziplining experience, soaring through the treetops and taking in breathtaking views of the surrounding landscapes. Whitewater rafting is a must-do activity for those seeking an adrenaline rush, where you and your friends can navigate through rushing rapids and conquer the untamed waters.
If you prefer a more leisurely pursuit, horseback riding provides an excellent opportunity to immerse yourself in nature, meandering through picturesque trails while enjoying the company of your friends.
Fishing enthusiasts can cast their lines into the clear mountain streams, hoping for a prized catch while relishing the tranquil ambiance.
Conclusion
Planning a friends-only summer trip to Pigeon Forge can be an incredibly rewarding and memorable experience. You can ensure a fantastic adventure with your closest companions by following a few key tips. Remember to communicate openly, be mindful of each other's preferences, and make time for group activities and personal exploration.
So, gather your friends, pack your bags, and embark on a summer getaway to Pigeon Forge, where lifelong memories and strengthened friendships await.