Nestled in the heart of the southern United States, Tennessee beckons with its captivating blend of vibrant cities, breathtaking natural landscapes, and rich cultural heritage. Whether you're an avid music lover, an outdoor enthusiast, or simply seeking an unforgettable vacation, the Volunteer State has something extraordinary in store for you.
From the rhythmic beats of Nashville's famous honky-tonks to the majestic peaks of the Great Smoky Mountains, Tennessee offers a tapestry of experiences that will leave you awe-inspired.
This article will discuss the must-do activities that will help you optimize your time in this stunning state.
1. Unwind in a Cozy Cabin
When it's time to relax and escape the clamor and bustle of everyday life, nothing beats escaping to a cozy cabin in the Smoky Mountains. These cabins are nestled amidst the breathtaking beauty of Tennessee's natural wonder, offering a tranquil haven to relax and rejuvenate.
Cuddle by the fireplace with a good book, soak in a hot tub while gazing at the starlit sky, or savor a cup of coffee on the porch, surrounded by breathtaking views. If you need assistance finding the perfect cabin, look up Tennessee cabins for a wide range of options to suit your requirements and budget.
2. Lost Sea Underground Adventure
Immerse yourself in a captivating subterranean world at the Lost Sea Adventure in Sweetwater, Tennessee. This extraordinary attraction presents an unparalleled opportunity to explore America's largest underground lake.
Your journey commences with a guided tour through awe-inspiring caverns, where you'll marvel at the intricate formations that witness the region's geological history. Traverse winding passages and learn fascinating tidbits about the underground ecosystem.
However, the true highlight awaits as you board a boat and gracefully glide across the tranquil waters of the subterranean lake. This one-of-a-kind experience seamlessly blends excitement and tranquility, offering a rare glimpse into the hidden wonders beneath the Earth's surface.
3. Country Music Hall of Fame Elegance
Located in the heart of vibrant Nashville, the beloved "Music City," the Country Music Hall of Fame is a true treasure for music enthusiasts. This remarkable institution takes you on an immersive journey through the captivating world of country music.
As you step inside, you'll be transported to a bygone era where the essence of American music comes alive.
The Country Music Hall of Fame boasts a remarkable collection of artifacts, exhibits, and stories that beautifully illustrate the evolution of this cherished genre. Lose yourself in the enchanting tales of legendary singers who have left an indelible mark on the fabric of country music.
Every corner of the museum offers a delightful surprise, inviting you to delve deeper into the harmonies and melodies that have shaped our musical landscape.
4. Explore the Great Smoky Mountains, National Park
Indulge in the breathtaking beauty of the Great Smoky Mountains National Park, an absolute must for any nature enthusiast. Spanning the borders of Tennessee and North Carolina, this untouched wilderness attracts countless visitors each year.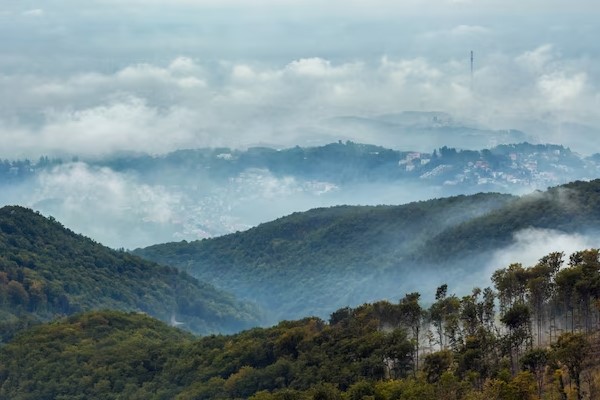 As you drive along the scenic roads, prepare to be enchanted by the sweeping vistas of mist-kissed peaks, cascading waterfalls, and a kaleidoscope of foliage that changes with the seasons.
To truly immerse yourself in the park's wonders, step out of your vehicle and hike along one of the numerous trails. Keep a watchful eye for the wildlife that thrives here, including majestic black bears, graceful deer, and a diverse array of bird species.
Plan your visit during the magical period between late May and early June. You may have the good fortune to witness the hypnotizing phenomenon of synchronous fireflies, a natural light show that will captivate you.
5. Visit Graceland
Explore the captivating world of the King of Rock 'n' Roll at Graceland, the iconic mansion once home to Elvis Presley. Take a step through the grand gates and immerse yourself in a 1970s time capsule as you uncover the secrets of this legendary musician's abode.
During your tour of the mansion, prepare to be astounded by the meticulously preserved interiors adorned with extravagant furnishings that Elvis himself beloved.
Check out his remarkable car collection, including the famous pink Cadillac, and delve into the fascinating tales behind his custom private aircraft.
6. Experience Pigeon Forge's Unique Attractions
Pigeon Forge, situated in the foothills of the magnificent Great Smoky Mountains, is a bustling destination that provides visitors of all ages with an abundance of distinct attractions and limitless entertainment options.
Dollywood is an extraordinary theme park created by Dolly Parton, a legendary country music icon. Explore exhilarating attractions and live performances and lose yourself in the region's rich heritage.
Challenge your family and friends in a rewarding go-karting race. Or put your putting abilities to the test on miniature golf courses with creative themes and stunning backdrops.
The city also provides abundant outdoor activities, such as hiking trails, ziplining, and equestrian riding, allowing you to appreciate the surrounding natural beauty.
7. Discover the Tennessee Aquarium in Chattanooga
The Tennessee Aquarium in Chattanooga is great for discovering the fascinating world of freshwater habitats.
With its famed River Journey and Ocean Journey buildings, this amazing institution holds a broad collection of aquatic wildlife, ranging from cheerful otters and active penguins to magnificent big catfish. Immerse yourself in the beautiful underwater environment as you observe colorful marine life up close.
8. Cruise Along the Mississippi River
Step onboard a beautifully restored vintage riverboat in Memphis and depart on an enthralling adventure. Set sail on the gorgeous Mississippi River and be delighted by the gentle lapping of the waves and panoramic views of the river and city skyline.
Relax on the terrace, enjoying the warm weather while listening to the soul-stirring strains of live music.
Enjoy delicious southern cuisine while learning about the history and cultural significance of the famed river that has defined the region's legacy.
9. Sample Southern Cuisine and Tennessee Whiskey
Tennessee's culinary scene is as diverse as it is delicious, offering an array of mouth-watering flavors. Whether in a bustling city or a cozy small town, you'll have the opportunity to indulge in tender barbecued ribs, fiery hot chicken, and flaky biscuits smothered in rich gravy.
For a quintessential Tennessee experience, do not miss the chance to savor a traditional "meat and three" meal, where you can choose your preferred meat accompanied by three delectable Southern-style side dishes.
Conclusion
Tennessee beckons with its enchanting landscapes, vibrant music scene, and captivating history. From the majestic Smoky Mountains to the legendary music cities of Nashville, the Volunteer State promises a journey filled with unforgettable moments.