Distracted driving in bad weather conditions can lead to mishaps. But, many of them are the result of driver negligence. Likewise, speed, alcohol, or distraction behind the wheel can lead to automobile accidents.
They happen every day. The United States Department of Transportation estimates that around 5 million vehicle accidents occur yearly. As a result, driving becomes a risky but invaluable means of transportation and travel.
Are you worried about an impending car mishap? Want to be prepared for what to do after a car crash? Then, continue reading to find out what to do after a car accident.
Pray Before Anything Else
Pray regardless of whether the accident was minor or severe. It can calm the emotions of those involved and provide support, peace, and comfort.
Prayers can be structured or spontaneous. For example, in a structured prayer, you can ask for forgiveness and thank God for protection. You can also ask for healing and guidance on how to deal with any trauma associated with what happened.
A spontaneous prayer can be as simple as an outpouring of emotions. Whatever the pattern, it should remind everyone involved of the power of faith and the grace of God. Praying is one way to find hope amidst the chaos and fear.
Keep Calm and Remain Your Focus
When you have been in a car accident, it can feel like it has shaken up your whole world. It can be challenging to remain calm and composed. The shock of the casualty and the pain of an injury can reduce our ability to think clearly.
Take a few deep breaths and try to stay calm. Once your breathing is under control, assess what you have to do. Make sure everyone involved is safe and okay.
Remember to stay focused and listen to the advice of the medical and legal professionals at the scene. Keeping a cool head will help you handle the situation in the best way possible.
Gather Essential Information
Get accurate contact information from all drivers involved, including full name, address, phone number, driver's license number, and license plate number. Also, note the insurance information for each driver and each car's make, model, and year.
Documenting any property damage caused is essential, so take pictures of all vehicles involved in the accident. Also include photos of the road layout, skid marks, and any other indications of what caused it.
Accurate information and documentation of the site where it happened can be used in court if necessary. It is also a vital step to follow up on an insurance claim.
Get Witness Statements
Witnesses can provide valuable testimonies on what happened and uncaptured details on camera or by the police report. A second-hand account of the incident is critical in filing a claim. Depending on the severity of the crash, you may have to wait on emergency services to arrive.
Immediately collect information from bystanders and other drivers. Ask for their names, addresses, phone numbers, and vehicle information, as most of this data will be necessary for making a claim.
Witness statements must include details that would explain how the incident happened. Some of the information is below:
Date
Time
Scene Description
Officers information
Seek Medical Attention
Seeking medical attention is paramount — even if unnecessary. It is vital to get checked out for serious, underlying issues that can occur in the days after the accident, even if the impact seems small. Some of these include damage to internal organs and soft tissue that may not show immediate symptoms.
Car accident injuries can range from mild to severe. Examples of soft injuries include whiplash, minor cuts and bruises, and sprains. Moderate injuries include broken bones, profound and significant cuts, and traumatic brain injuries.
Severe injuries may involve organ damage, paralysis, and even death. Thus, victims must follow all instructions their healthcare provider offers. Receiving medical care right away will ensure you receive the treatment you need and protect you from long-term health problems.
File a Police Report and Obtain a Copy
Filing a police report should be done as soon as possible since accident details often become more challenging to recall. To do this, the parties should contact their local police department in person or via telephone. A police officer will then create and document the details of the incident, including the date, time, location, and any witness accounts.
After completing the report, involved parties can request a copy. To request a copy, the parties should contact their local police department and provide the report number and payment information. Once they have cleared your payment, a copy of the police report should be available for pickup.
Inform Your Insurance Provider
Calling your insurer should be a top priority after the incident to provide them with the details. Supply them with all pertinent information like what happened, who was involved, and other details such as the location and date, along with photos.
If there are any injuries or legal issues, it is important to note these as well. You should also keep a detailed record of all conversations and paperwork related to your claims process. Once you have informed your insurer, they will assign a claims adjustor who will work with you to determine the next steps.
Handle the Repair Costs and Expenses
Repair costs and expenses from a car accident can be overwhelming. First, estimate all visible and hidden damages to know how much the repairs will be.
Insurance can cover some of the damages, but it is essential to stay on top of costs and keep them as low as possible. Have an itemized list of all necessary repairs and compare different auto-repair services for competitive prices.
Having comprehensive collision coverage can be helpful when it comes to more significant expenses. Finally, document them in case of any disputes with the other driver or their insurance company.
File a Claim with the Other Driver's Insurance
Filing a car accident claim with the other driver's insurance can often be complicated. The information to gather must include copies of their insurance card and driver's license.
After completing some preliminary paperwork, including the police report, you can file a claim. The other driver's insurance company will often contact the claimant to ask questions about the accident. They may even send out an adjuster to perform an investigation.
Depending on the claim, they may reach out to their insured or request more information or documentation of treatment or repairs of the car. Then, they grant or deny it based on the evidence provided. If approved, the insurance company will outlay funds to the claimant or the repair shop.
Contact a Legal Expert
An experienced car accident attorney can look at various aspects of your case and tell on the best way to proceed with a legal claim. For example, an attorney can help check liability and document injuries and damages. They can also contact witnesses and negotiate a fair settlement with insurance companies.
A lawyer may assist you in receiving fair compensation for your injuries or property damage. They can also assist in recovering medical bills, rehabilitation, lost wages, and pain and suffering costs. So take your time if you need one, and see these experienced injury lawyers and what they can do for you.
The expert will also inform you of legal deadlines and can represent you in court if required. Hiring a lawyer will ensure that your rights are protected throughout the process.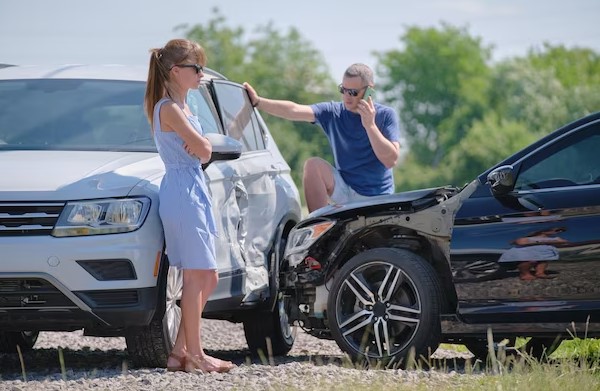 Understand the Measures to Avoid Future Mishaps
Every driver should avoid risks and know the extra precautions to prevent future accidents. Some of these measures are below:
Install Safety Features
Safety features enable drivers to be aware of dangers. Some include lane departure warnings, blind-spot monitoring, and forward collision warnings. Also, implementing advanced safety features like airbags and automatic emergency braking can reduce crash risk.
Stay Alert and Focused on the Road
Avoid distractions like using a cell phone, adjusting the radio, or conversing. Instead, pay attention to what is happening in the surrounding area and scan for potential hazards.
Inspect the Vehicle's Tires and Brakes
Check your tires' air pressure, as this can assist with traction, handling, and stability on the road. Also, inspect brakes for chirps, grinding noises, and shuddering when applied, as these can state that you have to service the brakes.
Remember What to do After a Car Accident
After a car accident, take the necessary steps to protect yourself and your property. Feeling overwhelmed and unsure of what to do next seems normal.
If there is any chance of injury, see a doctor immediately. Then, file a report to your insurance company and work with an attorney to protect your rights.
After following the steps outlined in this guide, we hope you are ready for what to do after a car accident. Remember, preparation is vital to get the best outcome!