Camping with dogs is a great way to bond with your furry friend, make some incredible memories together, and avoid leaving Fido behind on your family's vacation. Most dogs will have no trouble taking on any hiking trails on your list. But there is some special gear you'll want to have along to ensure a safe, fun adventure for your dog and you.
Extra water and portable water dishes are a must. You may also want to consider increasing your dog's regular food portions to make sure that they are well-fueled for the hiking and exploring that you have planned!
A durable harness and leash, a dog towel for messes, and a sleeping bag or blanket for your pet to use at night are also must-haves. Another important item is an outdoor dog tent. An outdoor dog tent can help contain your pet while you set up camp or cook dinner. Even if you plan to let your pet sleep in your tent overnight, having a dog-friendly tent can help make your time at camp more enjoyable and safe.
Keep reading as we dive into how to choose an outdoor dog tent for your furry friend.
How to Choose an Outdoor Dog Tent
Much like our dogs, outdoor dog tents come in many shapes and sizes. These tents aren't just designed with camping in mind. This means that just because it's called a "dog tent" doesn't mean that it's a good choice for your camping trip.
The best dog tents are ones that are durable, lightweight, easy to collapse, and designed for the outdoors. Let's take a closer look at a few things to consider when choosing the best dog tents.
Size
One of the most important details to consider is the size of the dog tent that you need. A dog tent that will work well for one of the world's smallest dog breeds, the Chihuahua, will hardly work for one of the largest, like the Newfoundland.
Start by measuring your dog's height and length when standing. You'll want them to be able to stand up and turn around with at least a little room to spare in the tent.
The size of the tent when it's up isn't the only thing that you'll want to consider. Whether you're camping from your car, an RV, or a backpack, you'll also want to consider the size of the tent when it's collapsed.
Many pop-up kennels and tents are designed to be used at home. While this might mean that they offer your dog more space, when folded, they're often very large. This can make them difficult to bring with you, especially if you plan to pack them in a suitcase or backpack.
Luckily, dog tent products have come a long way in recent years. Many can fold down to a size small enough to easily stash in your backpack or the trunk of your car.
Durability
Another important detail to consider is durability. Whether you're camping in your local resort campground or roughing it on a challenging trail, your outdoor dog tent will no doubt be exposed to the elements.
You might find yourself needing to set them up on rocks, dirt, mud, or grass. They may get rained on or snowed on and will be in direct sunlight.
The inside of your tent will see plenty of wear and tear, too. Your dog may enter the tent muddy, and their paws and claws will scratch the floor and perhaps the walls.
For these reasons, it's very important to choose a dog camping tent that is durable. Look for dog tent fabrics that are thick to resist tears, as well as water-resistant. Most pop-up dog tents have mesh to help keep your dog cool and let them see out. This mesh should still be durable enough to hold up to your dog's claws.
Finally, don't forget to check the seams. A dog tent with reinforced seams will be better able to stand up to a large dog or have years of use.
Use
The last thing to consider when shopping for a dog tent is how you plan to use it.
As we've mentioned, not all dog tents are designed with camping in mind. Some are designed for indoor use. In addition to being made with less durable fabrics, these often take up more space and are primarily designed to contain puppies and dogs while inside, similar to a rigid crate.
But when camping, your dog tent can serve a few purposes. It can be used to contain your overly excited puppy while you set up camp. But it can also be a space for your well-trained dog to get out of the sun or to curl up in their blankets for a nap. For this purpose, you might want to have a tent with a front flap that can be rolled out of the way.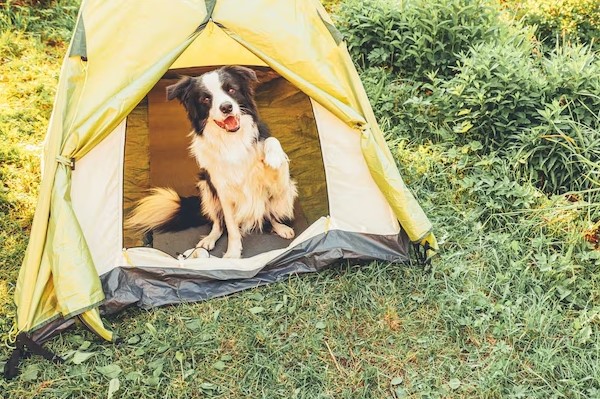 Another great feature to look for in a tent that you plan to take camping is windows that your pet can easily see out of, which is something that not all tents will have.
Camping with Dogs: Planning Your Next Outdoor Adventure
Taking your dog along on a camping trip can be a great way to make some amazing memories together. Having a great outdoor dog tent along can make your trip more convenient and comfortable for you and your beloved pet. From choosing durable dog tent fabrics to measuring your pet to making sure that you get the right size, these tips can help you pick the perfect tent for your pet and your adventures!
For more tips on exploring the outdoors with your furry friend, check out the "Pets" section of our blog.