The coronavirus pandemic has taught us the value of workplace safety and the need for it to be taken seriously.
Workplaces can be dangerous, especially if working with hazardous materials and sharp equipment is part of the job. According to the Bureau of Labor Statistics, over 4000 workplace fatalities occurred in 2020, and over 2.7 million nonfatal injuries were reported. These numbers can be considered significant since people don't go to their work to be injured or die. Hence implementing a workplace safety program is essential.
A workplace safety program includes all the procedures, guidelines, and policies to reduce on-site risks and minimize accident and injury rates. All employees must be actively engaged and dedicated to these safety tips to ensure workplace productivity and safety.
You can do several things to keep your workplace safe and contribute to creating a safety program. These include the following:
Report Any Unsafe Condition
Chemical spills, exposed wires, damaged equipment, and lapses in safety protocols can go unnoticed on a regular work day. Employees can sometimes be reluctant to discuss specific risky situations and dangers with their superiors because of a lack of effective communication. This may increase the risk of an accident or injury occurring on the job site, which is not conducive to a safe working environment.
All employees must report harmful conditions immediately to help safeguard their coworkers and themselves. Once the risks or workplace hazards are reported to the respective person in charge, corrective measures can be taken to ensure everyone's safety.
Use Protective Equipment
It's important to urge employees to always wear the required personal protective equipment (PPE). Employees frequently forget to wear or choose not to wear a piece of certain safety equipment because they believe it may be unnecessary or they'll be able to complete the task swiftly without it. This is wrong. PPE is designed to keep workers safe and must be worn whenever there is danger.
Remind employees to put on the appropriate PPE for the task at hand at all times. Personal protective equipment is intended to keep workers secure and safeguard them from harm or disease.
Properly Use Tools, Equipment, and Machinery
Injuries can be avoided by using tools and machines properly. Be sure that machinery is constantly checked for faults and maintained, and only use machines you have been taught or are qualified to use. Always use tools and machinery for what they are designed for. Use tools like a wheelbarrow or a forklift to avoid straining or hurting yourself while lifting and moving heavy objects.
Take Small Breaks
Overworked and tired workers are a liability at the workplace. Instead of overworking themselves to get the job done faster, workers should take breaks to rest and recharge. Team members who are too tired to focus properly on the task at hand may be risky and lead to an incident or mishap that can hurt them or others.
Never Skip Any Step
Sometimes employees may be in a hurry to finish a task and skip steps. They might also use improper tools or equipment to complete the task quickly. At all costs, you should avoid this. Remind team members that following procedures and workflows is the safest course of action as they have been meticulously created to eliminate any possibility of risk.
Keep an Eye on your Surroundings
To prevent workplace injuries, you must always be aware of your surroundings. The following are some things that you should be aware of in your surroundings:
Check the floor for spills or objects that you could trip over
Take note of the gear and safety measures necessary for each task you're performing
Encourage others to use a mechanical help to lift objects, such as a forklift or wheelbarrow.
Keep emergency exits open and clear so that people may get to them in an emergency.
Encourage workers to use tools and equipment safely to prevent injury.
Use the necessary signage to identify hazardous materials and places.
Know where the first-aid kits are located and which employees have received first aid training in case an injury happens.
Never use a box or any other object as a makeshift ladder; only use safe, firm ladders.
Before using railings, check to make sure they are securely fastened.
Stay Updated with New Protocols
Ensure employees are always informed of any new policies, protocols, or equipment that may be introduced in the workplace. Train your staff so people know what must be done to prevent a potential incident. Encourage employees to ask inquiries and consult their supervisor if they require additional assistance by fostering a culture of support.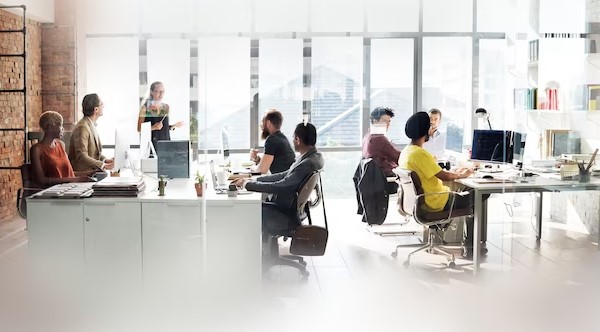 Maintain Proper Posture
It's important to maintain a good posture when performing job-related tasks. This safety advice is simple to overlook while you are preoccupied with a task such as moving large goods or simply using a computer. Workers must maintain good posture to prevent aches, pains, and potential long-term damage to their neck, back, or shoulders.
Keep the Workplace Clean
A messy workplace can result in minor bumps, scratches, and cuts. These may seem harmless, but open wounds are prone to infections, which could become serious later on. So keep your workstation clean. It will also increase your motivation to work.
Conclusion
A safe working environment is essential for employees' physical and mental well-being. Unhealthy and injured employees take more days off from work, resulting in decreased productivity. Negligence in providing enough safety can also lead to litigation, resulting in the loss of thousands of dollars in lawsuits and compensation. This article mentions a few tips to keep your workplace safe for everyone. Use these to develop a safety program in line with OSHA's regulations and keep your coworkers and employees out of harm's reach.