Summer is often associated with baseball, fireworks, and backyard barbeques, which are all things you likely enjoy. However, summer also means heat and thunderstorms.
Whether you suffer a hurricane, tornado, or thunderstorm, your home can become damaged by fallen trees or down power lines. But if you prepare your home for these occasions, it may minimize the damage.
Keep reading to learn valuable tips to protect your family and home from a thunderstorm's devastating effects.
Keep Your Gutters Clean
Falling leaves aren't necessarily a part of summer, but that doesn't mean your gutters aren't susceptible to other debris. This debris could cause water to collect around your home's foundation, leading to leaks or floods.
It's necessary to check that your gutters are secure. Ensure the downspouts are in place and positioned to move water away from your home. Generally, experts recommend directing water at least 10 feet away from your foundation.
Have a Backup Power Source
Today, there are many types of backup power sources you can purchase. You can choose anything from propane or natural gas generators to solar-powered cell phone chargers. Keep a flashlight in an easily accessible location and check the batteries regularly to ensure they will work when needed.
Protect Your Windows
Place wooden boards over your windows if you live in an area prone to high winds from hurricanes or tornadoes. Taking this extra step will keep your home dry and free of shards of glass.
You might consider replacing any old windows because they are at higher risk of shattering when hit by airborne items. When they are broken, there is an increased risk of damage to your home or injuries to family members.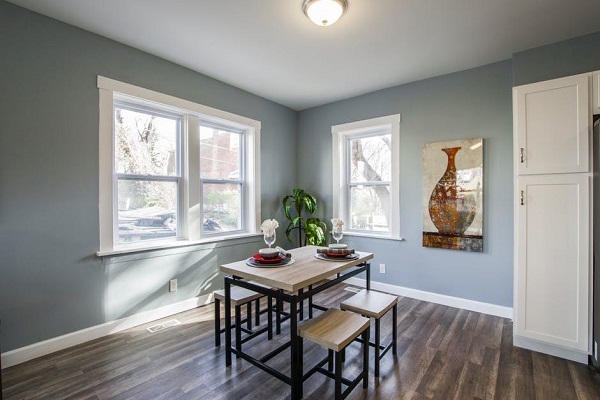 Inspect your Wall Air Conditioner
Your window is a hole in your home, so it must be adequately sealed. Check the caulking around any in-window Air Conditioning units for visible gaps and fill them to prevent water from leaking into your home. Place weatherstripping around each unit to further fill open spaces.
Prepare the Outdoors
It's essential to prepare the inside of your home for a storm but preparing the outdoor elements of your property is equally as important:
Relocate your car to an area that doesn't flood
Move outdoor furniture to a secure location or strap it in place
Trim tree branches and shrubs
Clear debris away from your outdoor HVAC equipment
If you have any dead trees, call a professional for help removing them.
Have your Roof Inspected
When your roof is in good condition before a storm, it's less likely to succumb to the elements. If it's already leaking, there isn't much protection, and you'll end up with water damage inside your home.
Unfortunately, many homeowners are unaware of problems with their roofs until after a storm has passed. But with a roof inspection, the contractor will notify you of any issues, and you can plan for repairs.
Review your Home Insurance Policy
If it's been a while since you've looked at your homeowners' insurance, it's a good idea to give it a glance to refresh your memory. When there's any jargon you don't understand or if you are concerned about part of your coverage, call your insurance agent to answer your questions. They'll ensure you have adequate coverage for potential damage from the summer weather.
Create an Emergency Kit
Protecting yourself and your family is just as important as keeping your home safe. Gather essential items to help your family get through a power outage and place them in an emergency kit. You can use a box or backpack to store your items.
Consider placing the following items in your bag:
New batteries in various sizes
Flashlights
Battery-operated radio
A first-aid kit
Bottled water
Extra blankets
Purchase your family's favorite non-perishable foods and snacks, like chips or crackers and peanut butter.
Keep Yourself Informed
You must have access to an app on your smartphone, a radio, or a television. This access will allow you to get weather notifications and stay prepared.
Some free weather apps will send alerts when your area is under a severe storm watch. However, you must remember to allow alerts to be sent to your phone so you don't miss any important notifications.
Unfortunately, no matter how prepared you are, damage may still occur to your home. When that happens, there are professionals available to help with cleaning your property after the storm.