If you're a business owner, chances are you've considered starting a blog. And if you've felt it, you may have even gone so far as to create one. You can even make extra money from posting your thoughts about anything under the sun, even without a product to sell online.
But then what? What do you write about? How do you guarantee that your blog is successful?
There are a lot of factors to consider when choosing a blog topic, but the most important thing is to choose something relevant to your business that will interest your target audience.
Here are a few tips to help you choose the best blog topic for your business:
Consider your niche
This is what will make your blog stick out from the rest. Ask yourself the following questions to find your business niche.
What is it that makes your business extraordinary?
What can you offer that no one else can?
Keep it relevant
Your blog should be about something related to your business. This will help you attract readers who are interested in what you do.
Make it enjoyable
Even if your topic is relevant and unique, it won't matter if no one wants to read it. So instead, write about something that will engage your reader and make them want to come back for more.
Keep it updated
A stale blog is a surefire way to lose readers. Make sure to keep your content fresh and up-to-date so that people will keep coming back for more.
Promote your blog
Once you've got a great blog up and running, promote it so people can find it. Use the following platforms or strategies to get the word out:
These tips will assist you in choosing the best blog topic for your business and set you up for success.
How to Monetize your Blog
Now that you have a blog up and running, it's time to start thinking about ways to make extra money from it.
There are a few ways to earn money from your blog, and your chosen method will depend on your goals and objectives.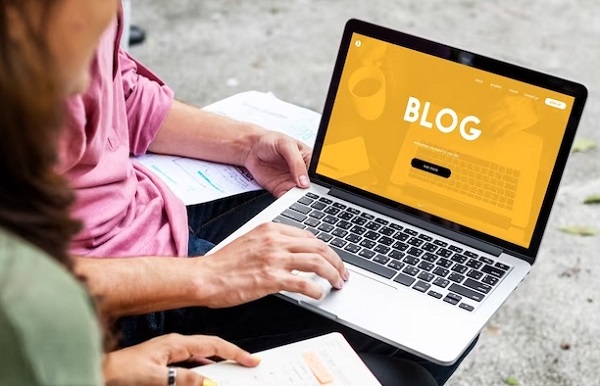 Ads
These are great ways to monetize your blog. For example, when you have a site, you can use it to sell advertising space. You can do this through various methods, such as Google AdSense or banner ads.
If you sell advertising space, you must ensure that your ads are relevant to your audience and placed strategically on your website.
Affiliate Marketing
Another way to earn money using your blog is through affiliate marketing. This is where you promote products or services on your website and earn a commission for every sale you generate.
To be profitable with affiliate marketing, you must choose products that are relevant to your niche audience and offer value.
Sell Merchandise
If you want to monetize your blog more passively, you can sell products or services through your website. You can do this through an e-commerce platform such as Shopify or Woo Commerce.
To be successful with this method, you'll need to ensure that your products or services are high quality and priced competitively.
Final Thoughts
Whatever approach you prefer to monetize your blog, you must align your efforts with your overall business goals. By doing so, you'll be able to maximize the return on investment from your blogging activities.